This 'performance/tuner' shop has done just about everything wrong with my turbo install/tune and i want to firebomb their shop
issed: Latest issue: while installing an adjustable cam gear, they sent me this photo of the progress(they did all this 'work' back in november)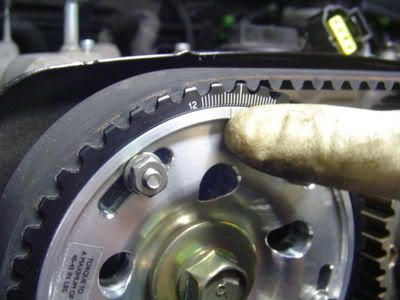 After posting this pic on the forum, i was told that this was clearly the wrong setting for FI. I told the shop about this, and they said they would fix it.
Today, my new shop/tuner(who is double-checking everything they have done), told me about that the setting did not seem right. It was the exact same setting that was in the pic!!! Aside from this, they gave me the car with two of the 02sensors off, numerous boost leaks were identified, they made me buy new injectors from them as the RC440's that i supplied 'did not fit', there is a leak from the oil return line, intercooler pipes are zip-tied to the sway bar(is that normal?),
I eventually brought the car back to fix the leaks. Once i got it back, i brought it to my new shop and sure enough, the same leaks were present. my new shop was also able to install the injectors i supplied with no problem. This place also told me my blitz BC was causing mad spikes and wasnt safe,but they never changed the connection to the wastegate to only run on the 7lb spring!
To sum it all up, i had shoddy work done on my car, and worst of all, my car was 'tuned' with an advanced cam gear setting and numerous boost leaks. im glad they only replaced the HG as far as engine work goes. So now im stuck having to have all this work done again and dish out more $$$! I'm posting this because im super frustrated and i don't want anyone in my area to bring their rides there!!
In a situation like this, can legal action be taken to possible re-coup some of the money i paid for all this work to be done that was done wrong??