About to pull out of my drive way today an I see a cop all the way down, deicided what the hell I have a clean record(no speeding tickets ect) just some parking tickets Ill just go instead of waiting...
WRONG CHOICE I pull out minute later he pulls behind me switched lanes an starts to follow me as I go about my way. Waits till I start pulling into work a mile down the road an 3 stops signs later and RIGHT as I park an start to get out he stops in the parking lot an turns on his lights...
Ends up giving me a tint ticket, guess he couldn't get me for anything else so he went for a cheap on. Thing is though I had my sunroof open its a fairly sunny day, my rears are only like 25% an the front is like 35 or 45%... You can clearly see in even if your behind me looking in or looking in through my side mirrors...
I'm thinking im going to roll down to my Eye doctor on my way to get my coilovers installed an ask for a written letter or statement about how bad my astigmatism is an mail in a letter an the document to the DMV. Ive heard this works so why not?
Funny thing is when I got out an started walking to work he could tell I was pissed with him an he said look man I'm letting you off on your exhaust its illegal. I laughed an said no its not its legal its no louder than the CA LAW, its not 85db or even that close. He then said how do you know are you a DB measurer? I said no but Im not deaf an I think we both know its not 85 db loud its just a cat back, I still am retaining my (3) cats, they make cars louder than this stock now. He said I'm just telling you the law I let you off, I don't remember what I grumbled out but yeah he got back in his patrol car an left. Cant say I wasn't embarrassed my boss what right there too
It humored me a bit, we both know if it was illegal he would have written me a ticket for it...
Heres a pic of my tint...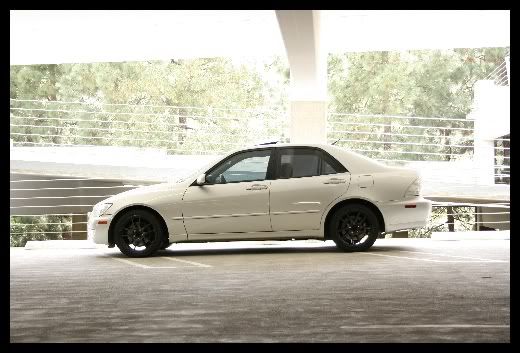 I don't alter my pictures either, this is straight from my DSLR XTi
on a second note I need to get photoshop