Discussion Starter
•
#1
•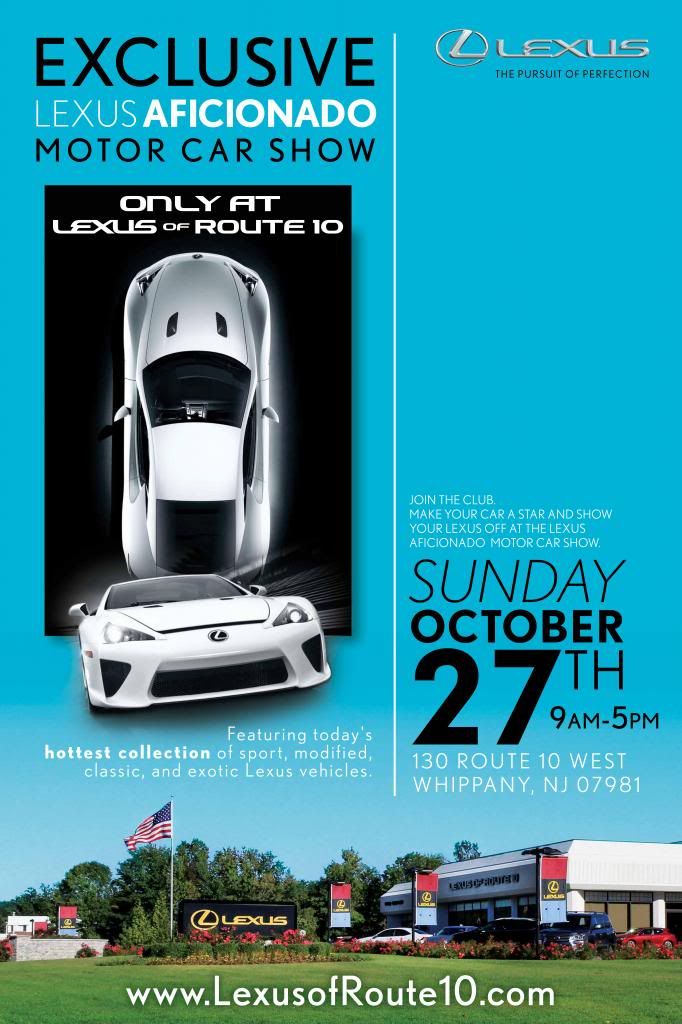 Im back!
Its not a charity meet this time, but rather a nicely planned end of the season get together with like-minded enthusiasts. Member Marc (tonysoprano) has also been helping me, and will be on site as well
PLEASE read the entire post, as there are some very important things that you need to be cognizant of
So here are the basics:
Price: $10 per car- (includes goodie bag, food not included)
Who: Lexus Owners (supra guys and prospective owners are ok too in my book
)
What: End of the season meet
When: 12pm-6pm October 27th 2013 (November 3rd as the hurricane/snowstorm/earthquake/sharknado weather date)
Where: Lexus Of Route 10
130 Route 10
Whippany NJ 07981
Here is the parking map for anyone interested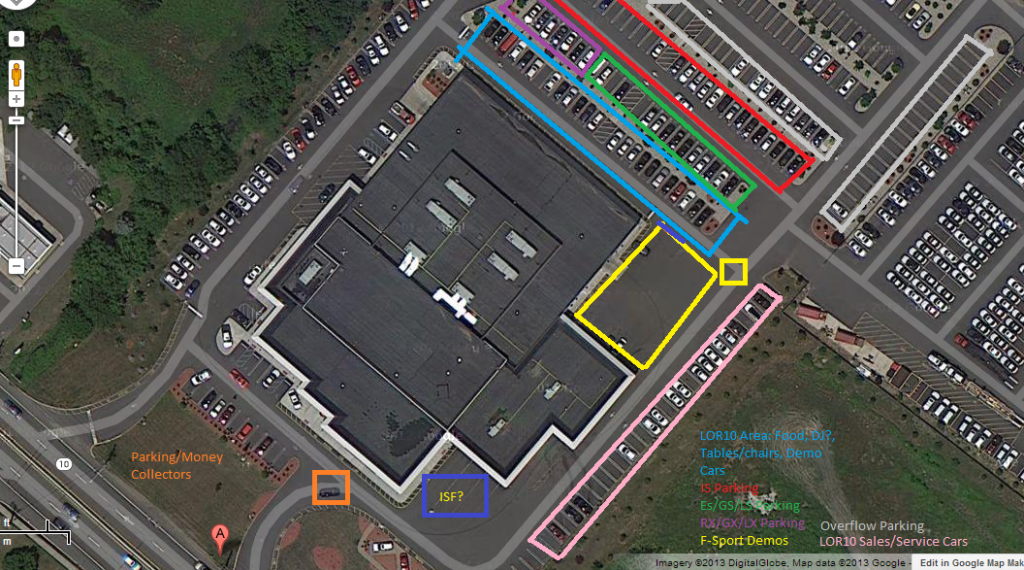 [/URL]
So you might be thinking...Jason, what do you have planned?
Good question
, I have a series of events planned from the second you arrive till after you leave..here's the itinerary
Caravan
11am (thats not a typo, it's actually at a decent time) Meet up at Cheesequake Rest stop (around Exit 123 on the Parkway, which fyi is about 10 min from the turnpike exchange)
11:30am SHARP roll out en route to Lexus Of Route 10 (eta 45 min) Note: for those of you not on the caravan for any reason, if you show up at a 12 at the dealership thats fine too
1pm- Food will be ready to go, we wont be killing you on the prices for food and drink either so dont sweat...unless its hot out of course then by all means.
2pm-Tour of the dealership: We will be showing you our sales, parts, and service departments, followed by a quick speech by Representatives by Lexus corporate East.
Just incase you skimmed over this... representatives from Lexus CORPORATE EAST will be in attendance.
Please take the time to clean your cars and of course dress and act appropriately. Big names will be there, so it would be to your benefit to put your best foot forward
They will also be bringing some cars to the event
3pm-4:30: Pictures will be taken of your cars, and I want to arrange a group photo that will be taken at the top of our dealership
5:30- Judging will commence and there will only be two winners: one People's choice and one lexus of route 10 employee's choice. Winners will recieve a damn nice gift (still working out the logistics of it, but bear with me)
6:00- meet comes to a close, but dont fret, im working on getting reservations at a good local eating establishment. So we can have a nice team dinner to finish up the day
Sound good?
Couple quick notes:
1. We dont have enough chairs for everyone
, so I strongly encourage everyone to bring their own favorite soccer chair, folding chair, whatever works best
2. Eat breakfast THEN leave for the caravan, you should be hungry right around the time lunch is served
3. NO ALCOHOLIC BEVERAGES ON SITE, Reps from corporate are going to be there, and I need everyone to be on their best behavior, or else this will never happen ever again
4. We will have a line up of the newest Lexus F-sports on display for inspecting including the new IS2/350
5. Guys from service, sales, delivery, and upper management will be bringing their own personal cars. Everything from my supra, hellaflush VW, swapped first gen mustang and perhaps even a Duesenberg will be in attendance. I mean... our owner IS a Pebble beach best of show winner....
Any questions? Feel free to post them up here
Please get a list going below and RSVP so we can get a count on food
1. Godeepgts11
2. TSoprano
3.