Well, i've never done this before but i'm going to try to snap a pic everytime i get a mod and then just continue to update it as i go along.
Day 1, Feb. 28th 2006 I buy the IS! 2003 IBP 5 Speed 44k with 3yr/100k warranty from JM lexus!
Shortly a few weeks later (march 4th) i move to my first mod.
20% tint all around
I then started to move quickly and bought a RX330 antenna to replace the long one
(march 20th)
Then i purchaced OBX front and rear clear markers and had Flatline tint them for me great turn out! (march 24th)
after going through the forums i found the black pearl emblem and fell in love. so i purchaced a used one! (march 27th)
After driving the car a while i wanted some sound, a mean tone of some sort. after going through threads and reading for many hours i made my decision and bout an HKS Drager II (april 18th) in this pic you can see the smoked marker.
To increase my need for speed i ordered up a K&N FIPK, gave it a nice tone when WOT! (april 25th)
Then i moved to some more style and talked with Justin over at AAC and got some smoked headlights I also got some lamin-x to apply to my head/fog lights to prevent them from rock chips (may 15th) in the pic i'm missing my fog lights because i took them out for justin to paint as well. you can also see the smoked front markers here in the pic
I really didn't like the front grill so i bought an oem SD one and got lucky, it came with an emblem! (may 16th)
To match the rear emblem i bought a black pearl licence plate frame (may 19th)
So now that i have the front all smoked out, i decided to move to the back. so i ordered some jdm tails, but when they arrived.. they were broken!
(may 30th) i havn't been able to get this handled yet so they were never installed
I then bought a b&m shifter and put that puppy in. lemme tell you WOW what an improvement! (june 6th)
painted fogs (june 15th)
front matching BP emblem (june 21st)
PIAA ion yellow crystal bulbs for my DRL/high beams came in and i installed them today! (june 30th)
here's a before and after shot!
and some more photos...
So i finally recieved my tail lights from the fartman himself! the outcome? AMAZING! he was kind enough to polish them as well! man these puppys are soooo SMOOTH! anyway on with the pics! the lens inside the tail was smoked as well as the inner tail enjoy! (excuse the dirty car) (august 17)
CF hood! (august 23rd)
Fog mod! (august 24th) i made a little animated gif
got the idea from thedon check it!
as promisted here are the LEDs i have installed!
Front dome
rear dome
Trunk light
Licence plate lights
installed the eyebrows today!
piaa ion yellow parking lights
And i have installed my coilovers!
tanabe s-0c type 1 with helper spring! they are all the way down!
work wheels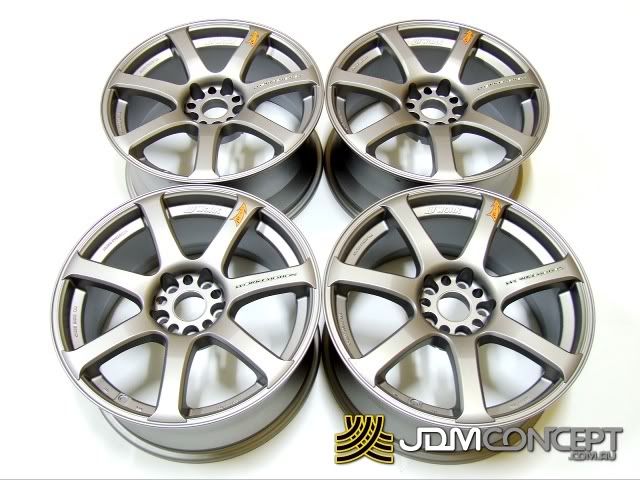 paired up with kdw2's YEAH!
on the car
Here's a video showing how tight the rears are!
Installed a Vis grill Vis lip and piaa ion yellow bulbs...
some recent pics
Painted calipers
NEW WHEELS! I got tired of the Works so i got something new and fresh! 18x 18x9 you tell me what you think?
new upgrades! a system! brembo rotors, ss lines (goodridge) new front tires. lemme tell you guys.. these generals are GREAT! quiet tires!
the system is hiphonics amp 1606d, 2 alpine type r's and i'm running the auxout mod, instead of a LOC, the best investment.
if you were wondering, why i have my oem exhaust on now, is because speedbumps suck.
on the list next:
hks limited ti
hood pins
LSD
carbon fiber trunk
black roof
new HID bulbs
Boost
Any suggestions? post up! thanks for reading! and i'll be updating this thread with i get more mods!