Discussion Starter
·
#1
·
so i am talkin about ... STREET WARS 4 the war against breast cancer! This is the only car show that you can go to, and give back, the way I look at we are all really luck to have what we have, because NJ has some of the "HARDEST" rides, some lets all meet up, get some free gear, education on the number one cancer and how we can help, make your stand! lets all make a stand as a community of tuners! and show our PRIDE! in a positive movement!!! were BACK MARCH 29TH its on!!!..
here is a clip for 2007
YouTube - street wars 3 car show !!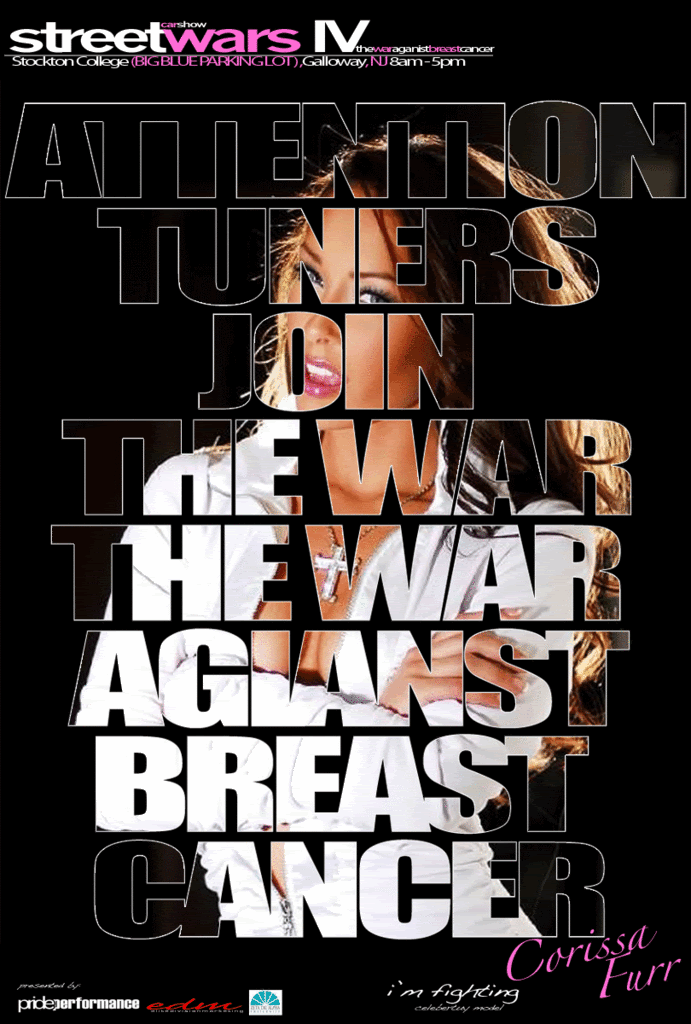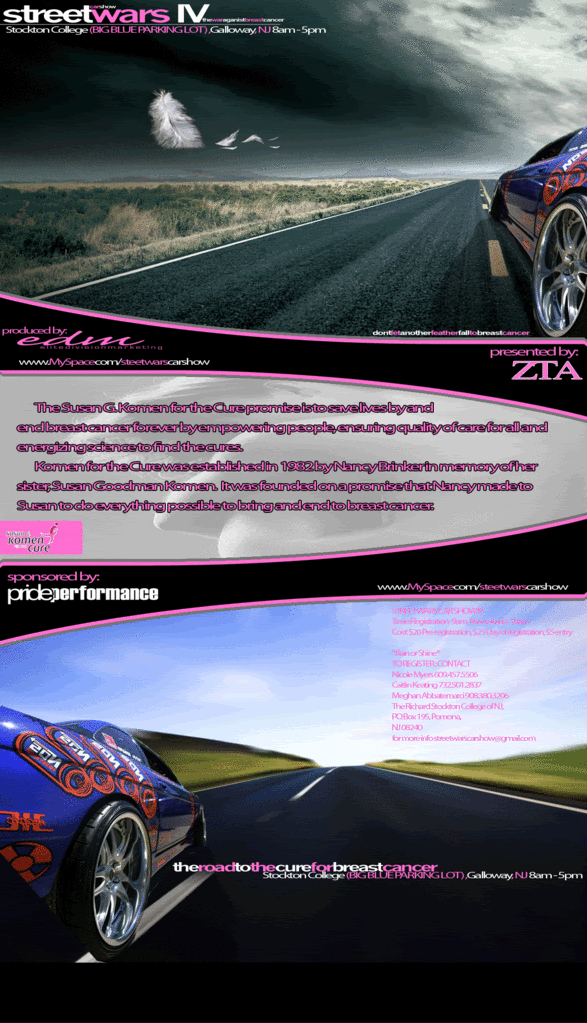 STREET WARS CAR SHOW 4
Time: Registration- 9am, Show starts- 10am
Cost: $20 Pre-registration, $25 Day of registration, $5 entry
*Rain or Shine*
TO REGISTER : CONTACT
Nicole Myers 609.457.5506
Caitlin Keating 732.501.2837
Meghan Abbatemarci 908.380.3206
The Richard Stockton College of NJ,
PO Box 195, Pomona,
NJ 08240
for more info
[email protected]
CAR SHOW CLASSES
CAR CLASSES:
Best Acura
Best Honda
Best Nissan/Infinity
Best Mitsubishi
Best Toyota/Lexus
Best Scion
Best Mazda
Best Other Import (Kia, Hyundai, Daewoo)
Best Subaru
Best Volkswagen
Best Other Euro (Audi, BMW, Volvo, Saab, Mercedes, Porsche)
Best Ford
Best GM
Best Dodge/Chrystler
SPECIALTY CLASSES:
Best JDM
Best Truck
Best Old School
Best Old School Muscle
Best Interior
Best Vinyl Graphics
Best Paint and Finish
Best Bodywork (Shaving, Chopping, Conversion)
Best ICE (In Car Entertainment)
Best Sorority
Best Fraternity
Best!
Club of New Jersey
Best of Show
Cars, food, college girls! Come out and save the breastisis!