I have my PPI DCX600.4 up for sale. The amp is in PERFECT condition and it works flawlessly. It has been running my set of Focal's up front and my 6.5" subs in the rear. Never once has it overheated or let me down like other amps. I'm only selling it because I bought a 5 channel amp that will take it's place. This amp is perfect for anyone looking to run front and rear speakers or even wanting to run fronts and a sub.
I still have all the original packaging and documentation.
Precision Power Web Site said:

Four multi-channel DCX amplifiers give you limitless system configuration potential. The heart of this uniquely configurable design is the legendary TC-X crossover. This flexible, highly accurate built-in active crossover allows complete internal and external control of frequencies from 30-4KHz in high-pass, low-pass, or full-range configurations. This absolute control is integrated with four and five channel class AB output stages that range from 300 to a stellar 1,000 watts… mobile power delivery has never been more pure and precise.

DCX MULTI CHANNEL MODEL FEATURES

* Flexible TC-X crossover with configurable line out
* High-voltage input capability with selectable 12dB attenuation
* Mixed mono/stereo operation
* 2 ohm stereo stable
* Q BASS™ Plus
4 ohm:--------------75x4
2 ohm:--------------150x4
Mono Operation:-----300Wx2 @ 4 ohm
THD+N:-------------0.08%
S/N Ratio:----------->100dB
Freq. Resp.:---------10Hz-50kHz
Damping Factor:----->250
X/O Slope:-----------2-way, 30Hz-4kHz, 12dB/octave
Fan:-----------------No
Q BASS™:-----------Q BASS Plus/Remote
Dimensions:----------24-3/4"x10-1/2"x2-3/4"
One thing that should be noted is that the amp benched (tested) as producing more power than the manufacturer states. It made 90watts RMS x 4 @ 4 ohms. Pic pelow with the proof.
I want $200 plus shipping.....many pics below
(more pics available upon request)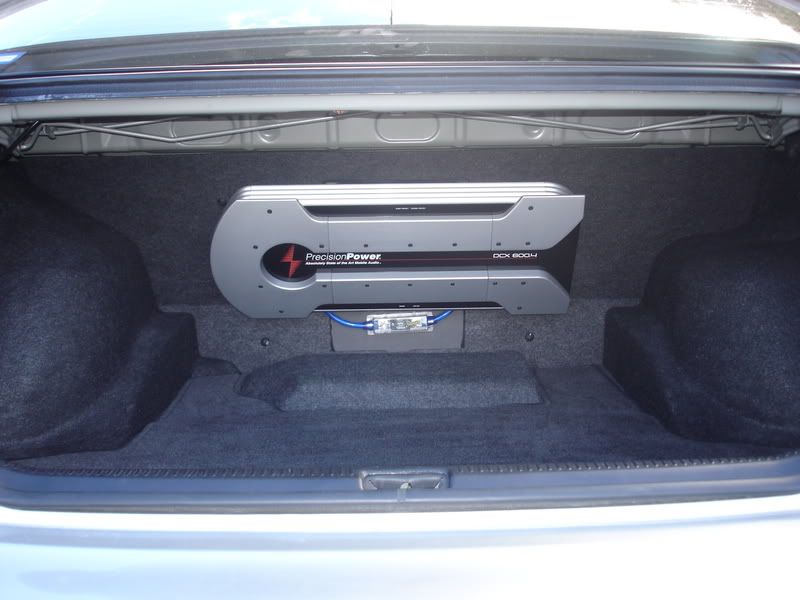 Here it is all wrapped up ready to be shipped in the box...waiting