Updates
Oct 15 2015: The car is currently at Induction Performance and will be tuned today.
Aug 24 2015: The car has been towed to Induction Performance to diagnose a triggering issue that is causing the ProEFI to run extremely rich and to get tuned. The car should be done by the end of this week.
Nov 19 2014
I made the decision to purchase a 2JZGTE VVTI from an Aristo. I chose to purchase the engine before getting an IS300 because I know that If I had a car to drop this engine into I would want to rush and put the engine in. The original idea was to just do a full maintenance and rebuild/upgrade the R154. Plans have changed and I keep adding stuff to the never ending list. From this point on I will be updating the thread as things get done. I'm expecting to receive a big piece of the build hopefully by the end of the week, really excited about it. I'll be turing on the engine next week to ensure that there are no leaks and an excuse to hear the cams. I will be posting a video.
Feeling like I just adopted my first child.
That same night I just couldn't wait to start working on the 2J.
Nov 20, 2014
I was up bright and early to see my work and continue.
Goodbye twins.
Nov 21, 2014
I got this bad boy on the stand.
Getting the parts organized.
Nov 22, 2014
Painted the valve covers wrinkle black and baking them to cure the paint.
Nov 23, 2014
The head was cleaned and the block was painted glossy black.
Nov 24, 2014
Intake runners painted glossy black as well.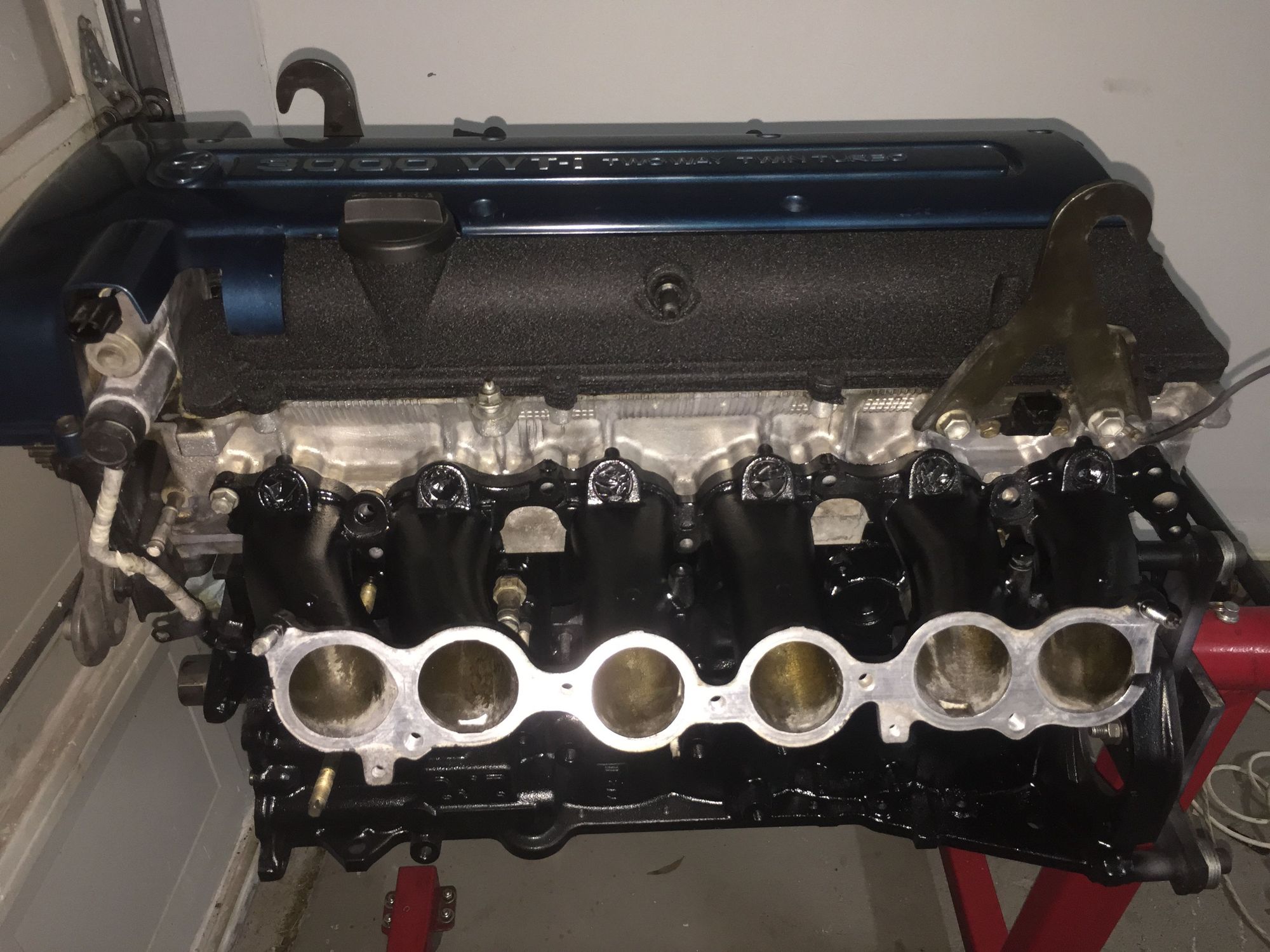 Nov 28, 2014
its looking good.
Dec 5, 2014
Took a little break and went to test out this AR pistol I built.
Dec 8, 2014
Dec 12, 2014
Santa came early. The original idea was to do a complete maintenance on the engine and slap a turbo on it and go. Well the build did a 360. I took a quick drive to Real Street performance and picked up a set of BC 272 cams, BC valve springs, BC titanium retainers, BC keepers and supertech valve seals.
BC 272
Dec 15, 2014
New oil pump
Dec 16, 2014
Followed the TSRM to remove the old cams.
The Toyo Tool tool made it really easy to remove the old retainers
Dec 17, 2014
Somehow I was able to get this great deal from Induction Performance it was a black Friday special in December. I purchased a billet steel timing tensioner and received the Gates Racing belt free.
Dec 20, 2014
I stuffed about 10 feet of vacuum house into the cylinder and turned the crank to compress it, allowing the valve to stay put. The moment of truth came when the retainer was removed. Don't mind the oil sludge.