I know I'm really late but whatever. Build begins here Graphite Grey Pearl 2004 Lexus B01B (LSD) 5spd IS300.
I have always loved the IS300 and I waited and saved forever to buy the perfect one. It had many blemishes when I bought it so I'm going to try and fix everything over time.
I just finished a humongous update!
CLICK HERE FOR A GIANT SEVEN MONTH UPDATE
How it looks 9-11-16:
Just A Quick Re-Cap of the Process
2-18-16
Loads of new pictures on this page!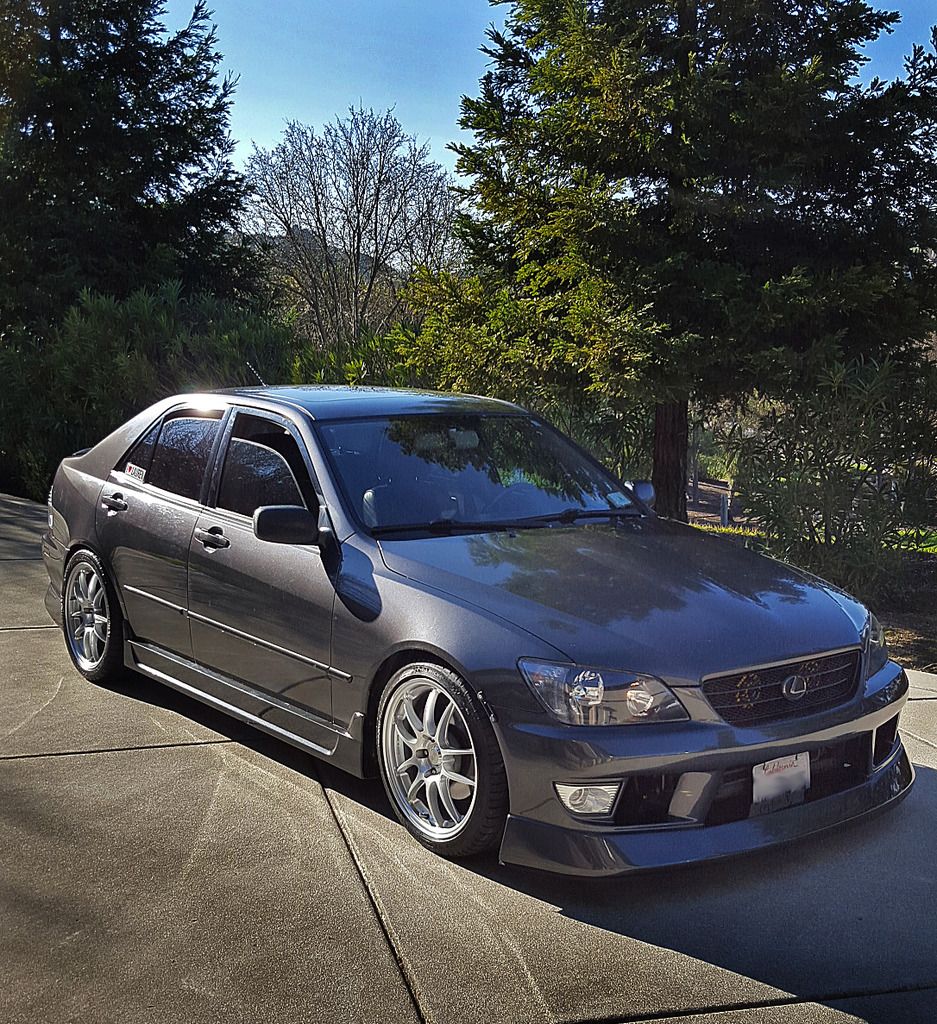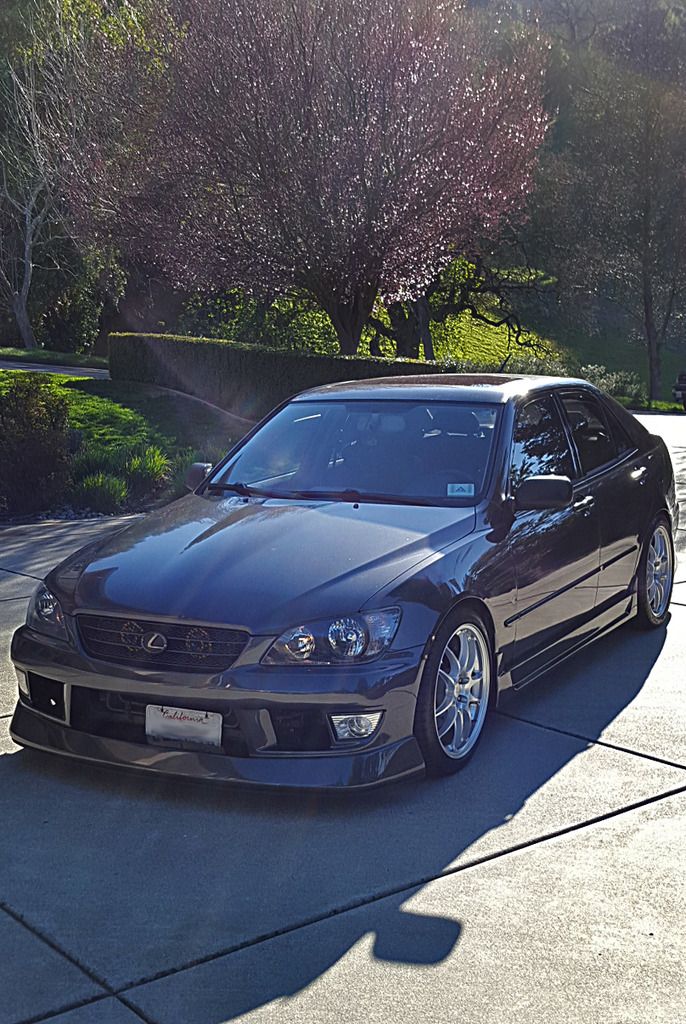 Went from: 8-6-14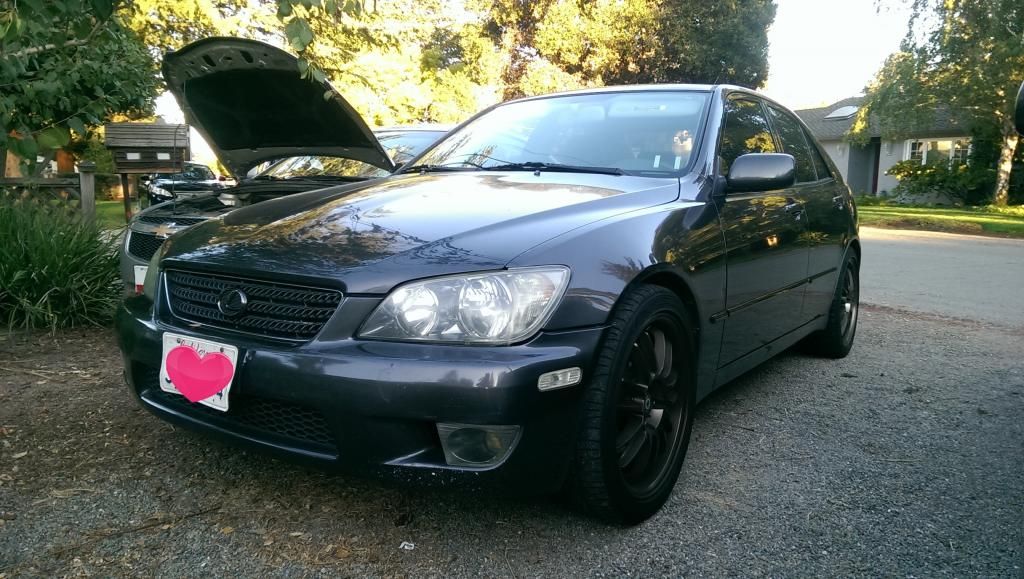 Figs Header Heat Shield installed; Modellista headlights installed; Testfitted MBN Front Bumper (almost ready for paint): 5-18-15
Click here for updated pictures
To This
Looked like this: 3-22-15
Pictures before new bumper
From this: 11-23-14
(Page 6-->Old photos)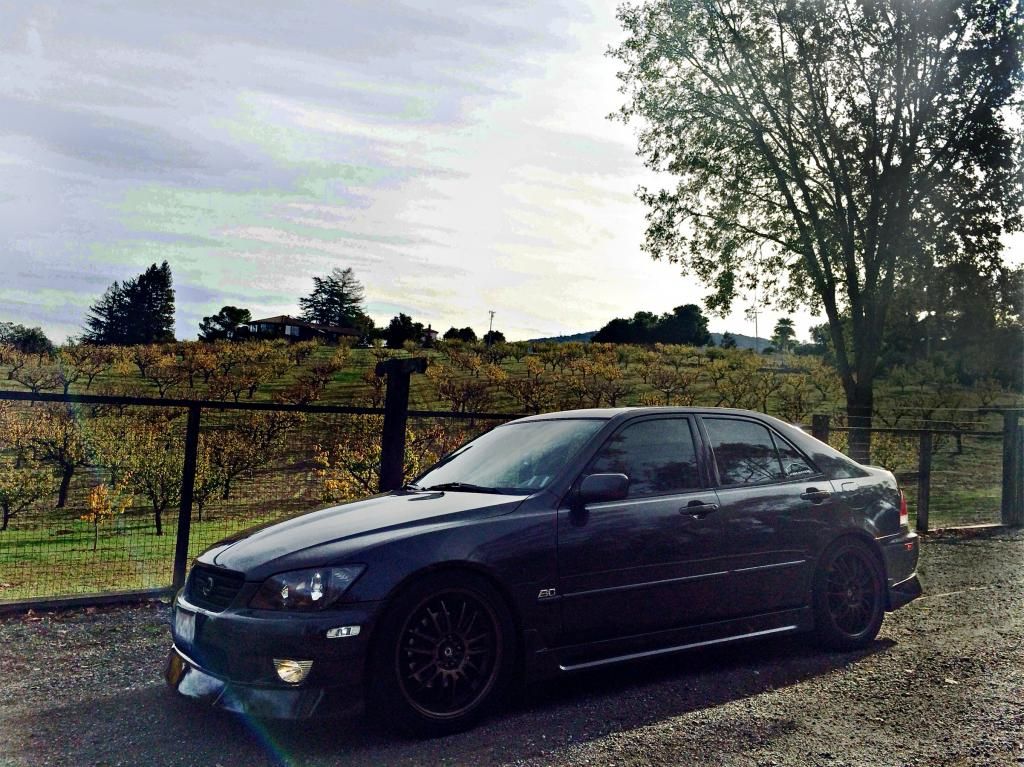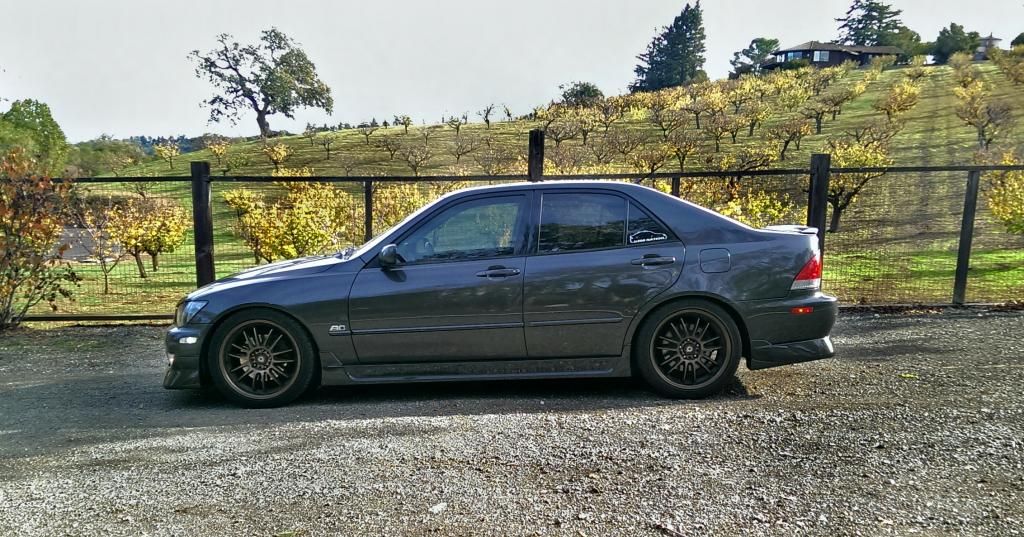 Represent all wet... 12-17-14
(More on Page 7)
Tinted Tails 8-27-14
New Headlights and fogs; Plastidipped front grills 9-14-14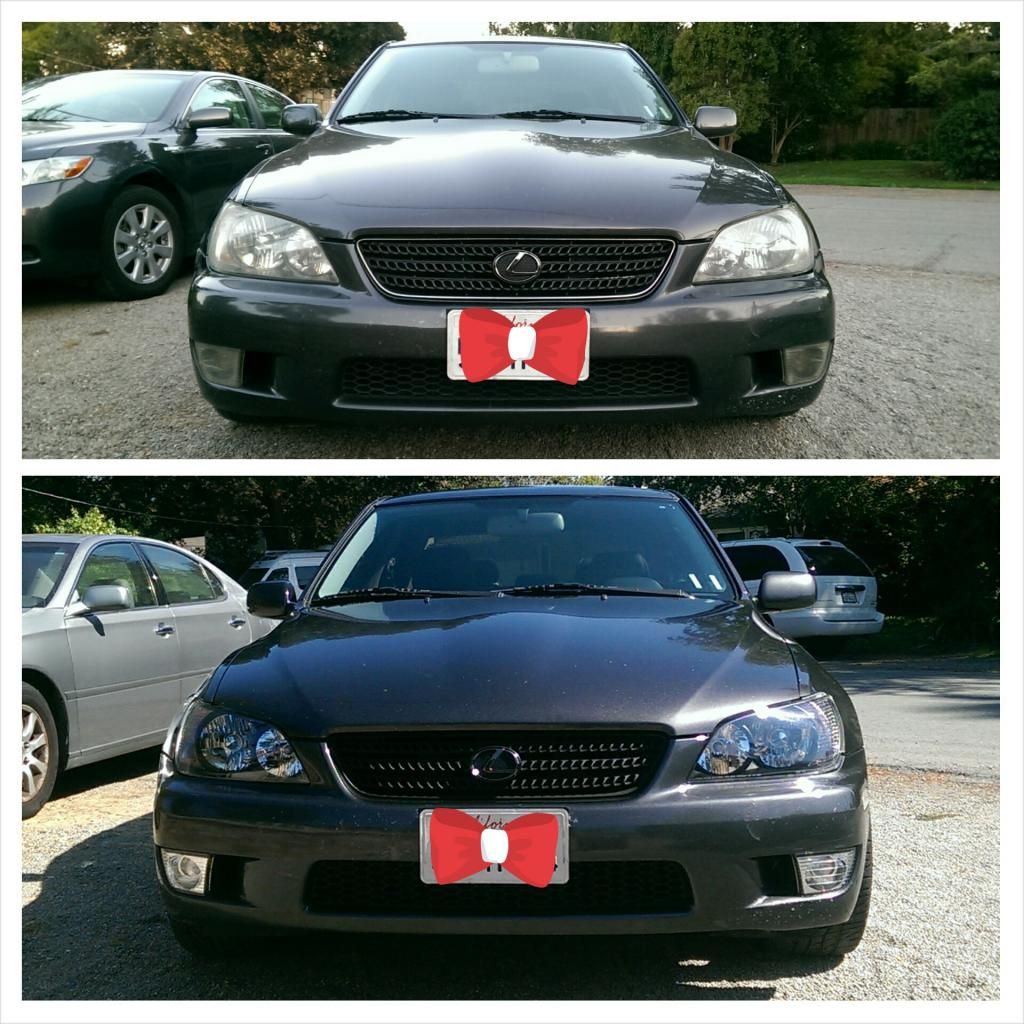 HKS Axle-Back Carbon Ti Exhaust 10-1-14 (Kept stock resonator because I still want it quiet)
Stock vs. HKS PICTURES LOST SORRY!!!
Definitely louder, especially above 3k RPM; low, minor hum in 5th gear on the freeway. At idle, not obnoxiously louder than stock. I love it because it has a noticeably lower tone which is what I wanted. Thanks to: Speed Image USA in San Jose.
Needs a wash but this is how it looks with BC Coilovers on 10-27-14
(More on Page 3)
Stock Height:
Washed and went driving in the hills, stopped for a couple pics, sorry about the front quality. I will take better ones on Skyline Blvd. 10-29-14
Authentic Chargespeed D1 Style Kits fabricated to match-up to USDM bumpers. I drove 5 hours to LA to get my hands on these. Then, my IS's name is "Fansical Unicorn" lol. Since she is my daily driver, I'm driving around with the sides and rear on heh so ratchet.
Here's a little instagram-editted pic of the ratchet Fansical Unicorn 11-2-14
(More on Page 4)
Decided to plastidip and install sides and rear until I get the whole kit painted. 11-15-14
(More on Page 4)
TunedParts Rigid Bars, LED installs
(Page 5)
(For more pictures of the completed, painted kit go to page 6)
PU Greddy Replica Front Lip (winter)
RIP
; changed instrument cluster. 12-14-14 ; 12-15-14
(More on Page 7)
The List
Engine/Transmission
Competition Clutch Clutch Kit from TH Motorsports (SMF)
JoeZ Intake
K&N Drop-In Filter
Figs Heat Shield
HKS Draggar II Axle-Back Exhaust
Manual B01B LSD
Suspension/Brakes
Polished Aluminum Powder Coated Rays Versus Campionato SS7 with authentic Ltuned Center Caps & Michelin Pilot Super Sport Tires
_______Front: 18x7.5 Tires: 225/40R18
_______Rear: 18x8 Tires: 255/35R18
Centric Premium High Carbon Brake Rotors
Centric Premium Front Brake Pads
Centric Premium Rear Brake Pads
BC Racing BR Coil Overs
Swift Springs 12k/10k
Eibach Front and Rear Sway Bars
Eibach 15mm Spacers on Front
KDD Front Upper Control Arms
Moog Front Lower Control Arms
Mevotech Premium End Links
TunedParts Rigid Bars (chassis braces)
Extras
Authentic Chargespeed D1 Style Lip Kit
MBN Sports Front Bumper Customized
Authentic Ganador Chrome Side Mirrors
Pioneer AVIC5100NEX In-Dash Screen
Whistler CR90 Radar Detector
Sport Design Grill
Black Pearl Emblems
'08-'10 Chrysler Sebring Antenna
JDM Modellista Quad Projector Headlights with Halo and Demon Eyes
VLED Mishimoto HID D2R Bulbs
OEM Lexus Fog Lights
Clear Front Side Markers
Clear Courtesy Light Lens
PWJDM Bumper Fasteners
Hella Supertone Horns (painted dark-green)
Hella Sharptone Horns (blue/yellow)
Blox Racing Neo-Chrome Shift Knob
Green LED in driver's window switch
Lexus LED Emblem Door Light
V-LEDS DRL, Tail/Stop Light, Map Light, Dome Light, Side Markers
LED Reverse, superbrightleds License Plate, Courtesy, Instrument Cluster (V-LEDS in 194 spots), IGN Ring, climate controls/ashtray/cigarette lighter
Waiting to be Installed
Figs CDD Device, StopTech Steel-braided brake lines, Ducktail spoiler, Boss Rear-View Camera, Genuine JDM Altezza fenders with side markers, black diamond mesh (for front bumper)
Boost Build?
Pending
Future mods:
Figs G3 Hood prop, Wilwood E-Brakes, upgrade fog light bulbs to VLEDS or 3000k HID (undecided)
I still want Lowenhart BR-5's
New HD toe links and Trac links, and beefier control arms, Dezod Steel Driveshaft, HKS adjustable cam gears, bigger throttle body, upgrade spark plug wires, can't change too much because California. Ultimately leaning towards rebuilding a 2jzgte for when this one blows...only time will tell
JL 10w6 or w7
Will repaint entire car eventually, and maybe Seibon or TRD Carbon Fiber Hood. I want to get the SRT turbo kit but my wifey would kill me. ENJOY!