(this is related to the following thread, but different topic:
http://my.is/forums/f114/r154-ultimate-auto-manual-swap-info-thread-379074/index3.html
)
(
for the REMOTE SHIFTER STYLE SOARER R154
and sorry this doesn't apply to the mkIII R154 guys, cuz i know you guys usually have your own set of shifter issues)
for anyone who followed that thread about a year ago, you know of the issues I had with the SOARER version of the R154 that, believe it or not, actually sat too far back for the shifter to be centered within our shifter bezel (unlike the mkIII r154's that usually sit too far forward and guys have to bend the shifter in all magical ways to be able to shift without hitting the radio buttons in 3rd gear). i wasn't being able to get it into 2nd, 4th, or reverse without nailing the sh*t out of the BACK part of the chrome ring that surrounds our shiftboot. so what did i do?
i cut the shifter a welded it to itself (see post #65 of the thread linked at the top of this post!). which was great, at the time, and compared to how the shifter was before we cut and welded it. but i've had the swap done for over a year now, and i slowly started to hate more and more how the car was shifting (still REALLY long throws, and also compared to my cousin's honda s2000, and manual IS300's with stock trannies and short shifters, and ESPECIALLY the shifter that Karl (GT2000QUEBEC) fabricated, seen here:
http://my.is/forums/f90/teaser-my-custom-short-shifter-now-chados-review-397621/
)
so i set out on a mission to find a damn short shifter for the soarer R154. i didn't try looking too hard at first, but everywhere i looked i didn't find anything (the problem with THIS R154 is that the shifter connects to the shifter linkage very similarly to the supra V160/161 6-speeds, with a bolt through the bottom, and NOT like our stock manuals or the mkIII version of the R154s that have the little ball socket at the bottom).
so after a few months i said f*ck it, and just tried to think about it mathematically based on my memory of how my stock shifter is built, since i couldn't really remove the shifter from the car at the time without putting the car on a lift.
(i know i know, you guys are gunna say i don't need a lift and removing the shifter takes 2 seconds. well, since my car was originally automatic, i dont have all the stock rubber and insulation pieces that you manual guys have. so when i did my swap, i fabricated a metal plate that i bolted down to the frame of the car underneath the center console to shield some of the heat and noise, and then on top of that i put a sh*tload of dynamat, to shield the noise even more. so taking that all apart would be too much of a bitch, so i have to unbolt the shifter from underneath the car so that i can pull it out from the top.)
anyyyyways, so what shifter could i find, or MAKE if i freaking have to, that will raise the pivot point, thus, shortening my throws???? i looked around a bunch, called a bunch of car parts companies, and no luck. even mentioned my issues to GT2000QUEBEC to see if he'd be able to take his current design and simply change the bottom part of it, who said to send him a picture, which i again couldn't do without going through too much hassle.
i was so frustrated i even put my r154 up for sale and wanted to put a SMOOTH, stock tranny in for a while, blow it, and then who knows (6-speed, another r154?)
i ended up finding a replica of the C's short shifter for the non-turbo supra 5-speed, w58 tranny. it LOOKED like it would work, i made a few measurements and played with a few drawings, and decided to order it (NO, i didn't pay the 3 or $400 that a c's shifter costs, f*ckin rats those guys).
so last week when we put my car up on the lift to change my muffler (car was TOOO loud), i changed out the shifter and IT WORKED (obviously). and it was freaking sweet. nice short, crisp, PRECISE shifts. the shifter itself sits slightly lower than the one i have now, which i LOVE
back to problem #1 though, of the shifter sitting too far back to get into 2nd, 4th, and reverse. so drove around a few days with my shifter bezel removed until i went back to the shop, put the stock shifter back in in the meantime, and took my short shifter to a welder today...........
will show results with pictures and videos tomorrow when i put the short shifter back. here's a few teasers in the meantime..
stock shifter that is installed now. with its world-class welding job
the new short shifter. you'll see it better when i pull the stock shifter out, but that ball where the shifter pivots is a good 3/4" higher than stock, making the throws muuuch shorter. and the rubber instulation around the top part of the shifter is much thicker than the stock shifter.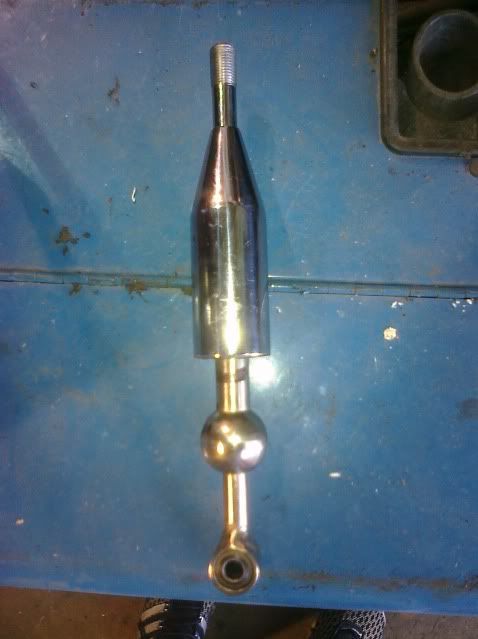 now cut and repositioned
moved about 1" to the front, and about 0.5" farther forward than the stock shifter in the first picture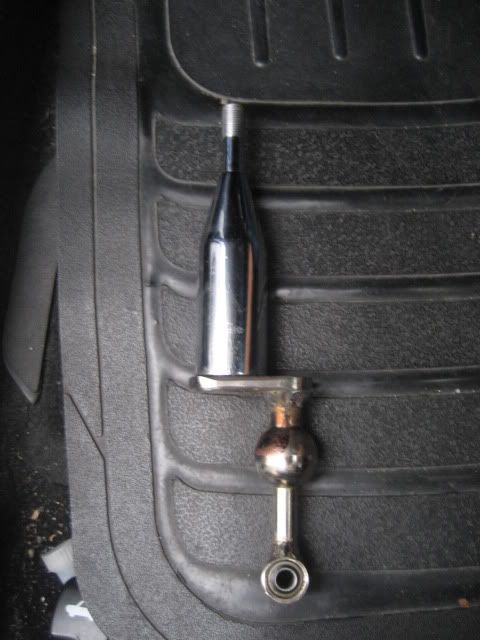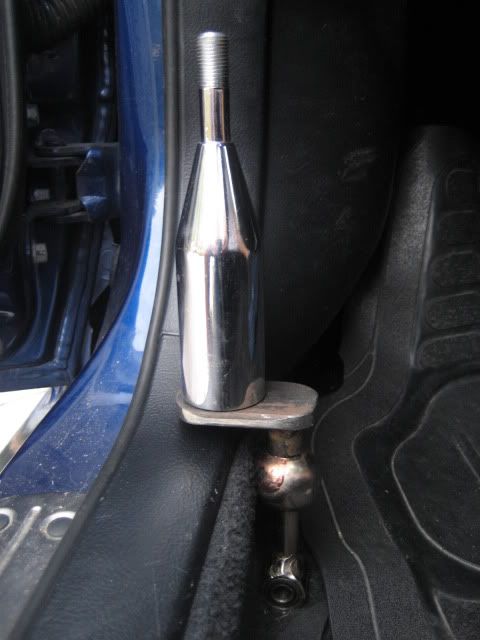 GREATTTTTTT freaking welding job. props to that guy.