Discussion Starter
·
#1
·
I've just replaced an obnoxiously loud Aeromotive inline pump with dual in-tank Walbros. My car, an '02 IS300, has a PHR pump bracket that was stripped of the original pump/regulator.
Not being familiar with the stock setup, and since it's been changed by a rather ghetto install, (and having searched extensively here) I want to make sure that I have the return line from my fuel rail-mounted regulator connected correctly.
When I removed the bracket, the return line fitting had nothing connected to it on the inside (probably a makeshift hose connection pulled loose) , but I noticed a loose 3/8" hose inside the tank. From some research here, I think that this line originally connected to the in-tank regulator's return port.
My bracket has a bulkhead fitting that feeds the regulator return line through the top of the bracket. I installed a 3/8" hose barb on the intank side of this fitting and connected the loose hose inside the tank to this. I'm 99% sure that this is the correct hookup, but am asking to be sure. My setup is very similar to this: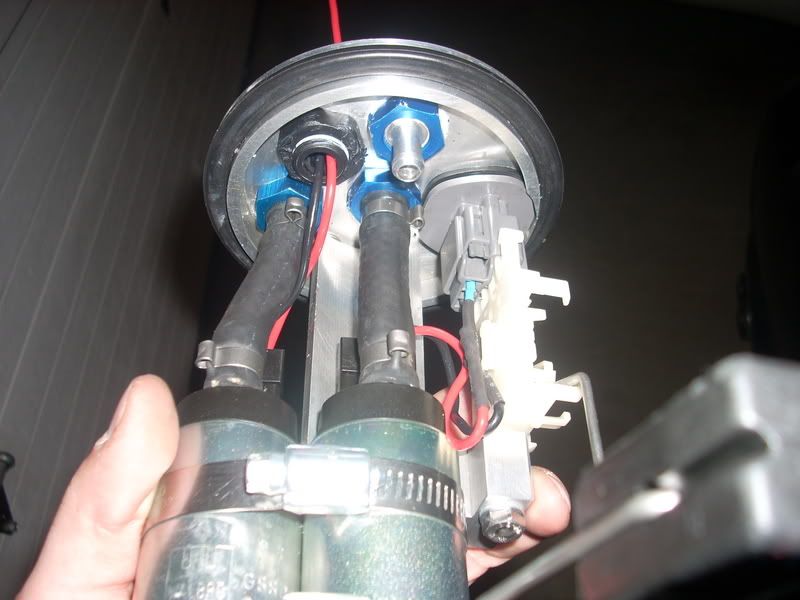 And the empty barb on this picture is very similar to my return setup that is now connected to intank 3/8" hose. Is this correct?
BTW, Thanks SPIN2GST for your excellent writeup - You saved me some serious design/fabrication time.