Overhauling my ride and ran into a snag.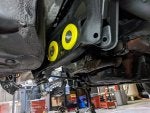 While torquing the rear mount bolts to spec (105 ft-lbs!
https://desmas.net/is300/manual/SA-102.png
), the click wasn't as desired. Somehow, the differential cover cracked.
I suppose the replacement bushing isn't dimensioned quite the same as stock, but possibly this is simply due to age. Has anyone a similar experience or thoughts otherwise; what do you all think? Fortunately I have spares and can practice some aluminum welding about this one, but disappointing evening none-the-less.