Discussion Starter
•
#1
•
So, I...for some reason have begun to really appreciate the look of dark wheels on most all colors of cars... not that i dont like a little bling & polished lips... but the Visual impact of a Black wheel/tire combo on a nice light colored car... makes the wheels & tires look HUGE exspecially if they are already 18-19's & very aggressive... & it is the one scheme i prolly HAVEN'T tried on my car yet sooooo
I have had these classic JDM spec Volk Evolution4 forged monoblock wheels for a few years...
they are awesome wheels, classic design, really light weight, forged, perfect offset and size (18x9 f&r w/46 offset) also..
i really love them & have used them for street, for show & won 1st place several times, & for track as well... lately they have become my track day wheels...
I've decided these should be black henceforth...........
it was these Vs my Volks or Hiro's which are virtually perfect still...& again, this is a temporary fix untill i can peel the tires off & send these to the powdercoater... the paint will chip off soon enough.....
so 1st I scrubbed these clean with a scouring pad to scuff the paint and scrub off the brake dust etc etc.... then i washed them thoroughly with soapy water and a brush then rinsed them clean and dried them with the compressor
Then I started taping off the tires... I simply ran tape around the beads & around the outside of the tire shoulder...
Once taped off I began to shoot adhesion promoter on EVERYTHING inside & out.....
Ok can we agree...shooting paint cleanly & evenly on a mesh wheel IS A BITCH hehe... fuking things... I had to shoot from EVERY gotdayumn angle to make sure i got the paint into the sides of the mesh but NOT so much that it pooled & ran on the faces of the mesh.....
sheesh...it basically takes LOTS & LOTS of light coats & remembering where you started & try to overlap a bit i started on the inside & worked my way around from every angle & then did the outside....I used a turn table also... cheap one from target like for a TV or VCR etc.... it makes it SOOO much easier to hit the damn things from several angles by just spinning it!....
Ok,... SEVERAL coats later ... i did the exact same thing with semigloss clear... i wanted to try something a bit less glossy on these.... but i coated them LIBERALLY... at leat 3-4 coats of clear....
These wheels come with a BIG ASS center cap it threads into the wheel & locks down to cover the lugs etc... these caps were a bit beat up so I stopped using them...I made some OEM Lexus RX300 centercaps fit into the centers and of course i needed to paint them to match so i stripped off the Chrome "L"Logo and shot them to match.
I used a universal metallic black paint from Duplicolor it is basic automotive paint...
Then for a little fun i shot the INSIDE of the barrels with the same metallic blue I used on the rotors etc...
& that was about it ... peeled the tape off wiped them down & mounted them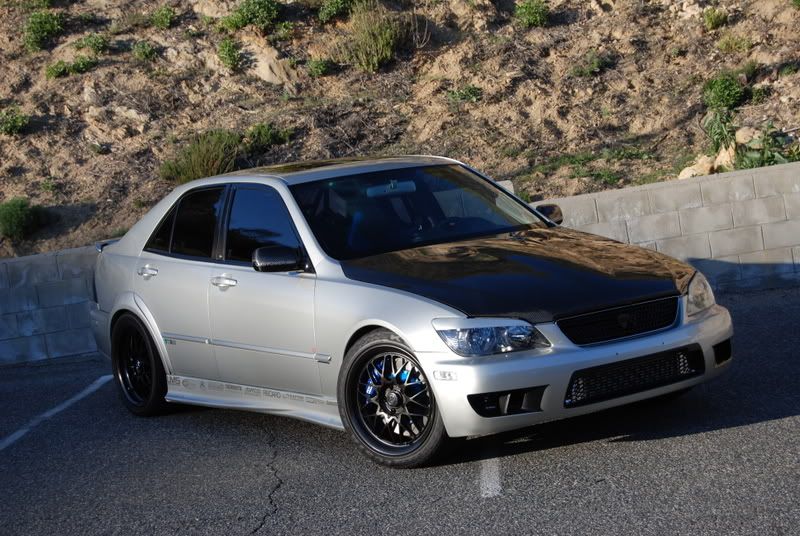 POPPA LIKE!!!
now i wonder how those damn clean ass Hiros would look on my car in all black....:jawDrop: