WHAT ARE THEY AND WHAT DO THEY DO?
OXYGEN (O2)SENSORS: Diagnose and Replace
WHY DO I CARE?
Typical scenario is that you get the odious CEL.
Instead of posting, "oh noz I gotz a CEL" (or for you Westcoasters "oh noes i has a CEL"), you run to the auto part store, borrow the OBD reader and get your code read. You write it down, then search here with that code.
NOTE: Your error code may not be O2 related.
WHAT IS THIS OBD YOU SPEAK OF, TELL ME MORE?
What Is OBD?
WHERE IS THE OBD PORT ON THE IS300?
Directly under the steering wheel, you will feel a port with a cap on it behind the knee panel. It is the white thing in this pic below.
WHERE ARE THE ACTUAL O2 SENSORS LOCATED ON THE IS300?
The IS300 has 4 oxygen sensors, named B1S1, B1S2, B2S1, and B2S2.
Bank 1 (B1) refers to the first bank of cylinders or 1-3 (first three as you look at it from the front) Bank 2 (B2) is the second bank of cylinders 4-6 (back cylinders closest to the fire wall).
Sensor 1 (S1) is the first sensor in the particular bank (1 or 2) in the path from the engine block and out. Sensor 2 (S2) is the next one in-line.
B1S1 should be the first one you see as you look in the engine bay. It is up high, and toward the front. The one below that is B1S2.
B2S1 is near the firewall. The one under the seat (under the car) on the Y-pipe is B2S2.
Sensor 1s are "pre-cat", and check A/F mixture, Sensor 2s are "post-cat" and check catalytic operating efficiency.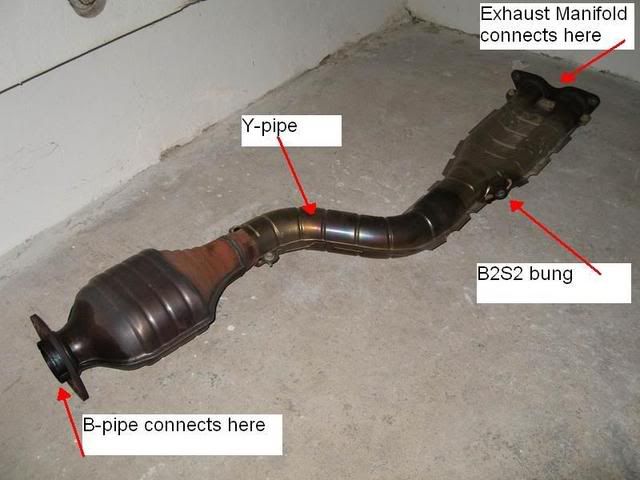 Thanks to digger08 for the below pic.
WHERE CAN YOU BUY THEM?
Dealers, of course. Your local auto part store sells generic ones, but most likely they will need to be spliced in. Most people swear by Denso since those are OEM. Generic ones are cheaper, but of unknown quality, and do not just "plug" in.
Here are some online sites, you can get a Denso 02 Sensors:
Denso starters, alternators, iridium plugs, fuel pumps and glow plugs
,
OELEXUSPARTS.com
, or
Sewell Lexus Parts and Accessories Online - All Genuine Lexus Original Equipment Parts
. They are all around the $100-$150 neighborhood with shippine. Generics can be as much as half that amount.
WHAT ARE THE PART NUMBERS?
If somebody knows the part numbers can they post them up? I think they may have multiple numbers as well. Double check with the seller before you pull the trigger, also report back if they are right or wrong.
Here is what I have heard, these are not 100% confirmed. (* = slightly confirmed, ** = pretty much confirmed)
Bank 1 Sensor 1:
89465-53090 (2001) *
89465-53140 (2001) *
89465-53210 (02+) **
Bank 1 Sensor 2:
89465-53110 (2001) *
89465-53200 (02+) **
Bank 2 Sensor 1:
89465-53110 ?
89465-53200 ?
89465-53190 (02+) **
Bank 2 Sensor 2:
89465-53120 (01) **
89465-53190 (02+) **
89465-53150 ?
HAS ANYBODY DONE A DIY YET?
Yes you are in luck, as long as you need to fix B2S2. It will at least give you a general idea of what is involved as well when replacing an O2 sensor.
http://my.is/forums/f115/diy-p0161-o2-sensor-b2-s2-change-pics-263613/
WHAT IF I JUST GOT A HEATER CIRCUIT MALFUNCTION, DO I NEED TO REPLACE MY SENSOR?
No, you can bask in the yellow glow of your CEL and leave it alone (does not effect drive-ability), or you can do the following work-around.
http://my.is/forums/f88/how-fix-p0161-o2-sensor-heater-circuit-malfunction-b1s2-free-p0141-290038/
WHAT IS THIS 02 SIMULATOR I HEAR ABOUT?
By way of installing headers you are removing your catalytic converters to increase flow. By removing your cats, your B1S2 and B2S2 oxygen sensors will tell your ECU that something is wrong.
An 02 Simulator will give the ECU the impression that everything is A-OK with B1S2 and B2S2, and your CEL will not shine.
This can be a route to consider if you don't have headers but a B1S2 or B2S2 goes bad, as an O2 simulator is cheaper than a new O2 sensor. Remember these sensors only detect how well your cats are working, they do not effect drive-ability or performance.
http://my.is/forums/f88/how-install-o2-simulator-284733/
http://my.is/forums/f88/o2-simulators-dummies-336947/
ALRIGHT I'M READY TO CHANGE MY O2 SENSOR, WHAT DO I NEED TO DO?
Wait to your manifold is 100% cool, unclip it and hit your sensor threads with some PB Blaster. Let it work it's magic. Then use either the special 02 socket (has a slit in it) or just a normal 22mm wrench, and unscrew it.
Get your new 02 sensor, dab a little anti-seize on the threads. Make sure it is O2 safe anti-seize, you don't want to ruin your brand new sensor right away.
Screw in your new sensor and make it a little more tight than your oil drain plug, but not too tight. Then clip it in.
If you have any other tips, info, pics, or links post them up.