Bought these wheels last month and wanted to redo them.
Specs: 18x8 +35 18x9 +35
When I first got them they we nasty and paint flaking off.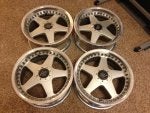 Didn't like it too much cause it looked too plain. So I decided to paint the faces Audi Ibis White.
First came the taping and primer, removed centercaps and decided that I wanted a contrast of color so I polished the centercaps.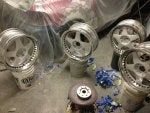 That was just the primer coats and cleaning of the centercaps.