·
Formerly known as 01WaIS
In December of 2004, I bought an 01 MSM E-Shift with about 48k miles on it, in really good condition for about $17k. I traded in my Civic EX, with some savings and a little help from the parents..
I wanted to start modding my IS, but I wasn't sure where to begin, so I did some googling and found the site!! I signed up right away, back in '05. I don't post very often, but I am lurking all the time. I am making this build thread for more "record keeping" purposes. I have pretty big plans for this car, let me know what you think. All comments/criticism are always welcome!
I will try to keep this post updated as frequently as possible.
Here is a pic of the current state of the car:
Engine Bay shaved and Roll Cage FINALLY installed: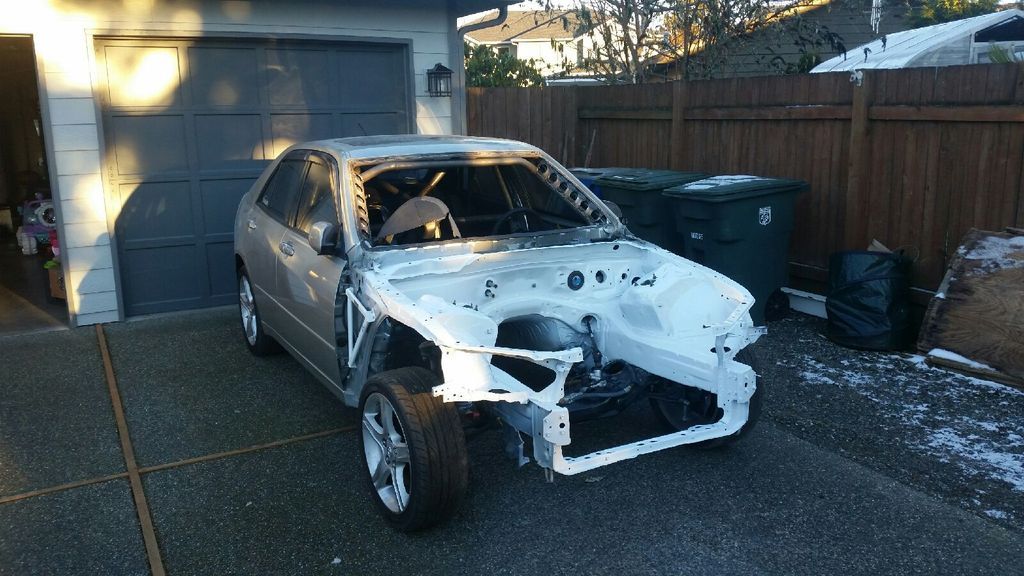 As of 2/25/2017, here is an updated list of current parts/mods on the car, with my "wish" list parts in red:
TURBO & ENGINE

JDM 2JZ-GTE VVTI ARISTO MOTOR
Precision 6466 BB CEA Billet Polished HP-Cover 1.00 A/R Divided T4 Housing Ceramic Coated Grey ICE w/Precision V-Band
*Head*

**HEADGAMES HEAD**
Cleaned, decked, Headgames pocket port
Ferrea Beehive Springs
Ferrea Titanium Retainers
Ferrea Locks
Ferrea Bronze Guides
Ferrea 6000 Competition Plus Intake and Exhaust Valves
Shimless Buckets
Viton Valve steam seals
ARP 625+ Custom Aged Headstuds
OEM Supra TT Headgasket
*Block*

**FOUR RINGS PERFORMANCE BLOCK**
Cleaned, Hot Tanked, Decked, Line Honed, Bore and Hone .20 Over
Custom Induction Performance spec JE Assymetrical 10:1 High Compression Pistons .20 Over w/Upgraded Pins
Manley Turbo Tuff "I" Beam Rods w/ARP 2000 Bolts
Calico Coated ACL Race Bearings "X" Series
ARP Mainstuds
*Additional Motor Related Parts*

Gates Racing Timing Belt
Gates Racing Serpentine Belt (Correct part to accommodate ATI Pulley)
TRD Oil Cap
Koyo Racing Aluminum Radiator w/ ARC 1.1 Bar Radiator Cap
Tru-Cool Heavy Duty External Transmission Cooler w/Magnafine Filter
Mishimoto 10-Row Oil Cooler Kit
Mishimoto Magnetic Oil Drain Plug
Carbing Aluminum Radiator Cooling Plate
3" Mandrel bent T304 SS Race Downpipe*
3" Mandrel bent T304 SS Front Midpipe*
Full 3" SS Turboback Exhaust w/Vibrant Muffler
TokenSolutions PnP o2 Delete
TeckPRO Grounding Kit
Dezod Motorsports Vacuum Manifold
FIGS Clutch Dampener Delete
Titan Motorsports Billet Tensioner
Titan Motorsports 6-bolt Exhaust Cam Gear
ATI Crank Pulley Dampener
Sound Performance Modified Oil Pump
OEM Coolant Pipe with Twin Turbo cooling provision delete
MOJO Performance GM LQ9 Coil-pack System
NGK 4544 Spark Plugs
Turbo Oil Return Adapter
Valve Covers chromed, cleaned and -10AN Tapped
New PHR Lower Waterpipe Rotator Kit
Powersteering Pump with PHR -AN Fitting
Oil Filter Relocation Adapter Fittings installed
PowerHouse Racing 200AMP Alternator
PowerHouse Racing Polished Waterpump Pulley, Alternator Pulley, Power Steering Pulley, Idler Pulley
Beech Motorsports Power Steering Reservoir with AN Fittings
Braided Powersteering Pressure Line with AN fittings and adapters
Megan Racing 70A Engine Mounts
New OEM Crank Position Sensor
New OEM Water Pump
New OEM Cam Sensor
New OEM VVTI Sensor and Washer
New OEM Timing Cover
New OEM Starter
New OEM A/C Compressor
Custom Tweaked Performance Tucked Engine and Chassis Harness
3"----x3 Racepartsolutions Clamshell Clamps
3.5"--x2 Racepartsolutions Clamshell Clamps
3.5"--x1 Accufab Clamshell Clamp
Intercooler Piping 3" Hot Side, 3.5" Cold Side
HYPERTUNE Intake Manifold w/ 90mm Custom Wiggins Throttlebody & -10AN Fuel Rail
ETS True Twin Scroll Twin Tial MV-R 44mm WasteGate T4 Exhaust Manifold
ETS Custom Intercooler 4" Thick Core, 3" inlet and 3.5" outlet (12X24X4)*
1 TIAL Q BOV Polished 12PSI SPRING w/ ALUMINUM FLANGE
2 TIAL MV-R 44mm Wastegates - Black - 9BAR SPRINGS
OEM - Supra TT MKIV IAC Valve
EMS & ELECTRONICS

ProEFI 128 w/IS300 Harness, ProEFI Can Cable, Wideband Sensor/Harness, 5 Bar MAP Sensor, iBoost Solenoid and Control Knob, E85 Flex Fuel sensor/harness and 6AN fittings, Fuel Pressure Sensor, Oil Pressure Sensor, Oil Temperature Sensor
ProEFI Color Can Gauge
AEM Digital 52mm AFR/Wideband Gauge
AEM Digital 52mm Boost Gauge
AEM Digital 52mm 0-150psi Oil Pressure Gauge
AEM Digital 52mm 100-300F Oil Temp Gauge
JDM Altezza RS200 Digital Display Cluster w/ 9K Tach - Dakota Digital SGI-5, SGI-8 and KM -> MPH Signal Conversion
JEGS Battery Jumper Terminals w/mounting bracket
JEGS Battery Terminal Cover Set
Exide Orbital Blue-Top Battery
Battery Re-located to Trunk
Taylor Aluminum Battery Box
FIGS Battery Tray
FIGS Battery Tie Down Bar
Custom Battery Re-location kit with Custom Cables
EXTERIOR BODY

Elixir Type II Carbon Fiber Hood
FIGS Stainless Steel Carbon Fiber Hood Prop Kit
Aerocatch Locking Hood Pins
Seibon CF Trunk w/Custom Trunk Struts
Clinched Widebody Kit
Version Select Side Skirts
VIS Vertex Rep Front Bumper
VIS Racing Chargespeed Rep Rear Bumper
Blacked Out Headlights w/Chrome Rings
UGO Roof Spoiler
JDM TRD Trunk Spoiler
JDM Black Chrome Taillights
JDM TRD Carbon Fiber Mesh Grille
JDM Altezza Power-Folding Side Mirrors
JDM Altezza Window Visors
JDM Altezza Shorty Antenna
LED Taillights
LED Inner Taillights
LED License Plate Lights
LED Reverse Lights
LED City/Parking Lights
FUEL
Goodridge Series 910 Teflon Aramid Kevlar Braided Fuel Lines w/Goodridge Fittings -8 Feed, -6 Return (-10 Upsized Filter)
Injector Dynamics ID2000
WELDON 2040A Fuel Pressure Regulator
Squash Performance IS300 Twin Pump Hanger (-8 supply & return)
Dual Walbro 450LPH Pumps
DW Heavy Duty Fuel Pump Wiring Kit
Hypertune -10 Fuel Rail
Fuelab -10AN 6 Micron Micro-Glass Fuel Filter
ProEFI In-Line Flex Fuel Sensor & ProEFI Fuel Pressure Sensor
INTERIOR
Custom Carbon Fiber Wrapped A/B/C Pillars
Custom Fully Welded Cage
Sparco Pro2000 Racing Seats
Sparco Racing Seat Brackets
Nardi Deep Corn Steering Wheel - 330mm Black Perforated Leather - Red Stitch
NRG Short Hub
NRG Quick Release Gen 2.5 - Black / CF Ring
PnP Airbag Delete for aftermarket seats
TRD Triple Gauge Pod
JDM Double Din Dash kit
JDM Coin Tray
OEM Manual Leather Shift Boot
05 Manual Brake Pedal Assembly
05 Manual Clutch Pedal Assembly
04+ Arm Rest w/center console
04+ Cup-holder separater
S2000 Push-Button Engine Start
H3R HG250C Fire Extinguisher Chrome with custom bracket
H3R BMF01P Polished Mount
H3R BB250P Polished Band Clamp
LED Dome Lights (AAC Interior conversion "kit")
LED Map Lights (AAC Interior conversion "kit")
LED Footwell Lighting
LED Trunk Lighting
AUDIO
Alpine IVA-W505 DVD*Player
800 Watt 2-Channel Audiobahn Amp
600 Watt 4-Channel Diamond Audio Amp
2 10" JL Audio Subwoofers
SUSPENSION
AirRunner Air Suspension
TRD Yellow Front Sway Bar
TRD Yellow Rear Sway Bar
JIC Magic Front Strut Tower Bar
TunedParts Rear Strut Bar*
TunedParts Rear Subframe Rigid Bar Braces
Megan Rear Toe Traction Rods
FIGS MEGA Race LCA's w/2-piece Moto Ends
FIGS Adjustable Front Sway-Bar Endlinks*
FIGS Adjustable Rear Sway-Bar Endlinks
FIGS Steering Rack Bushings #1 - 2 bushings, 2 spacers per kit
FIGS Steering Rack Bushings #2 - 1 Lower solid rest plus clam-shell urethane belt per kit
FIGS Bushing Master Kit
FIGS Steering Knuckle RCA Hysteer
Ultra Racing Fender Support Braces
Tanabe Front Underbrace
Tanabe Rear Underbrace
Cusco Adjustable Front Upper A-Arms
TRANSMISSION & REAR END

*Transmission*

Getrag V160 Supra 6-Speed Transmission
SupraStore Billet Shifter Bracket for V160 into IS300
SupraStore Modified Shift Rod for V160 into IS300
SupraStore V160 Crossmember
TRD Supra Transmission Mount
Suckerpunch MKIV Supra V160 Short Shifter
OEM MKIV Supra Shift Knob
Automatic --> Manual Supra V160 Conversion w/ IS300 Manual Clutch and Brake pedal retrofit
Clutchmasters Twin Disc FX850 Clutch System*
OEM Supra TT Master Cylinder and Clutchmasters Hydraulic Release Bearing Slave Cylinders
SupraStore IS300 V160 SS Braided Clutch Line
*Rear End*

GS400 Carrier Differential (For 3.266 Gear Ratio)
Custom CNC Differential Plate Cover with Mounting Points
TRD Limited Slip Differential*
Toyota Supra TT Halfshaft Axles
Tach Motor Works Custom Rear End IS300 Conversion for GS400 Differential with Chromoly Braces
Driveshaft Shop Custom 3.5" HD Chromoly Driveshaft with Billet Adaptor plates
WHEELS AND BRAKING

SSR SP1's Front: 18x10.5 +25 & Rear: 18x12 +30?
StopTech Full Front and Rear Wheel BBK for 2.5" Lowering Cars includes:
-----StopTech 355x32 Slotted & Zinc Coated Rotors*
-----StopTech Street/Track Pads
Project Kics Revo R40 NeoChrome Lug Nuts w/locks
FTP Stainless Steel Brake Lines
ABS Re-location
Stainless Steel ABS Lines
Now, on to some pics:
Back in '09, with my brothers VR6 Corrado:
The car looked like this for many years, until about Spring 2010 when I got bit hard by the mod bug..
Bought some new wheels, 19x8 +42 PIAA Super Rozza's:
After about 10 seconds, I got tired of driving around a 4x4.. So, I put in an order for some Stance GR+ coilovers. I also ordered and installed some TRD Yellow "Race" sways, Megan Traction Rods, and an OEM CF Hood with FIGS Hood Prop kit.
Since then, I have been picking up/installing parts here and there. (new in-dash DVD player, subs/amps, Altezza visors, TunedParts rigid bars/rear strut bar, new Optima battery w/FIGS battery tray and tie-down bar.) This is what the car currently looks like:
And some random install pics..
FIGS Battery Tray/Tie-Down Bar:
TunedParts Rear Strut Bar:
TunedParts Rigid Bars, TRD Rear Sway, Megan Toe Traction Rods:
That's about every pic I have of the car, I don't really take a lot of pictures, as I don't have my own camera right now..
THEN, on July 30, 2010, after many years of consideration/research and saving, I purchased the SRT 2.75 kit from Mo! Here is a complete list of everything I ordered (from SRT's website):
•2JZ-GE Tubular T304 Stainless Steel Exhaust Manifold
•Precision 6265 Turbo 0.68A/R
•Large Wastegate w/open dump tube
•Blitz® Super Sound Dual Drive blow-off valve
•Stainless Steel braided oil supply line with SRT exclusive oil supply tee
•High Temp oil drain line
•4" High flow lifetime cone filter
•Haltech Sprint 500 Full Standalone Fuel Computer w/all sensors
•3Bar Map Sensor
•1000cc Injectors
•Walbro® 255lph Fuel Pump
•All Mandrel bent FULL POLISHED aluminum intercooler piping w/bead rolled ends
•22.5"x12"x3" Intercooler
•High Temp 4-layered silicone couplers and connectors
•2.5mm Multi Layered Steel Head Gasket
•ARP Head Stud kit
•Stainless Steel High Grade clamps
•NGK Performance Iridium Spark Plugs
•3" Mandrel bent T304 SS race downpipe
•3" Mandrel bent T304 SS front midpipe
•3" Turbo Catback Exhaust
•HKS Turbo Timer w/harness
•AEM Wideband Gauge
•AEM Boost Gauge
Some pics of the delivery: