CARLISLE STYLE & PERFORMANCE 2008
Once again my friends it is our pleasure to announce the return of the Carlisle Style and Performance show for 2008. There has been a ton of talk about how great and enjoyable the show was for 2007, and it looks like this year the show is shaping up to be even bigger and better. It has been conveyed by the events coordinator for the Carlisle Performance & Style Show that it was his extreme pleasure to have us come through, and that NELOC and My.IS completely stole the show for '07. This was achieved by a strong display of unity as a car club, camaraderie and overall friendliness of the members, and the fact that we also rolled into the show 40 cars deep had a little something to do with things.
LOL!!! It was with these attributes that NELOC was awarded a trophy for Best Club Participation.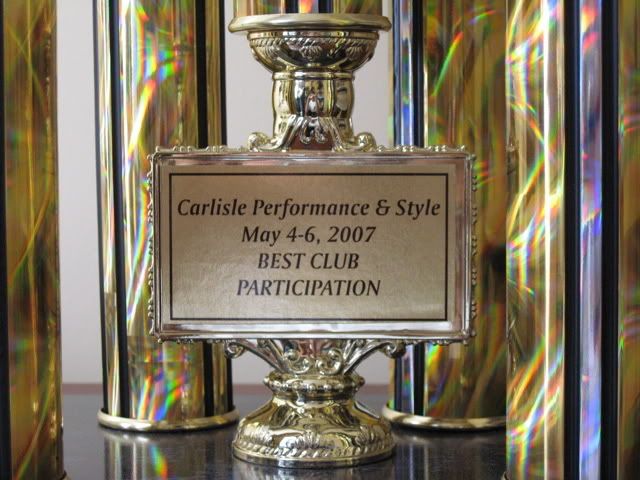 LOL!!! It was with these attributes that NELOC was awarded a trophy for Best Club Participation.
For many Neloc'ers and .net'ers this was the first time that they actually met other members from areas other than their own. We drew a participation base from MD,VA, Pa, and NY. Since last years' event, the Carlisle show has come up in countless threads with nothing but positive feedback and responses; proving once again that the various Lexus forums are not just full of hype, we are a lifestyle in which many other clubs strive to achieve. For those of you who are reading this information now and are new to this experience, or have no idea what we are talking about, please reference this thread for review.
http://www.clublexus.com/forums/show...ight=aftermath
Due to the overwhelming success of last years show, the Carlisle Events staff is going the extra mile to welcome us back by giving us full access to the entire pavilion area that we had last year. We have also been given access to all of the surrounding outside space close to the pavilion area as well for additional parking.
This image shows less than half of the pavilion.
It is through this measure, that we will be extending invitations to members of My.IS, ISFanatics, High Society VIP, as well as TRI-State VIP to join us in attendance of this event. This will be the one, MUST ATTEND event of the season, so please make plans to attend THIS one if you do no other one this year. Everything from the multiple caravans, to the nearby local nightspots, and everything in between is guaranteed to be a lasting, memorable experience for all who will be in attendance.
When:
The Carlisle Style and Performance show will be held May 9-11 at the Carlisle Fairgrounds in Carlisle, Pa.
Carlisle Events - Performance & Style - Home
(Carlisle Home Site)
Registration:
Registration is available now, for those of you who would like to register early. Reference this link to do so….
Carlisle Events Online Pre-Registration: Carlisle Performance and Style
A separate registration thread will be going up on CL and a link to that will be provided once it's up.
Official Carlisle Performance & Style 2008 Registration Thread: - Club Lexus Forums
Cost:
Entry fee for this event (all three days, unlimited access to/from the fairgrounds) is still only $40 per car, and is good for the weekend admission of 2 people per vehicle. Please keep in mind that this fee applies whether you only attend for one day or all three days. Prices are not set by us and are not negotiable. This price applies to the NON- JUDGED show field ONLY. Unless any of you are considering having your car judged for prize placement, this is the price you will pay with the rest of us to attend.
Non Judged Field Info:
Register a car, truck, or sport bike for the 2008 Carlisle Performance and Style show Non-Judged Showfield. Park with your friends and /or club and still be a part of the show field (For us, this will en-tale the pavilion parking area as well as the surrounding areas of that building in random order). After registering online, a receipt will be mailed to you via regular US mail. This will be a brown colored post card with the information on it. It is IMPERATIVE and very IMPORTANT that you remember to bring this receipt with you to the event. Please keep in mind that registration pricing WILL INCREASE after APRIL16, 2008. This is 22 days before the start of the first day's activities.
Parking Info:
One of the most important things that we learned from Carlisle '07 is that nobody is perfect. While we did have some issues concerning parking, they were squashed very quickly and efficiently. Unfortunately with '07 being our first MAJOR event in which we were subject to someone else's rules/guidelines etc., there WERE MAJOR breakdowns in communication which did occur. It has been through this experience did we learn that too many people involved in one activity can spell disaster and we have taken special note of that and learned from the experience. This year, a special committee will be formed to assist in making sure we are organized and to assist in getting everyone parked quickly. This committee will be headed up under the exclusive direction of TRUKN1 (contact him over on the clublexus NELOC forum), so any inquiries regarding this need to be directed to him and him alone via PM. Action plans will be in place and those committee members chosen to aid with this activity shall be contacted via PM.
The one major change in parking for '08 over what was done for '07 is the formation of the parking committee. You will notice that those members will be connected with one another via radio communication. I need everyone to understand this next point clearly. This year we will have more accessibility to inside(pavilion) parking. A separate thread will be generated for official attendance so that we can keep track of those who have registered and cross-reference this info against who Carlisle also has registered. In the efforts of being fair to everyone, it is requested that everyone who signs in for the Attendance thread provide the following information.
Screen Name/Name/ Car/ Reg # (provided by Carlisle on receipt).
Hotel Info:
It would be advisable to reserve rooms ASAP to get the cheapest rate possible. To keep the individual cost low, please try to find other members that you can share a room with.
See link below
Carlisle Events - Lodging and Hotel Information
The rates I received ranged from $65-$189 per night for 2 adults... I also asked about having 4 adults stay in 1 room and almost all hotels had no problem with it, but would charge $5-$10 extra per person. The rates i'm posting are for rooms with 2 queen size beds OR 1 king size, so for those planning on having 4 people in one room, would mean that you would have to share a bed unless you bring an air mattress
Any questions, please feel free to PM me.
ALL RATES ARE PER NIGHT
DAYS INN in Carlisle: $155
Hampton Inn in Carlisle: $169-$179
Residence Inn:MARRIOTT in Carlisle: $189
RODEWAY INN in Carlisle: $135
SLEEP INNin Carlisle: $139
COMFORT SUITES in Carlisle: NO VACANCY
COURTYARD: MARRIOTT in Harrisburg: $169
in Mechanicsburg: $149
QUALITY INN in Carlisle: $139
in Chambersburg: $90 (40 minute drive)
RODEWAY INN in New Cumberland: $65
SUPER 8 MOTEL in Harrisburg: $99
in Harrisburg Riverfront: $89
COMFORT INN in New Cumberland: $109 (25 minute drive)
in Mechanicsburg: $104-$115
HAMPTOM INN in Mechanicsburg: $139
REMINDER: DON'T WAIT TILL THE LAST MINUTE TO RESERVE A ROOM.

Screen Name/Name/ Car/ Reg #
1. BernieIS / Ryan Byrnes / IS300 / 165213
2. Apex84 / Leroy / IS300 / 156338
3. Rare1 / Carlos / GS400 / 156091
4. LittleGz / Tara / IS300 / 156091
5. Habious / Greg & Kathy / SC430 / 164954
6. Platanotls / Ray / GS300 / 164973 TSV
7. mamitaxchula / Jenn / Acura TL / 164983 / TSV
8. Altezzu / Top / IS300 / 165213
9. Alpha / Ray / IS300 / 165213
10. Trukn1 / Tony / LS400 / 156150
11. MrMark / Mark / IS250 awd / 164989
12. MrMark / Mark / M45 / 164989
13. 02isjw / Jared / IS300 / 143291
14. FlavesLex / Flavio / GS400 / 164995
15. TLW / Johnny / GS400 / 156344
16. TLW / Johnny / SC430 / 156344
17. Cab NY / Cliff / ACURA TL / 165081 TSV
18. jleon2516 / Jesus / acura tl /165080 TSV
19. Smitty0881 / Shelton / ES300 /156123
20. 01silverbullet / Jason / IS300 /165147
21. Scarlet300 / Ana / IS300 / 156353
22. Rodneyc77 / Rodney / '06 Acura TL / 165045 TSV
23. babyacuracls22 / Beatriz /Acura CLS / 165191 / TSV
24. Kwamdoo74 / Kwame / GS430 / 156677
25. Choas / Paul / Es300 / 165289
26. Chancellor / Chance / IS300 / 156164
27. MyDreamIS300 / Jay and Dawn / IS300T / 165261
28. 02LexIS300 / Jae / IS300 / #165403
29. 70Three / Todd / IS300 / #165403
30. camelflage / Josh / IS300 / #165403
31. Mcrusader / Jason / IS350 / #165403
32. Maxlmus347 / Max / Drift IS300T / 165377
33. Nate579 / Nate / GS400 / 156402
34. Nate579 / Nate / SC300T / 156402
35. Nate579 / Nate / SC300 / 156402
36. blk02is300 / Andrew / IS300 /155888
37. BlackShadow / Binh / Acura TL / 165379 / TSV
38. Kahrupt-CL-S03 / Franklin / Infiniti G35 cpe/ 165198 / TSV
39. KevinGS / Kevin / GS400 / 156154
40. ELITE GS & Rising_Sun / Todd & Aimee / GS300 / 1665433
41. 2002GGPIS3 / Ryan / IS300 / 165550
42. Cathafer / Cat / ISF Snitches / 134175
43. Tortoise / John Daniels / ES300 / 119122
44. Greed777/ Craig/ GS400/ 156152
45. Mrs. Greed/ Kim/ ES300 / 156152
46. GSoup / GS300T / 156466
47. PhillyGS / Rob / GS300 / 165718
48. LexGS / Walter "WB" / GS300 / 165710
49. Legendindisguise/ Nathan & SO / 02 IS300 /157287
50. Oohpapi44 / Cliff / GS430TT / 156351.
52.
53.
54.
55.
56.
57.
58.
59.
60.