Hey everyone,
I was just cleaning out an old email account and I founed an email from someone at LMW. Brought back memories... about a year ago I was kicking around boosting because I was getting bored of my NA e-shift. I didn't want to break the bank and didn't want too much more power, I was thinking 50-100 more ponies, so I looked into some options, one of which was the LMS Pro Street. I was drawn to it due to the simplicity and cost, but was concerned about the fact that the fuel management was completely stock. I'd read tons of posts on it, never came to any conclusion, so I asked Steve (great guy) at LMW to provide a dyno of the Pro Street S/C system that showed the AFR. He had someone else send it to me. Well, I have it, and here it is.
***MY DISCLAIMER***--The only car I have ever owned that was boosted was a bone stock genII RX-7 Turbo, and I do not consider myself an expert at boosting or reading dynos. Here is my take. Do not use my opinion or this dyno to make YOUR decision on whether or not to buy. If you have any questions, contact LMW***
There-I put that in just so no one at LMW whines or tries to sue me because I posted their dyno online. When I was reading the posts on the Pro Street S/C system I saw where someone was told not to post the dyno. Well, they never told me, so here it is!
A quick snapshot at the legend-
Torque Flatter line near top
Horsepower Line that ends highest
Boost PSI Next to bottom line
AFR Almost flat line near the bottom of the graph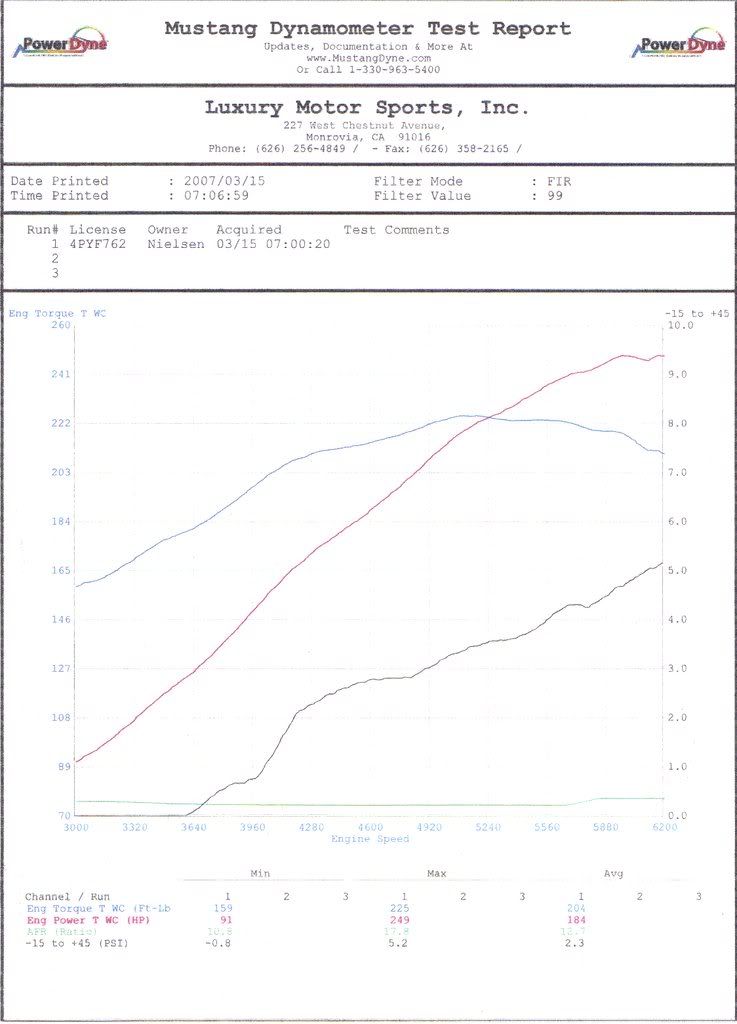 Image of Pro Street Dyno - Photobucket - Video and Image Hosting
I want to point out two key areas-one being that of the level of boost. You don't even get a sniff of boost (and only 1 psi at that) until you are at over 4000 rpms. This appears it won't give you any hint of performance boost until your engine is revving high. In addition, the LMS web site says the kit is good for 6-7 psi or something (can't remember), but at 6000 rpms you are still only at 4.5ish psi. What really sold me on not getting this-the AFR. Take a look at the green line. Right around 5700 rpms the AFR goes up, and if you see below where there is actual numerical data, this thing hits a super lean 17.8 AFR!!!. It looks like the stock fuel system really isn't capable at handling anything over 4 psi (according to that AFR line anyway). Going that lean scared me away.
This dyno sheet made up my mind-that I wasn't boosting. I took that money and bought a 5-speed manual IS300 instead. I really missed a clutch pedal.
Anyway, again, I am not a pro and I am not trying to talk anyone out of buying this kit, but I think my assumptions are somewhat accurate. I'd say this is great for a show car/garage queen or if you only plan on keeping your current engine for a few more trips up to redline.