So im finally creating my build thread. I'll put everything on the first post to make it quick and painless for you guys. My name is Luke and bought my 2001 IS300 Diamond White Pearl with Black Interior in April of 2007. Im a Technician at a Lexus Dealer so I kept my eye out for "the one". I honestly do not have a picture of the car once I first purchased. The first and only owner before me was a 50 year old lady so i knew it wasnt beat on too bad. It was pretty ugly with the 16 inch winter option wheels and 3m wood grain kit on the inside. (UGHHH!!!).
Needless to say before all the paperwork was finished on the car I purchased a set of 18x8 ASA AR1 Rims, and swapped out the pretty ugly 01 grille with a better looking '03 grille from a donor IS lease return that came in! After a month or so i got tired of the super chrome headlights/taillights on the 01 so i had my painter/fabricator tint the lenses(They turned out good but i didnt keep them long). I bought the black pearl emblems but was disappointed when after less than a year they started pealing so i plastidipped them and couldnt be happier. I got the brake paint kit and painted my calipers black with white lexus logos on them. Tinted all the windows then got pulled over for tint on the front windows so thats why the fronts dont have tint.(stupid illinois)
Then In july '07 I Purchased my Exhaust. I went with the Tanabe Medallion Concept G catback with the Megan Racing Midpipe. Took me awhile to decide on the tanabe concept g(after listening to sounds clips for 2 months!!). Also i bought the tanabe rear strut bar and the tanabe rear underbrace while i was at it. MY parts Dept was able to order me the trd Red Sway bar kit for a steal so I went for that also! I purchased a PLP Heatshield from a friendand painted Lexus logo on it. I inherited a plp intake from jaymarino(mod)(friend of a friend/i work on his car). I went with this setup for the rest of 2007 and somewhat throught 2008.
So fast track to 2009, I joined this fine forum!
Met some great guys that helped me with my build! Met Inspar8r, he took my tailights and made them amazing! Bought a pair of headlights painted satin black by an old member, fartman. Painted my inside of the foglights. Purchased a Rod Millen Motorsports front lip, RMM Side Skirts, and tunedparts rear lip. Painted the inside of the hood black. Ordered AAC Carbon fiber license garnish.
Then came in another great forum member, 2TGEU. I decided i wanted more power, but didnt wanna go crazy. He had a LMS ProStreet supercharger kit for sale!!!! YESS!!!! Bought it from him along with a Turboeast Version 1 Header. Great guy! Purchased a LMS imanage from another member, rlinghardis(or something like that! lol sorry) and a AEM UEGO wideband from a Illinois IS legend, kaptain86. Made a custom mount in the glovebox for the imanage and wideband. Purchased from ebay a triple gauge pod for above the a/c controls, and installed Prosport Boost, Oil Temp, and Oil Pressure Gauges. I bought them because I loved how they matched the stock interior lighting at night. Also dont know who from but I purchased as I like to called a PLP OH SH!T Footplate.
So needless to say I needed more "Bling" for my engine bay so I had my Painter/Fabricator paint all my engine covers. BOOM!!!
So at this time I was happy with the looks and performance of my IS but i knew it was lacking in the audio dept. I really dont like messing around with the stock audio too much(Stock radio= awesome and door speakers are good enough for me) so just a sub setup is what I took on. I still want to have a trunk with subs so this is what I made.
The Goods
I'm a huge Rockford Fosgate guy so i went with:
1.P400-1-400 Watt Mono Amplifier(w/ gain Remote Knob)
2.P3SD410-10" Punch P3 4-Ohm DVC Shallow Subwoofer(x2)(SPACE SAVERS!)
3.RF Wire kit
4.Tons of DynaMat
5.Metra Line Output Converter(dont like aftermarket headunits)
Custom Box Materials
1.3/4 MDF Board
2.Wood Sealer
3.Couple Yards of Felt
4.Hardening Resin
5.Couple different Body Fillers
6.Painters Tape
The Beginning
I just figured out the correct size for the location and for optimal sound for the subs. Then I gave the dimensions and the MDF board to a guy at work that can make anything out of wood and he made me my boxes with floating sub rings. sealed all wood joints with sealer.. here are couple pics of the test fit.
Next I taped off all the side carpet and fiberglassed over to make the backing of the sub boxes. Here are some pics.
Then we mounted the boxes into the fiberglass backing and installed them in the car. We then stretched and stapled the felt over the box to make the outward appearance/shape of the box.
Intermission
My fabricator didn't have time for the next step so we put the resin on hold for now.. So i started making the custom spare tire/ Amp cover. Copied the stock cover w/o the side wings and cut a wood copy out.
Next I measuredfor the center of the trunk floor so my amp was directly in the center. I found out that the spare tire is slightly to the left of center so i made a bracket for the amp to sit on. i mounted the bracket to the 01's spare tire bucket thing.
Then I got a piece of plexiglass from Homedepot and got a custom flat black lexus emblem made. Cut a hole in the exact center of the custom spare cover, and mounted the plexi to it.
Here is the Test fit in the car.
After I knew it fit, I wrapped it in Carpet that matches our trunk carpet.
Then i Added in a strip of flexible red LED's around the plexisglass shooting on the amp. Here it is finished.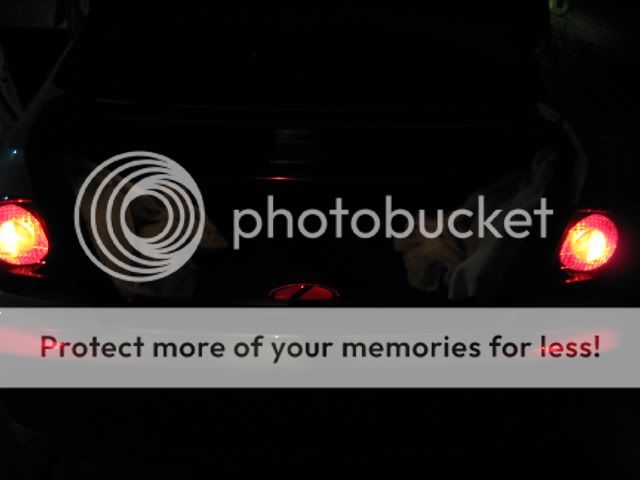 Back in Business
After that was done got back to doin the boxes. Resined the felt and let stand till hard.
Box Assemblies out of the car.
Added fiberglass mat to front to strengthen front of box. More fiberglass, more resin!!!
issed:
After this I let my painter do all the filling and smoothing, with me just helping sanding every now and then.
Painting
Told him I wanted it to match the color of my car(DWP). He Added in the black fade on the edges and around the subs to give some depth. Here is the finished Result... Finally!!! :bigSmile:
I was kinda leary at how the shallow mount subs would sound but they hit super hard! At the end of it all, the sound out of this system is amazing, perfect amount of bass for the IS and for my liking. And the styling of the boxes were way beyond my expectations.
At the same time I install a Vais SL2i Ipod interface kit and I built my Garmin into the car. I made the mount out of thin hobby wood(hobby lobby special) and then wrapped it in the carbon fiber cloth. This is the outcome... Looks good enough for me!
Also, I was lucky to be in the right place at the right time at work. A lease Return RX came in and it had a set of invision dvd/Tv headrests in it. Unfortunetly, on of the Infrared Lens covers was missing so they were "technically" broken/ uncertifiable. They pulled them out and were gunna scrap them but I didnt want them to go to waste soooo....:bigSmile:
(And yes I am watching a slide show of pictures of my build!!! With StaticX-Black and White playing!!! GET IT!!!! LOL)
So I decided to The interior needed some changes done to it. The stock suede/alcantara(w/e) was starting to fade into the nice shade of purple like they always do. So I decided to reupholster the seats and door panels. Bought the customized seat leather and door panel material from leatherseats.com . Had Mr.Trim reupholster the door panels while I removed the old leather/alcantara covers and installed my new two tone leather. It was PITA but it was well worth it. BOOM!!!
(Also pick up a Center Console w/ Armrest from a totalled '03 IS)
SO fast forward to August 2011, I finally was ready make my car turbo after one of my powerdynes bearings finally went(out of nowhere with no noises a or signs of fatigue at all). So I decided to say farewell to the supercharger kit, and put on my BIG BOY PANTS! Sold the S/C kit in the marketplace, and used that money to help buy these goodies:
Turbo Parts List
-Precision PT6266 CEA Billet Turbo 1.0 A.R. Divided
-ARP Head Studs
-2JZ-GTE Head Gasket
-Precision 46mm Wastegate
-Tial Q Blow off Valve
-SRT Tubular Turbo Manifold
-Mishimoto Z-Line Intercooler
-Mishimoto Carbon Fiber Catch Can
-Boost Logic Fuel Return Kit
-Deatschwerks 550cc Injectors
-Modified OEM Fuel Rail Tapped For Return Line
-Walbro 255 lph Fuel Pump
-FuelLab FPR
(NOTE: If its the size of your head(or bigger) its the right size!!!
)
Engine Management
-ProEFI 48
-5 Bar Map Sensor
-150 Psi Fuel Pressure Sensor
-Trans Temp Sensor
-52mm Can Gauge
-ProEFI External Wideband Kit
-ProEFI I-Boost Kit
So I Started by:
Removing the Cylinder head
Stock Head Gasket
Installed New GTE Headgasket w/ ARP Headstud kit
Reinstalled head and installed freshly powdercoated valve covers
So Needless to say the "MORE POWER" bug bit a couple weeks after I replaced the headgasket. I decided to rebuild the whole engine with GTE Internals! Bought a Set Of GTE Internals off the Supraforums. Ordered Full gasket set, and some ACL Race bearings.
I used some of my vacation days and started removing the motor.
(The little Pallet that COULDN"T!!!! LMAO)
Removed the Trans And threw it to the side... (bye bye stock auto...Hello Mystery Trans?!?!)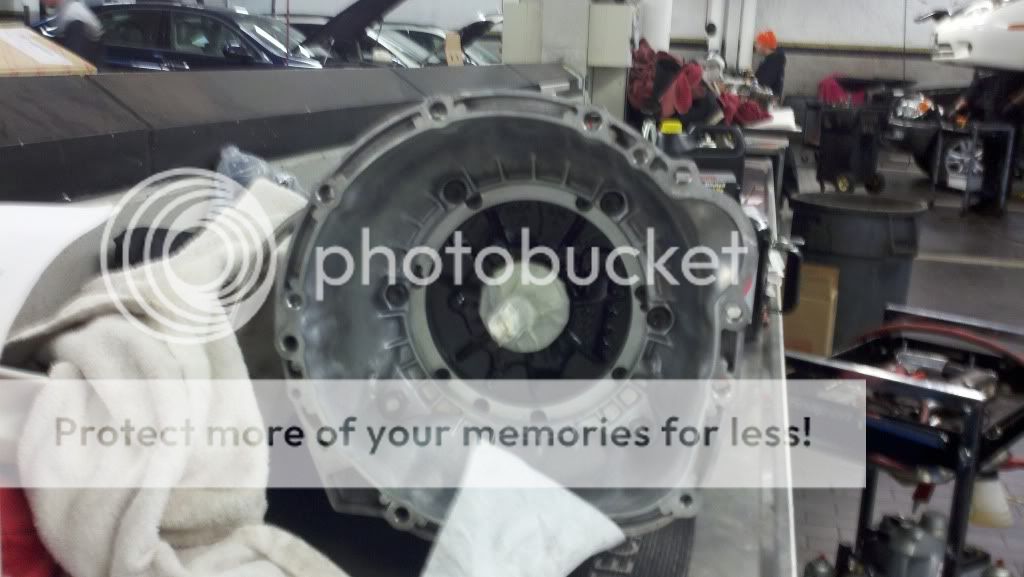 Put engine on Engine Stand
Cliff Notes version of Engine Rebuild:
(If you need more details- Read the Repair Manual!!!! LMAO J/K)
- Disassembled Engine, Cleaned block, and primed/painted block black.
- Installed new piston/connecting rod assemblies
- Plastigauged everything
- Installed new upper oil pan with turbo oil return -10 an fitting welded in
- Reinstalled everything else
- Removed Engine from Engine stand and back onto subframe(no trans installed just yet).
- Reinstalled subframe back into vehicle(lowered vehicle)
So If you havent figured out what trans I'll be installing, i'll just tell you.
I will be using:
- Fully "RACE READY" Built TH400 Manual Valve Body Forward Pattern From TSI TRANS (Rated around 900hp)
- 3200 rpm stall torque converter By Precision Industries(Custom made for th400 - GTE flexplate)
- "Modified" B&M Quiksilver shifter
- Stock manual shift boot
- Custom made Chrome Moly Driveshaft by Suburban Driveline
The fit for this trans was pretty tight! Even with the a340E bellhousing(not the th400's). So after test fitting trans which consisted of me raising the trans up seeing where it hit, lowering trans, and "massaging the trans tunnel out of the way - Just Multiple that by about 25 times!
Installed shifter and boot(wired in reverse lights on micro switches)
Put 1000 miles on freshly built motor and trans. I got the turbo manifold, downpipe, dump tube, and the exhaust side of turbo heat coated black. got the upper intake manifold and the cold side of turbo polished. Then got started on mocking up the turbo for intercooler and piping fitment.
Got all the piping installed and fitting properly. Unistalled everything and all intercooling piping powdercoated black and Reinstalled whole turbo kit. Installed Fuel Return setup with walbro 225 intank pump and Deatschwerks 550cc injectors and FuelLab FPR.
Installed Proefi 48 with pnp harness and fuel pressue sensor and 5 bar map sensor. Along with installing the I-Boost controller Kit(proefi's boost controller) and Innovate External wideband setup for the Proefi.
So now we are finally to present day!!! The Car is waiting for its tune date at Sound Performance. To not waste time, I sent the car to my body/ fabricator(dark alley designz) to install and paint the new oem front bumper and RMM front. He is also fixing some minor blemishes all around the car while he is at it. I wanted to keep the Tanabe exhaust for the time being so he is making a custom midpipe to go from the 3" downpipe to the Tanabe exhaust. He is also making the intake pipe for the K&N Air Filter.