Discussion Starter
•
#1
•
I saw a tundra with swutchback drl/blinkers last week, and decided that my car would look good with drls. I know that some is300 have the hi beam drl, however mind does not, whether it was deleted or never came factory that way.
So I ordered some VLEDS v6 Triton switchbacks. Expensive, but quality bulbs and very bright.
I also decided that I wanted them to operate like my old Volkswagen, drl on with park brake off/drl off with park brake engaged since it's a manual transmission. This will require a relay, and wiring to the park brake switch (which I had already done while installing my remote start)
That brings the next issue.
Front turn signal bulbs on these cars are 7440 (single filament) and will require 7443 harness/sockets which is dual filament as to add the drl function.
As I'm still waiting on the harnesses, I installed the wiring and relay last night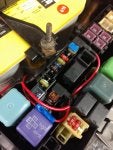 Used an add a fuse from the local auto parts store for a key on power source. I used the engine fuse box, but in hindsight an interior fuse might have been a better bet, just would have to mount the relay inside.
Used a Dremel to clear the way for wiring to come out of the fuse block, so the cap is still functional.
Then I wired my relay trigger to the park brake wire I had previously wired up.
These connections are all soldered mind you, I don't recommend butt connectors or spade terminals, especially not quick splice connectors.
Then I trimmed all the extra wiring up since I built the relay before installing into the car, and wrapped it up nicely. I did find there's a perfect spot next to the battery with a bolt hole to mount my relay.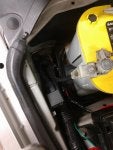 Now I am just waiting on my harnesses to come in so I can install the bulbs and finish up. Will update in a day or two.
If anyone was curious on how I wired the relay..