SOLD SOLD SOLD SOLD SOLD
I have a PLP supercharger which I rebuilt from the ground up. all bearings have less than 100 miles on them and I will throw an extra set of bearings and an extras belt. this kit comes with everything you need to get over 320whp.
- Bd-lla Blower (rebuilt)
- Blower Bracket
- all the tubing painted bright red (will re paint at buyers expense)
- i-manage
- external in line fuel pump
- Diverter valve (recirc valve)
- all the nuts bolts ect.
- 2 serpentine belts
- Boost gauge (faze but with custom chrome ring)
- Instruction manual
- ABS relocation bracket
- High flow K&N air filter
The only thing that this kit needs it some dyno time to tune in the fuel just right
I an asking $2,250 I believe this is reasonable because I put a lot of time and money into this setup. I payed almost 3K 1.5 years ago for just the blower and piping. This has been an amazing setup and it turned heads where ever I went.
I will ship but it will be a buyers expense, If sale is local I will help with the install.
If you have any other questions feel free to pm me.
Thanks
Erik
Pics: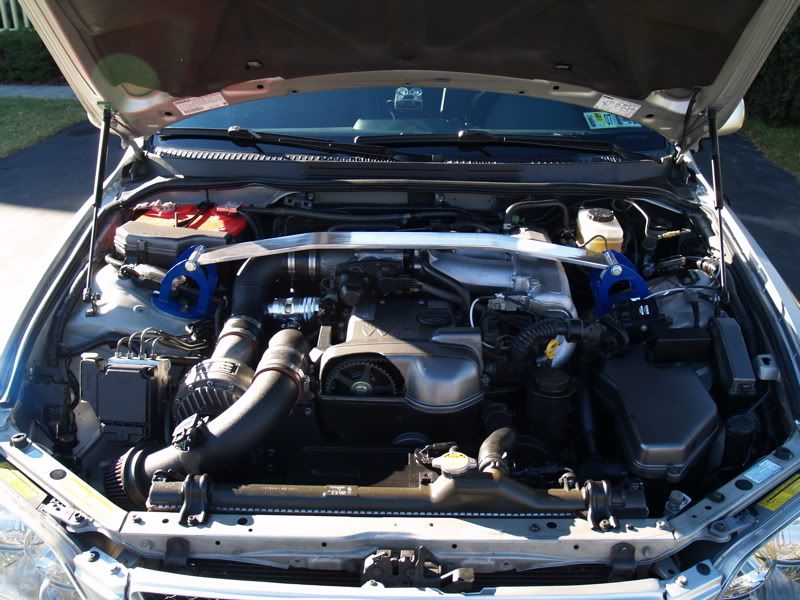 hear is the car it was on.