Hi,
So I just finished timing belt job on my 2001 IS300 [Automatic] with the OEM kit with cam/crank seals, WP, etc. I also replaced spark plugs and valve cover gasket. When I try to start it, it just cranks. It sounds like it wants to start and it will sputter like it's about to but it doesn't. It backfired once from the exhaust and once from the intake after consecutive attempts to start.
Side note: I did not unplug the battery before doing the job, probably should've but I spaced it.
After the no start, I checked for codes and got a code for TPS and Accelerator Pedal Position Sensor. I stupidly erased the codes without taking down the code numbers. After a few more attempts there are no codes present. The TRAC and CEL also flashed after a few consecutive starting attempts.
The timing looks to be perfect I've checked 10s of times. Before the service, the teeth on the cams did not line up exactly parallel with the notches on the cover. They looked angled in slightly towards each other and that's how I put them back.
The only thing at this point I think maybe wrong is that I didn't take off the brass retainer before pulling the crank gear off, which bent the retainer so a tooth may have broken off the cam gear and I didn't notice. Not sure if that would cause no start but I wanted to ask for general help before pulling everything apart again.
Here are some pictures of the cams before (the oily ones) and after (cleaner ones) and the crank pulley.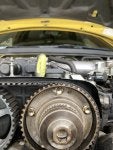 Thank you in advance for any help.
I'm based in Tacoma, WA if anyone is local to help