This is a progression and log of my 2002 sportcross. ive only owned it for a year this August, so for now ill keep it simple with the years progress, rather than having a Table of Contents
Current Mods List
Go Fast
-PLP Intake tube
-HKS Drager (JDM JCE10 version, designed to clear the rear lip)
Suspension
-Tein Comfort Sport Coilovers (Gen 1 Gold)
-FIGS No.2 Bushings
ICE
-Pioneer AVH-P4400BH
-04/05 flip tray
Exterior
-JDM front bumper with Elegant Sport front lip
-JDM "Elegance/Euro" side skirts
-JDM rear bumper with "Elegance/Euro" lip
-JDM Dark Metallic taillights
-JDM Dark chrome "Altezza Gita" badge
-JDM Kouki Dark/Satin fog lights (2004/5 model fogs)
-JDM painted headlights
-Elixir Japan roof spoiler
-shorty antenna
Lighting
-LED City lights
-LED Dome/Map lights
Coming soon/In the works
-Work VS-KF (currently awaiting tires)
-1jz vvti swap
I have owned a sedan prior to owning my Sportcross, so im not exactly new to the IS300 scene. I had my sedan for almost 4 years, had a lot of good experiences, a lot of bad, and a lot in between. In short, i LOVED that car. I just had the 90k service done after parting out my coilover, mazzuri header and intake setup. The only mod i had left in that car was a Pioneer double din.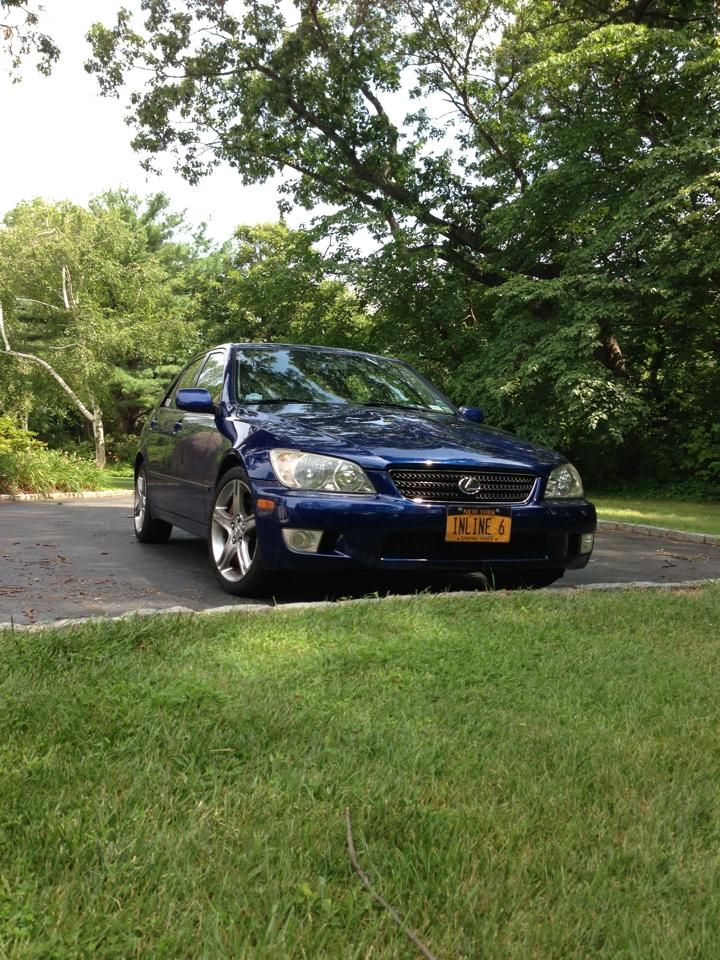 One day while surfing Craigslist, i came across something i had always wanted:
The Sportcross. I took a ride out to the outskirts of NYC, and took it for a test drive. It seemed alright, definitely something was wrong with it. i couldnt put my finger on it though, ran the CarFax and found out it had a previous frame/airbag deployment 1 year after it was in the US from Japan :/ still, it seemed that everything was fixed appropriately. Had a Greddy Evo2 catback and sedan springs in the rear to "lower" it a bit from the 4X4 suspension oooooooookay..... Anyways, the night after i saw it, the owner messaged me this: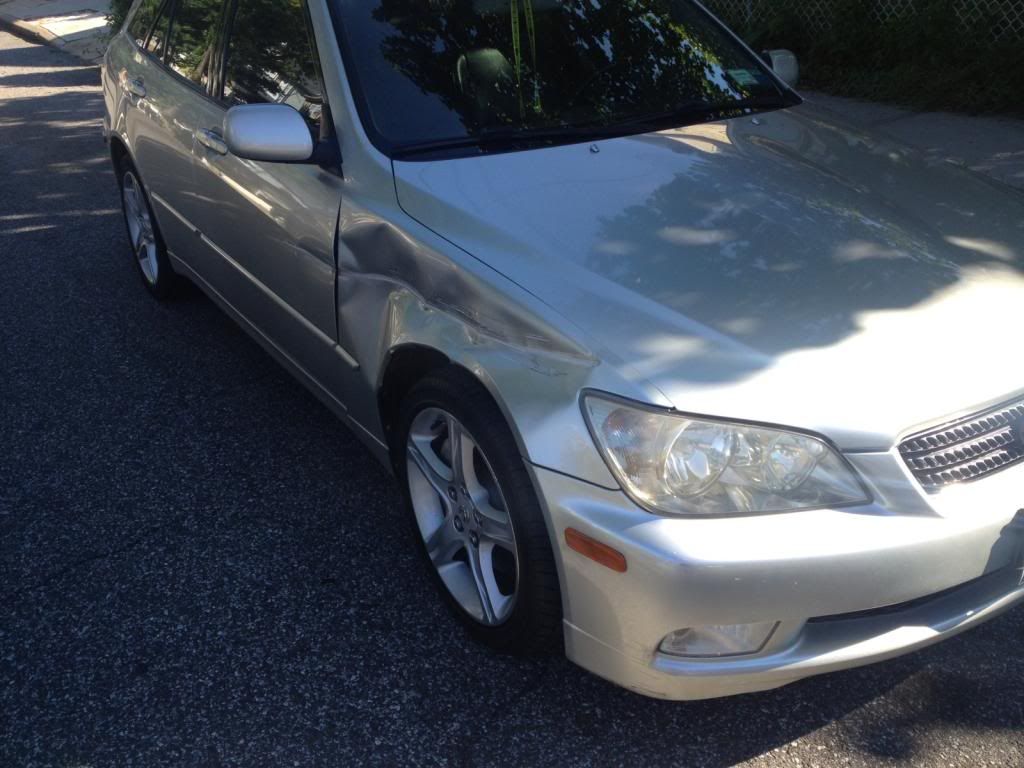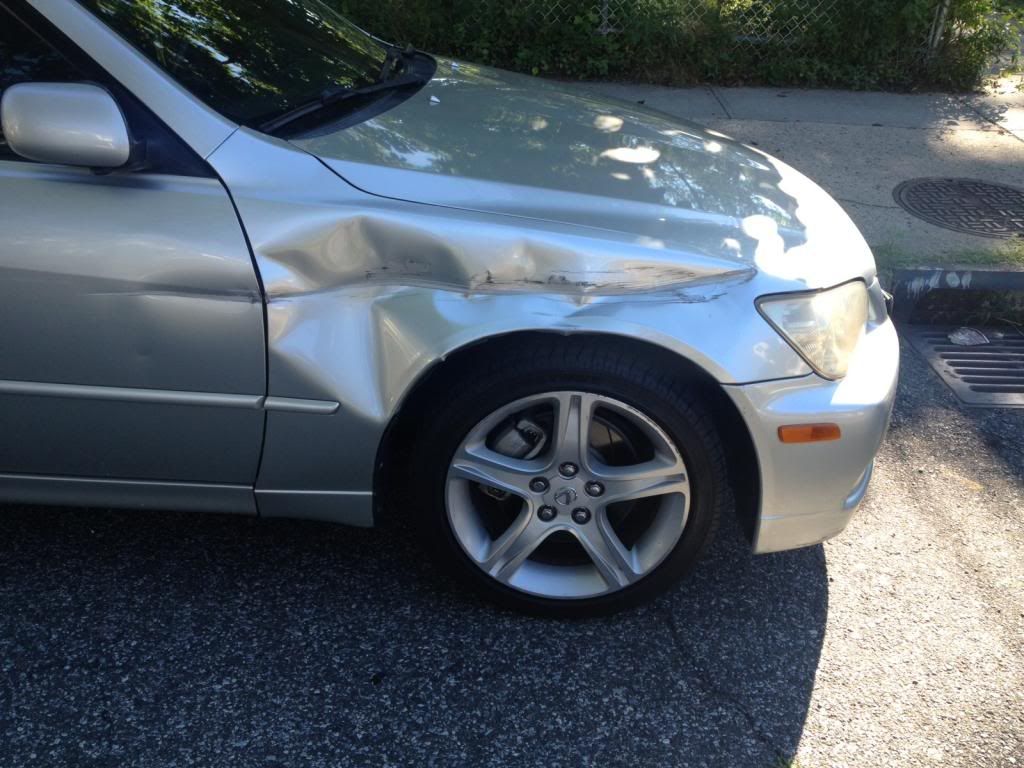 Some moron hit and ran it in the middle of the night! In all honestly, the previous owner SHOULD have parked it in his driveway, but whatever. We deliberated for a day, he wouldnt drop the price down to what i wanted, so i was prepared to walk away. However, he then dropped it to what i wanted, and i had a week to sell my sedan and buy the wagon. I had a tough time letting go of my sedan, but a week later:
i bought it
i was a little nervous, going from something i had lived with for so long and then plunging into something unknown. I had a little money left over from my sedan so i did the sparkplugs immediately. did a Joe-z intake, AFE filet, and a brand new 04/05 tray box. i had to leave my radio in the sedan so i HATED the stock radio, and bought a GROM unit for the time being.
found an MSM fender on eBay for 120, my two buddies and i tackled it in under an hour. Viola.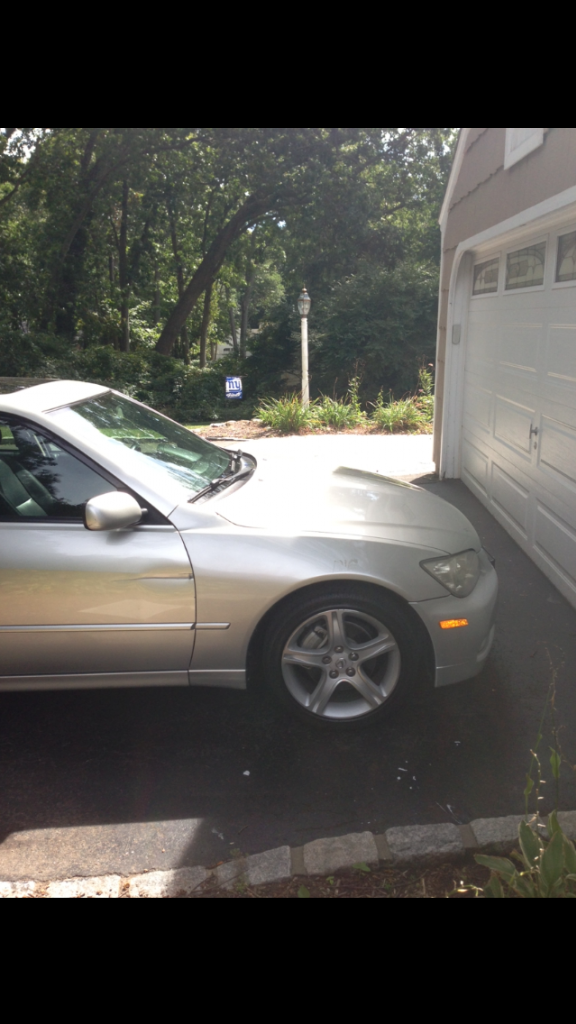 sold the evo2, wasnt liking it. Also sold the Joe-z, tray box and GROM due to lack of work hours. Sad.
For my birthday, my parents split the cost of new tires with me and my girlfriend got me a GGP SRT intake *thumbs up*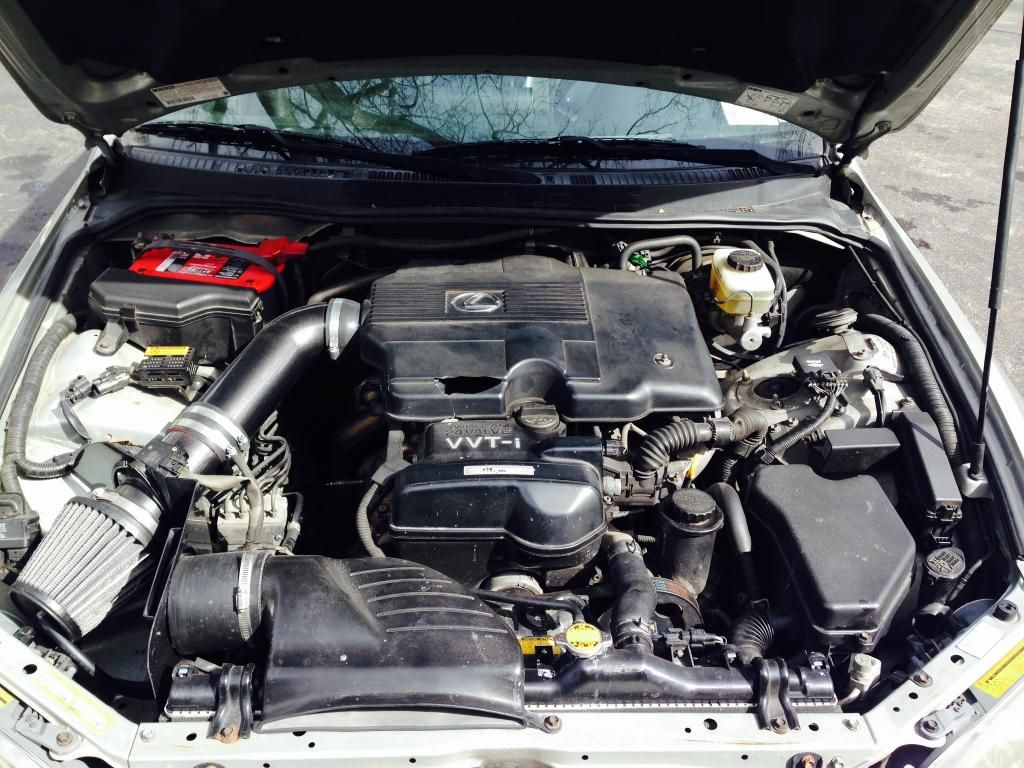 i then decided one day to purchase the JDM information brochure on the Gita, and that came with the OEM options list for the gita. The lip kit for JDM markets caught my attention, so i looked around for importers. luckily, i found one. i made the order near my birthday, and i was in for a long wait (due to international shipping, etc). throughout much of december and january, nothing really fantastic happened aside from my radiator cracking....and my T-stat staying closed....all good stuff. it was hell for those two months.
halfway through january though, this turned up: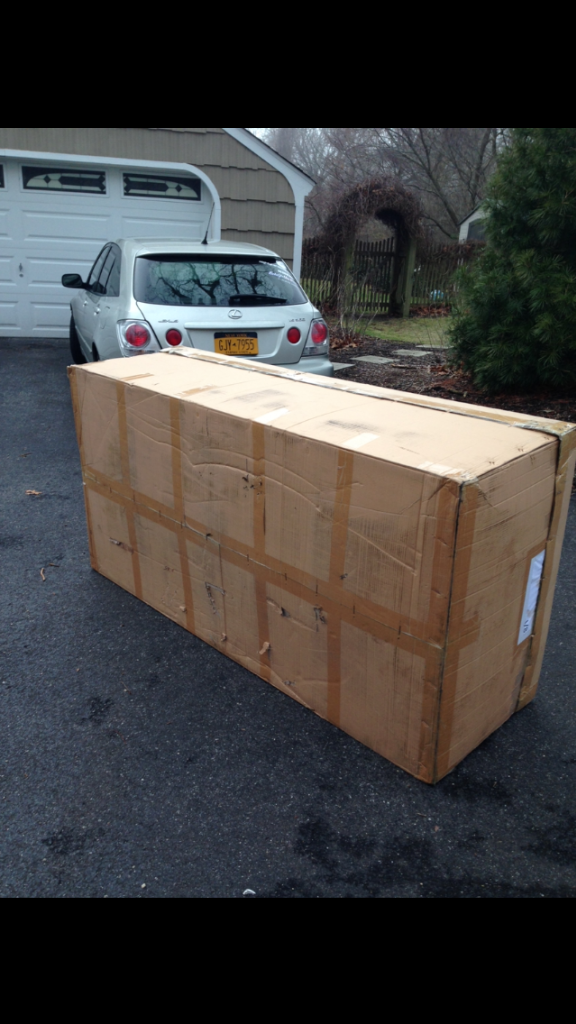 then this happened:
and shazam!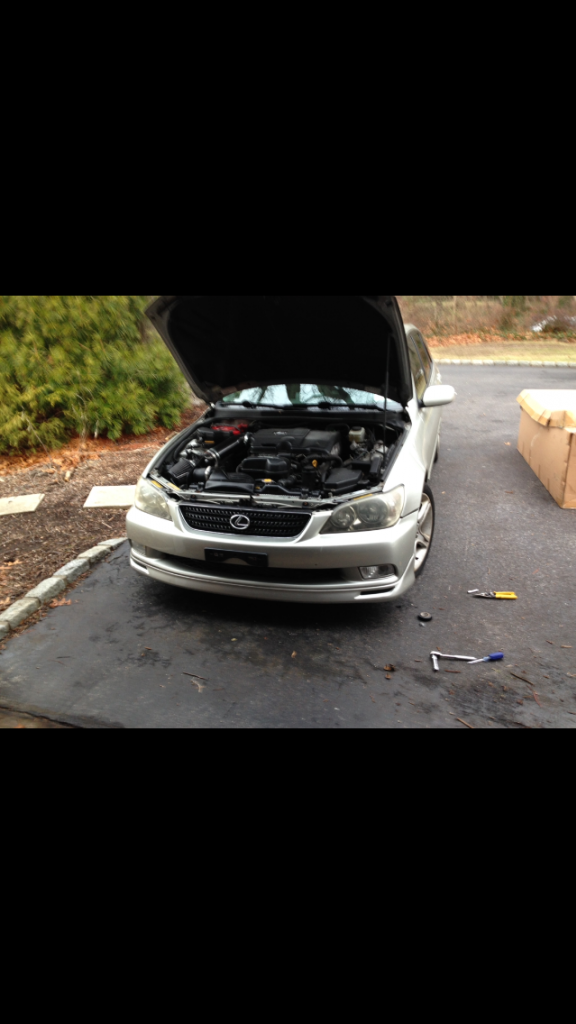 i got my lip and bumper! i also got the rear lip/bumper as well....but ill touch on that later -_-.
anway, after that i was set for a while. diddnt do much, just maintenance. My importer helped me pick my suspension setup: Tein CS Gold coilovers.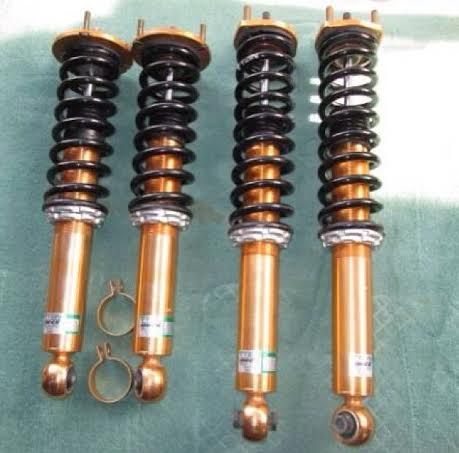 i was pretty happy with how things were going. however, one day i took my car to lexus for an oil change. diddnt have time to do it myself and i was waaaaay overdue lol. the oil change went well BUT.....my steering rack was shot, leaking PS fluid into one of the boots and my No.2 LCAs were shot. total to fix: $2500. i almost had it at this point. sold my SRT intake, rear bumper with lip, and the 04/05 tray. i was livid, but i bought all the necessary parts to fix the issues.
i also got some new lower ball joints, tie rod ends, and LCA no 1s as well, since most of the front suspension will be taken out for this job anyway. to this day im still looking for a drivers side LCA no 2 with bushing! then fixing time!
while that dampened the mood, i imported "gita" side skirts before the suspension fusillade. on the day they showed up,i realized they were actually Modellista skirts instead :lol: whatever! test fitted them to see how they look:
i also got my hands on another rear bumper, already in silver:
(thats exactly what coming from Japan)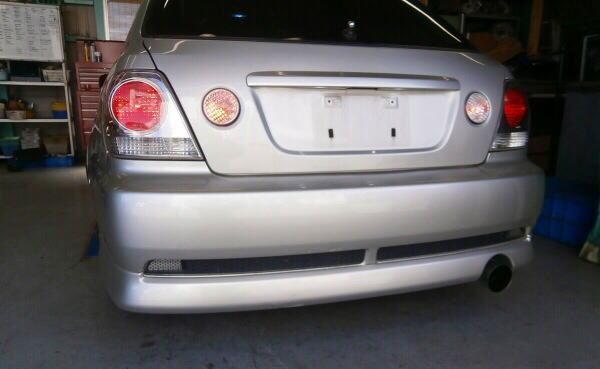 and i also scored this jewel: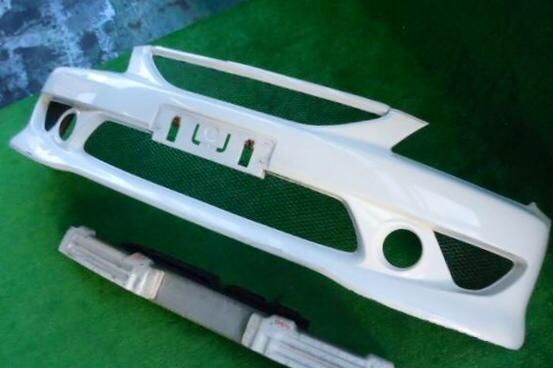 the uber rare and not so common Euro/Optional bumper for the Gita
so, thats it for now folks! besides what i have now my plans for whats next are:
-Elixir Spoiler
-Some type of wheels
-Make brackets for the Euro bumper fogs
stay tuned!