Reading the SophieSleeps DRL Mod and the JoeZ Full Power Mod, made me wish there was a switch. People have asked about it, but nobody did it, probably because the functionality is not worth the work. But I'm new to the IS300, I have energy, and I want to contribute. I'm sure I'm not the first to do this, but I didn't see it posted.
So here goes. I think it is a perfect DIY mod. It is cheap, looks good (if you find the right switch), easy, and it is reversible.
As far as the functionality, yes it works, but when will you use it? When do I decide to have it Full, Normal, or Off? Most likely I will leave it off, but if the feeling arises that I want it to be on, or full power, it is only a flick of a switch away.
Here is an overview of the wiring off the car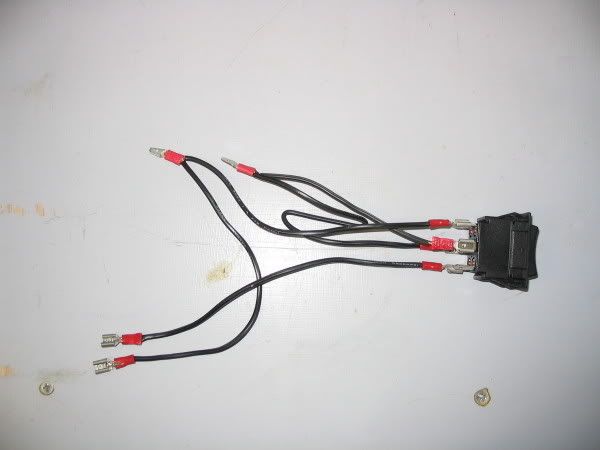 Here is a video of it in action, please hit ElusiveIS with your rep hammer for hosting this video.
In the video, the DRLs go Off - Full Power (Joez Mod) - Off - Normal - Off - Full - Off - Normal - Off - High Beam. It is a subtle difference, but it is noticeable between the "JoeZ Full Power Mod" and Normal.
http://www.elusivemedia.com/videos/Off - Full - Normal - High Beams.AVI
PARTS LIST:
Double Pole Double Throw (DPDT) Switch
25 feet of 18 AWG Wire
4 female Terminals to match your switch (mine were .250, by chance)
2 Female Terminals .250 to plug into Voltage Reducer
2 Male Terminals .250 to plug into power supply
TOOLS NEEDED:
Coat Hanger
Wire Cutters
Crimpers
Electrical Tape
Solder Gun / Solder
Voltage/Am/Ohm Meter
PREPERATION:
Cut rubber nipple below main wiring loom beside the battery in the engine bay.
Straighten a coat hanger
Poke wire hanger inside hole you opened by cutting rubber nipple
Remove the trim as in the "Fog Mod", to get entry point access under the dash.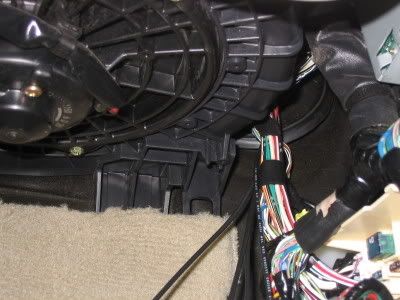 Cut your spool of 25 feet wire into 3 lengths of 8 feet, you will need the left over foot for your "hijacker" wires.
Tape one 8 foot wire to the coat hanger with electrical tape and pull wire inside cabin of car.
Once wire is inside cabin, tape second 8 foot wire to first wire and pull it through
Repeat for third wire
Once all wires are in the cabin, make they are all even by pulling engine bay end of wires
Run wires under carpet to middle stack and to bottom switch holder.
Middle stack switch holder comes out if you stick your hand under there and pull out, as in the "Trac Switch" mod.
Pull wires through, and push out one of the unused switch plates. If you have heated seats you will have to continue wire to the left of the steering wheel.
CABIN SIDE:
Now it is time to attach terminals to the wire. I crimped and soldered all connections.
Of the three wires, one will provide power and the other two are switched. My switch is an "on-off-on". "On" to the left will be Full (JoeZ Mod), the middle will be "Off" (SophieSleeps Mod), and to the right will be normal DRL.
All DPDT switches have six terminals (prongs). Each side is its own switch or pole. To provide power to each pole, I used one wire (rather than running two long wire lengths into the cabin) with a short "hijacker" wire to provide power to the two middle prongs.
Cut a short "hijacker" wire and join it to one of the three wires and put a female terminal on it. On the other end of the "hijacker" wire put another female terminal on it.
The other two wires left are the switched wires. Put a female terminal on each of those.
Should look like this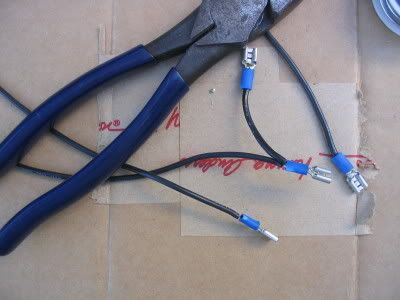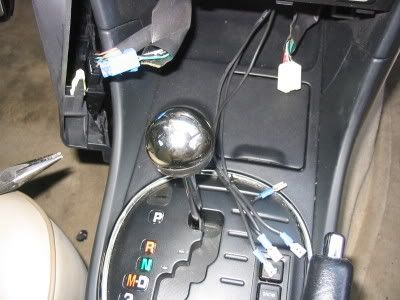 IMPORTANT: If you don't know about switches or DPDT in particular, don't follow this word for word, you need to understand the concept first and then proceed; your switch may be different. Using a DPDT switch will work, but this is not its intended purpose. Usually, DPDT switches are used in controlling electrical motors.
Plug one switched wire to one side (pole), Plug the other switched wire on the other side (pole), on the opposite end.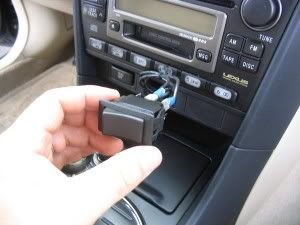 I taped terminals ends on the switch once installed so nothing will ground out.
Make sure you label which wire is the power wire and which are the switched wires in the engine bay as you are doing it. I used an ohm meter.
ENGINE BAY SIDE:
Once the voltage reducer is unplugged you are left with the reducer with two male prongs inside. On the loose plug end (power source), there are two female receptacles.
On the power wire, attach a male terminal.
On one of the switched wires attach a female terminal
On the other switched wire, you will need another "hijacker" wire to complete the circuit, so join one end of "hijacker" wire to the other switched wire and attach a male terminal. On other end of the "hijacker" wire attach a female terminal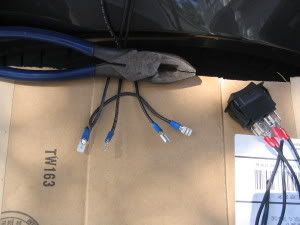 Nip both male terminals with a wire cutter into the shape of a spade. .250 is too big to fit in and the next size down is too loose. Once you cut the .250 into spades they will wedge into the power source.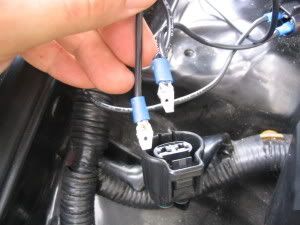 Plug the power wire into the left receptacle in the power source.
Attach the other male terminal into the other receptacle into the power source.
Plug the switched wire without the "hijacker wire" into the left side of the voltage reducer.
Plug the other switched wire into the other open receptacle into the voltage reducer.
Wrap-Up:
Cross your fingers, crank up your car and see if it works, I did it correct so nothing bad happened, but worse case scenario you could fry your car, best case scenario is it won't work or you will blow a fuse.
Test switch, if it works push it into switch holder.
Back to the engine, I used zip ties to clean it up. I taped all connections afterwards, but I plan on getting some heat shrink tubing for the two main connections in the engine bay to: make it sturdier; a little more waterproof; and to reduce the chance of shorting or grounding.