Discussion Starter
·
#1
·
I know there are a few threads on these issues, but I figured I'd make a solid write up on both topics that can easily be found in the DIY section. This thread will show you how to get your reverse lights to turn on and how to get your speedometer working once you've swapped transmissions.
I already had a w55 stock, as well as the 5-speed ecu. The reason I had to wire all of this up is because I swapped my engine harness with an e-shift harness (a part of my original 5-speed harness was fried). This will also confirm that you can swap harnesses from a 5-speed to e-shift with no CEL's and retain 100% of all functions.
Note: Before you work on anything that requires cutting and splicing wires, you should disconnect the battery for your and your car's safety.
Wiring reverse lights
You will need:
- Soldering iron
- Soldering flux
- Heat shrink tubing/electrical tape
- Wire cutters/strippers
Once you've installed the manual transmission, you will notice a group of plugs that once went into the auto transmission. The only plug that you need to worry about is the bigger one, with 9 wires feeding into it. It has 2 big red circles, on each end, and smaller yellow ones as well.
Cut the 2 black wires (black & black/white) and solder them into each other, like a loop. Then cut the 2 red/blue wires as you will be soldering these into the transmission wires. I cut part of the loom down to expose more of each wire, making it easier to work with.
Before soldering, I wanted to make sure it worked, so i twisted the ends together and covered it with electrical tape temporarily so that way I could test it before making it final.
Next, there is a plug with 2 black wires on the w55. It should be on the driver's side of the transmission. Cut these wires and connect the 2 red/blue wires to it.
After testing and confirming the lights come on, go ahead and solder the wires.
Cover with heat shrink or electrical tape to protect it.
I also went ahead and zip tied the loom to keep it from dangling freely next to the push rod.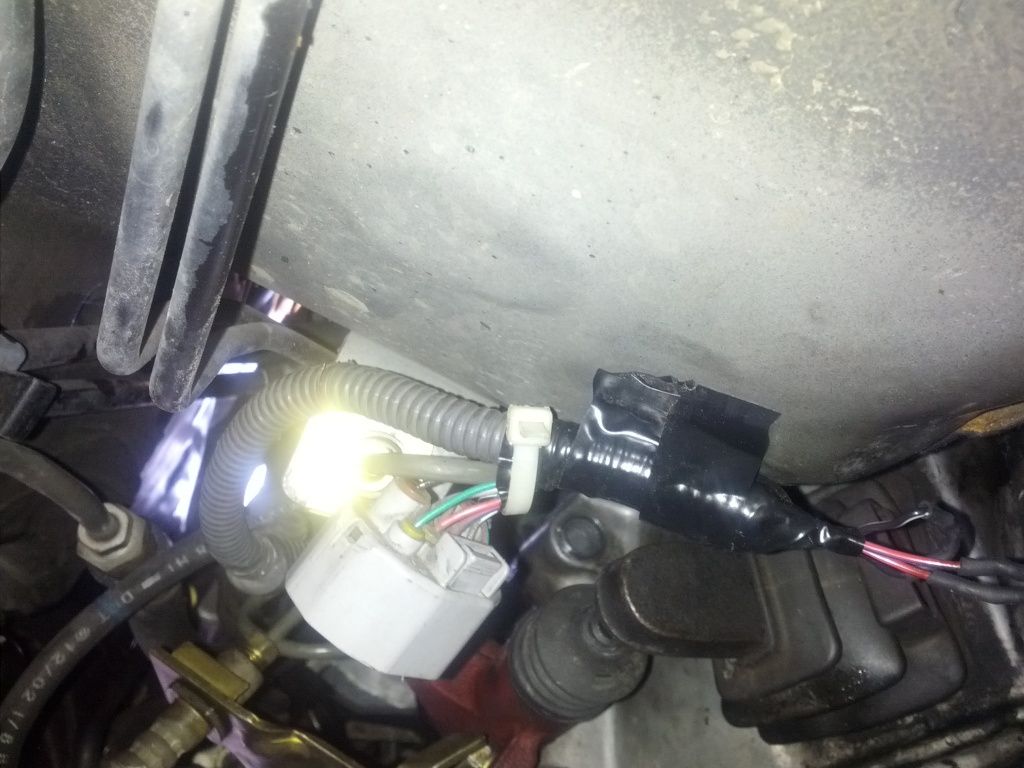 Finished!
Speedometer wiring
You will need:
- Soldering iron
- Soldering flux
- Heat shring tubing/electrical tape
- Wire cutters/strippers
- 16g-18g wire
- Male pin connecter (I re-used off of a doner plug)
- Phillips head screwdriver
First you will want to remove the gauge cluster. I would recommend scooting the driver seat all the way back as it is going to be a tight squeeze. And also, lowering the steering wheel to access the screws easier. First, remove the 2 phillips screws at the top of the cover, and the phillips screw by the ignition ring. Once removed, you can take the gauge cluster cover off by pulling it towards you and up, it will snap out of 3 tabs connected to the rest of the dash. There is also a plug that you need to unplug that connects to the dash light dimmer. Next there are 3 more gold phillips head screws holding the cluster in place, remove these. Now you can pull the gauge cluster out, and unplug the 2 plugs from the back of the cluster.
Now the fun begins. Take your 16g/18g wire and cut about a foot and a half length to use. Strip one end, and clamp/solder it into the male pin connector. Since I was able to use a doner, I simply kept it clamped in the pin and soldered my new wire into it.
Once you've done this, wrap the exposed wire with tape, or heat shrink it. You'll want to take this pin and pin it into a plug under the steering column, here is a diagram of where you're going to pin it into. The yellow highlighted area is where it will go. This is where we are going to get Speed Pulse from.
Here's how mine looked after I pinned it in. Make sure it's all the way in, otherwise the circuit we're creating will stay open.
Next, you'll want to feed the wire up to where the the gauge cluster sits. There are 2 plugs that plug into the gauge cluster. The bigger one is the only one you're going to worry about. Here is a diagram, again the highlighted area is where you'll be connecting your wire to. The color wire is red/yellow. Cut it and solder your new wire to it, leaving the other end of the red/yellow disconnected.
Pull the leather sleeve down to give yourself some room to strip and splice. Lay something like cardboard on top of the steering column to give yourself a good space to solder safely and to prevent the flux wire dripping on it. After connecting the wires, I cleaned it up as much as I could by taping the wire to the plug loom and using zip ties under the steering column to prevent the new wire from dangling around.
Put everything back together, and you're ready to drive again!
Here's a video after to show no CEL's (don't mind the exhaust, it's open from the y-pipe back)