Hi all,
So I noticed recently that my car would jerk and hesitate when I gas it from a standstill at a stop sign or traffic light...and then even moving from a rolling stop, when I try to floor it, it'll move a little bit, but it was still VERY sluggish...At this point, I think even a Corolla could beat me in a race starting from standstill!!
On top of that, every once in awhile, I'd get a check engine light, but it'll go away after a day or two.
So, after doing some research, I figured it was my MAF sensor. So, after work today, I bought and installed a NEW air filter (about time to change my old one out anyways), and I also bought a can of electronics cleaner from Radio Shack.
I unscrewed my MAF sensor, took it out and checked out the needle and filament sensors. There is a temperature needle sensor on the outside and 2 MAF filament sensors inside the MAF cyclinder. One of my MAF filaments sensors was COMPLETELY engulfed in some nasty brown cake/dirt!! I proceeded to spray both the temperature needle sensor and the 2 MAF filament sensors VERY generously and then let it air dry.
After that, I unplugged the positive side of my battery and pumped the brakes a couple times to reset the ECU. Then I hooked my battery back up and started my car and took it for a spin around the block.
and...
OMG!! my car was like 100x more responsive AND 100x faster!! At this point, I felt like I could beat my friend's GTR in a race!! hahahahha!!
So, if your car is feeling a bit sluggish, which I suspect is a large number of you guys, clean your MAF sensor! it did wonders for me, and I'm sure it'll do the same for you.
Another member,
VP500
had previously posted a DIY on how to clean your MAF sensor, so here are his pics w/ annotations in addition to my own annotations:
1)
buy an electronics cleaner spray can that doesn't leave any residue; you can buy this at any Radio Shack and/or auto store like Advance Auto Parts...I just happened to buy it from Radio Shack ($10):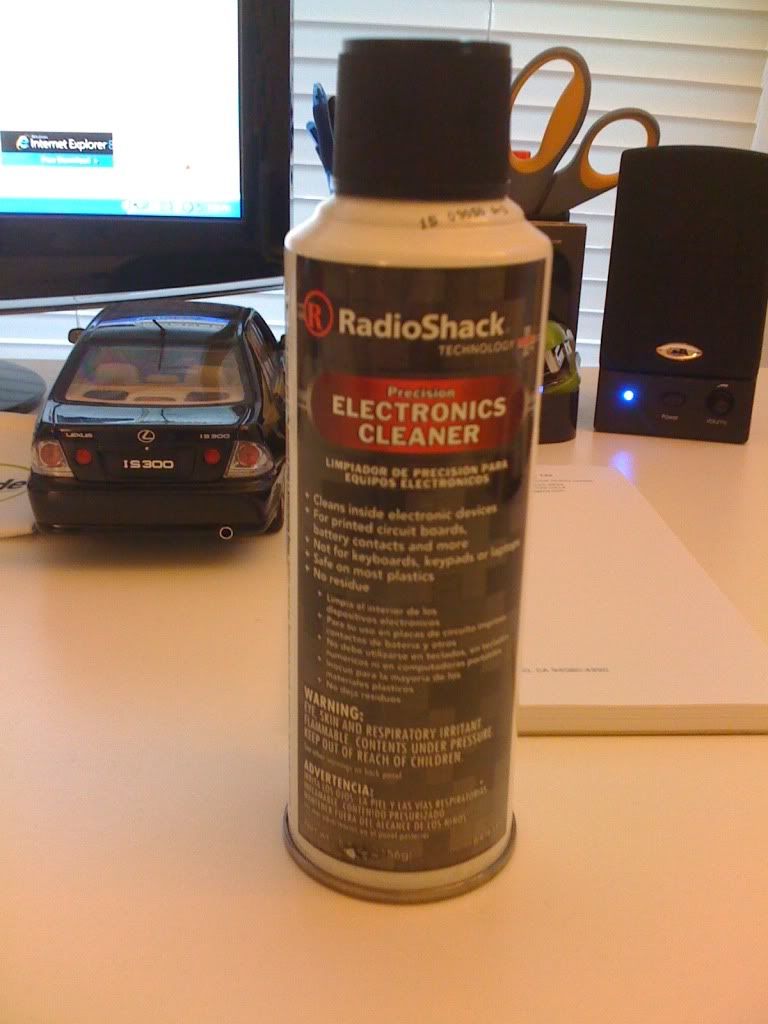 2)
open up your hood and find your MAF sensor on your intake and unclip the plug
3)
unscrew the 2 screws that hold the MAF sensor to the intake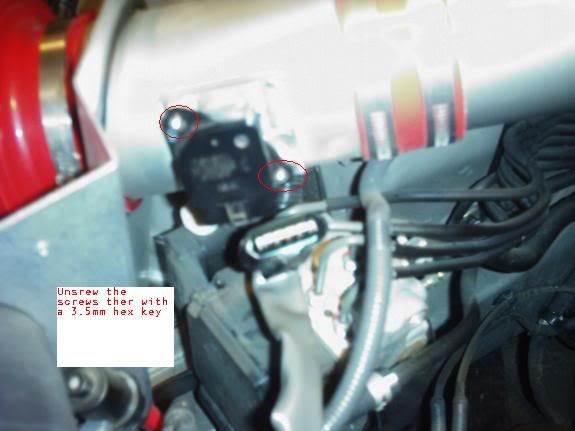 4)
slowly pull the MAF sensor piece out and you'll notice immediately that there is a needle that is alongside the outer part of the cylinder; this is the temperature needle sensor, just spray it clean with the electronics cleaner and let air dry
5)
now if you turn your MAF sensor piece around so that you're looking directly INTO the cyclinder, you'll notice that there are 2 tiny filament sensors that are parallel to each other (if you can't see them, try shining a light down the cylinder and you'll see them)
spray both of these filaments generously with the electronics cleaner and let it air dry...these 2 filaments are the MAF sensors and when clean, will do wonders for your car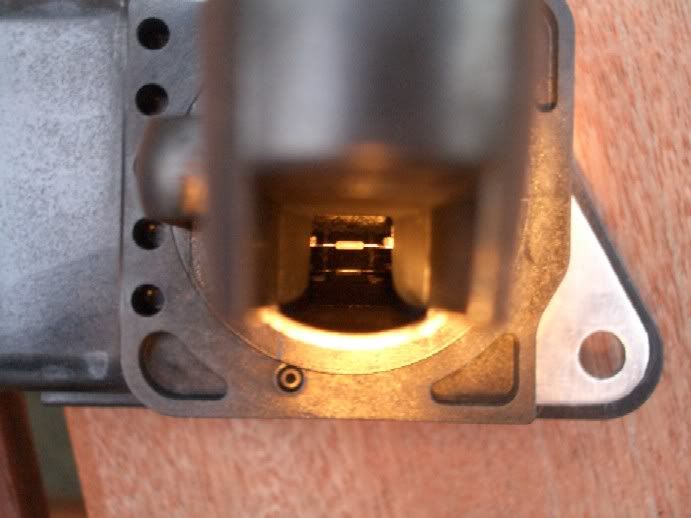 6)
after letting your MAF piece air dry, screw it back on to the intake and plug the plug back in
7)
disconnect your battery from the positive terminal, pump your brakes 10 times, wait 10 minutes, and then re-connect your battery to reset your ECU
8)
take your car for a spin around the block, I guarantee that your car's sluggish-ness will be GONE! its like driving a brand new IS300 again!
Hope this helps!