I met up with my best friend and took some pics of the car. He did a great job with it. I only have two pics so far but they came out great. His name is on the pictures and he's available to take pics of your cars as well. PM me if you think you'd be interested.
Since I did the whole "ghetto" do it yourself paint and install on the kit, I figured taking pics down in an area my mom grew up in, that's very blue collar and has that old skool, lowrider vibe to it, fit the bill nicely. Well it's different anyway.
UPDATED 4/30/2008
Included a couple of more shots Emil took. He didn't finish the processing on either of these but the still came out great. I really like the one titled "La tierra mía". It's too bad it was a little off...
Enjoy:
National Ave...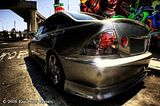 In the shade...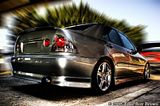 La tierra mía...he didn't finish the processing on this one b/c the color on the doors looked a little off. Must have been the lighting? Nevertheless, it's probably my favorite...
Full frontal...(minimal processing)