Discussion Starter
·
#1
·
I as well as other gets emails all the time and i figured i would post some info if a mod could STICKY the thread it would helps as well.
Im not going to say everything in here is exact or even in the right terms but to my know how it is i did not do much research further into this rather this is everything off my head and hope it helps put things into perspective and will guide others in the right direction.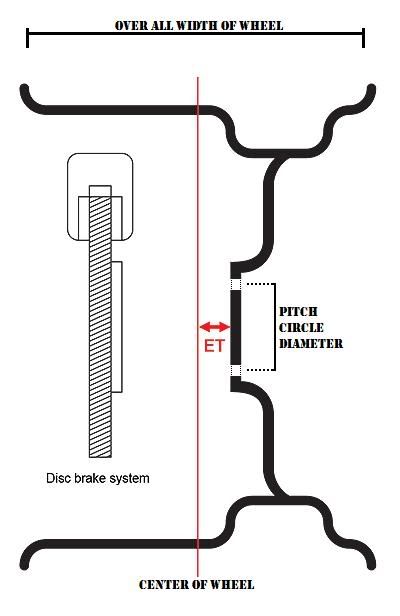 PCD
The term PCD stands for (pitch circle diameter) and is the diameter of a circle drawn through the center of your wheels bolt holes. PCD is measured in millimeters and also indicates the number of studs or bolts the wheel will have.
OFFSET
Every car requires a unique offset. This is where the outside of the wheel needs to be in relation to the body-line of the vehicle, realistically you can go 5-7mm outside these recommendations, but always check with vehicle and wheel manufacturer' if you are unsure, as there are often other factors that need to be considered.
One thing to remember for wheel offset is everything is in MM So if you had a wheel width of 8 Inches you would multiply it by 25.4 for the Inch to Millimeter Conversion
So i will use this next picture to explain it as simple as i can. I will use a default size.
Default Wheel Specs:
Wheel Diameter= 18 inch
Wheel Width= 8 inch aka 203.2mm (8 x 25.4)
Offset= +30mm
So center line of the wheel is found by dividing the wheel width by two which would be 8/2 having center-line at 4" inward.
Center-line is also Zero offset. So if your wheel was 8 Inches wide and had a Zero offset you would have a 4 Inch lip or 4 Inches of concave.
That being said your wheel of 8 Inches wide with a +30mm offset would be looked at as the following.
203.2mm (8 Inches)
101.6mm (Center-line 8/2 = 4" Center-line 4x25.4)
Now that you know Center-line known on this wheel as 101.6mm you can take your +30 which is 30mm added to the center-line going towards the outside of the wheel away from the brake. A negative offset would pull towards the brake side.
+30mm lets you know that your hub is sitting at 30mm plus of the center-line of the wheel.
so knowing your center is 4" that converts to 101.6 add the 30mm it would be 131.6mm.
203.2mm - 131.6mm = 71.6mm which converts back to 2.8.. inches of lip/concave.
131.6 is your back spacing which converts to 5.18... inches.
5.18..." + 2.8..." = 7.98.." as shown above 8 Inch wide wheel.
Sum it up again:
203.2 is overall width in MM
101.6 is the center line of the wheel in MM
+30mm is the Offset of the wheel.
Add the offset and centerline to get the 131.6 which is your back spacing. Take the overall width in mm and minus the backspacing you will have your offset or inset as shown above.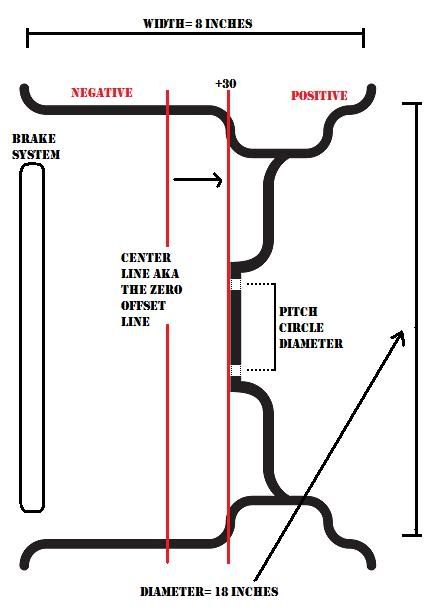 Measuring for Backspacing.
Thanks,
PhillyB aka Gary aka Phillie