When looking for information about doing a transmission swap, there was some questions that i could not get answers to. My goal was to have a full working swap that was CEL free, and had the look and feel of a factory car. Here is how I did it.
Here is my basic parts list using all stock parts
w55 transmission
shifter
Slave cylinder
Clutch Pedal
Clutch Line
Shift boot
Flywheel
Manual brake pedal
Manual drive shaft
Rear engine "transmission" mount
Stock Shift knob
Manual Steering Wheel
Manual Cluster
New pressure plate & clutch disk
M/T Ecu
Uninstalling the automatic transmission, I followed this basic information from All Data.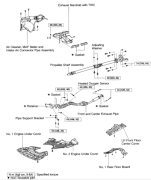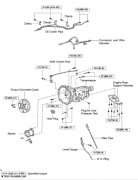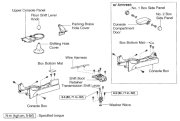 Removing the Automatic Transmission
1. REMOVAL
2. REMOVE LEVEL GAUGE
3. REMOVE FILLER PIPE Remove the bolt and filler pipe with the O-ring.
3. REMOVE AIR CLEANER, MAP METER AND INTAKE AIR CONNECTOR PIPE ASSEMBLY
4. REMOVE EXHAUST MANIFOLD WITH TWC
a. Disconnect the 3 connectors.
b. Remove the 8 nuts, 2 gaskets and exhaust manifold with the TWC. Torque: 39 Nm (400 kgf-cm, 29 ft. lbs.)
5. RAISE VEHICLE
NOTICE: Make sure that the vehicle is securely supported.
6. REMOVE NO. 1 AND NO. 2 ENGINE UNDER COVERS
7. REMOVE LH FRONT FLOOR CENTER COVER
8. REMOVE NO. 1 REAR FLOOR BOARD
9. DRAIN ENGINE COOLANT
10. REMOVE UPPER RADIATOR HOSE FROM RADIATOR
11. REMOVE FRONT AND CENTER EXHAUST PIPES
12. REMOVE SHIFT CONTROL ROD
a. Remove the nut and washer, and disconnect the rod. Torque: 13 Nm (130 kgf-cm, 9 ft. lbs.)
b. Remove the nut and shift control rod. Torque: 13 Nm (130 kgf-cm, 9 ft. lbs.)
13. REMOVE PROPELLER SHAFT
14. DISCONNECT OIL COOLER PIPE
a. Remove the 3 bolts and 3 clamps. Torque: 5.4 Nm (55 kgf-cm, 48 inch lbs.)
b. Loosen the 2 union nuts from the transmission. Torque: 44 Nm (450 kgf-cm, 33 ft. lbs.)
NOTICE: Be careful not to damage the oil cooler pipe.
c. Disconnect the 2 oil cooler pipes from the transmission.
15. REMOVE TORQUE CONVERTER CLUTCH MOUNTING BOLT
a. Remove the hole plug.
b. Turn the crankshaft to gain access to each bolt.
c. Hold the crankshaft pulley nut with a wrench and remove the 6 bolts. Torque: 48 Nm (490 kgf-cm, 35 ft. lbs.)
16. SUPPORT TRANSMISSION WITH JACK
17. REMOVE 4 ENGINE REAR SUPPORT MEMBER SET BOLTS Torque: 25 Nm (260 kgf-cm, 19 ft. lbs.)
18. DISCONNECT CONNECTORS AND WIRE HARNESS
a. Tilt down the transmission.
NOTICE: Take care so that the cooling fan does not come in contact with the fan shroud.
b. Disconnect the following connectors:
1. O/D direct clutch speed sensor connector
2. Vehicle speed sensor connector
3. Park/neutral position switch connector
4. Solenoid connector
c. Disconnect the wire harness from the clamps on the transmission.
19. REMOVE STARTER
a. Disconnect the connector and wire from the starter.
b. Remove the 2 bolts and starter. Torque: 37 Nm (380 kgf-cm, 27 ft. lbs.)
20. REMOVE TRANSMISSION Remove the 9 bolts, ground cable and transmission.
Torque:
17 mm head: 72 Nm (730 kgf-cm, 53 ft. lbs.)
14 mm head: 37 Nm (380 kgf-cm, 27 ft. lbs.)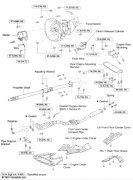 TUNNEL MODIFICATION
Tunnel Modification
The Automatic transmission tunnel is about 1 inch lower than the manual tunnel, so to make clearance for the manual transmission this is how I changed the tunnel.
Got a used manual tunnel for free, traced where I wanted to make my cuts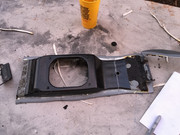 [url=https://postimg.cc/image/ye424kzjt/]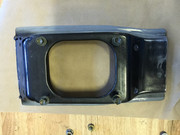 marked where I wanted to cut the auto tunnel and cut it out to match underside of manual tunnel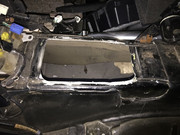 Forgot a picture, but drilled and placed rivits, then put down some seam sealer.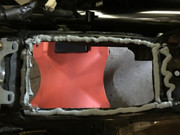 and finally installed the rivets.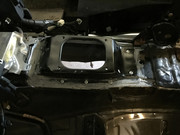 CLUTCH MASTER CYLINDER INSTALLATION
I trace a outline of the area cut out on the firewall on a piece of card stock, I just use junk mail, then center the clutch master cylinder on it to make a template.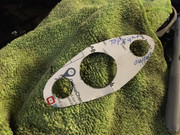 then trace it to the firewall
adult photo sharing
then cut, and paint the raw metal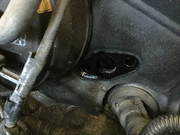 and install the CMC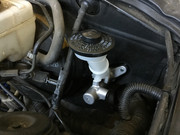 1. INSTALL TRANSMISSION
a. Raise the engine front side.
b. Install pilot bearing.
c. install flywheel.
d. install clutch disc and pressure plate.
e. Align the input spline with a clutch disc and install the transmission to the engine.
HINT: Turn the transmission a little in the clockwise and jack up until just before the transmission housing touches the body.
c. Install the transmission and wire harness clamp with the 8 bolts. Torque:
Bolt A (12 mm head bolt): 71.6 Nm (730 kgf-cm, 53 ft. lbs.)
Bolt B 110 mm head bolt): 37.3 Nm (380 kgf-cm, 28 ft. lbs.)
2. INSTALL ENGINE REAR MOUNTING Install the engine rear mounting with 4 the bolts.
Torque: 25.5 Nm (260 kgf-cm, 19 ft. lbs.)
3. INSTALL REAR ENGINE MOUNTING MEMBER Install the rear engine mounting member with the 4 bolts and 4 nuts.
Torque:
Bolt: 25 Nm (255 kgf-cm, 18 ft. lbs.)
Nut: 13.5 Nm (138 kgf-cm, 10 ft. lbs.)
4. INSTALL STARTER
a. Install the starter with the 2 bolts. Torque: 37.3 Nm (380 kgf-cm, 28 ft. lbs.)
b. Install the wire with the nut. Torque: 9.8 Nm (10 kgf-cm, 7 ft. lbs.)
c. Connect the connector.
6. CONNECT BACK-UP LIGHT SWITCH CONNECTOR
7. CONNECT CLUTCH RELEASE CYLINDER, CLUTCH LINE BRACKET AND EARTH WIRE
a. Connect the clutch line and earth wire with the bolt. Torque:
Bolt A: 37.3 Nm (380 kgf-cm, 28 ft. lbs.)
b. Connect the clutch release cylinder with the 2 bolts. Torque:
Bolt B: 11.7 Nm (119 kgf-cm, 9 ft. lbs.)
8. INSTALL PROPELLER SHAFT
9. INSTALL FRONT AND CENTER EXHAUST PIPES
10. FILL WITH TRANSMISSION OIL Torque:
Filler and Drain plug: 38 Nm (387 kgf-cm, 28 ft. lbs.)
Oil grade: API GL-4 or GL-5
Viscosity: SAE 75W-90
Capacity: 2.6 L (2.7 US qts, 2.3 Imp. qts)
11. INSTALL NO. 1 REAR FLOOR BOARD
12. INSTALL LH FRONT FLOOR CENTER COVER
13. LOWER VEHICLE
14. INSTALL EXHAUST MANIFOLD
a. Install 2 new gaskets to the cylinder head.
b. Install the exhaust manifold with the 8 nuts. Uniformly tighten the nuts in several passes. Torque: 40 Nm (408 kgf-cm, 29 ft. lbs.)
c. Connect the heated oxygen sensor (bank 2 sensor 1) connector.
d. Install the case clamp.
15. INSTALL INTAKE AIR CONNECTOR
a. Install the intake air resonator to the throttle body, tighten the 2 hose clamp bolts.
b. Connect the PCV hose to the No. 2 cylinder head cover.
c. Connect the engine wire harness clamp to the air cleaner case.
d. Connect the MAP meter connector.
16. CONNECT RADIATOR UPPER HOSE NO. 1 FROM ENGINE
17. FILL WITH ENGINE COOLANT
18. INSTALL ENGINE COVER NO. 1 Torque: 5.0 Nm (51 kgf-cm, 44 inch lbs.)
19. INSTALL NO. 1 AND NO. 2 ENGINE UNDER COVERS
20. INSTALL TRANSMISSION SHIFT LEVER
a. Install the washer.
b. Apply MP grease to the tip of shift lever.
c. Install the shift lever with the 4 bolts. Torque: 8.0 Nm (82 kgf-cm, 71 inch lbs.)
21. INSTALL SHIFT BOOT
22. INSTALL SHIFT BOOT RETAINER
a. Install the shift boot retainer with the 4 bolts.
b. Connect the 2 wire harness clamps.
23. INSTALL UPPER CONSOLE PANEL AND CONSOLE BOX
24. DO ROAD TEST Check for abnormal noises and smooth shifting.
WIRING
ECU
The removal of the automatic transmission gives you around 10 CEL all transmission related. I picked up M/T ECU which does plug straight in "02+", but I required reseeding since I did not get a master key. The dealership reseeded the ecu to my keys. 1 hour $130. This ultimately did not rid the CEL, 1 code for speed signal remained. Speed signal works as the following shows.
Auto
A/T ----------> ECU.
Trac ----------> Combo meter
Manual
M/T ----------> Combo meter
Combo Meter ----------> ECU
A converted car will work like this
Trac------------> Combo Meter
Combo Meter -------> ECU
So now we know we need to get the speed signal from the combo meter to the ECU here is how to do it.
ECU speed signal. Insert pin in combo meter harness A13 wire to ECU connector B11.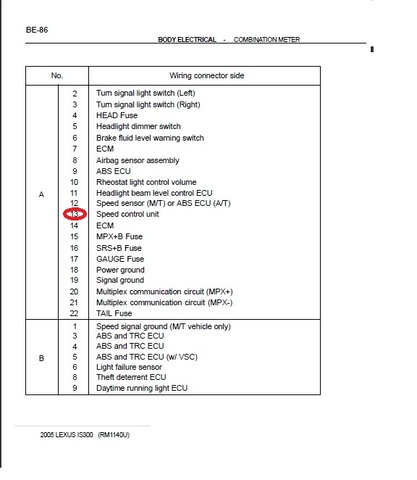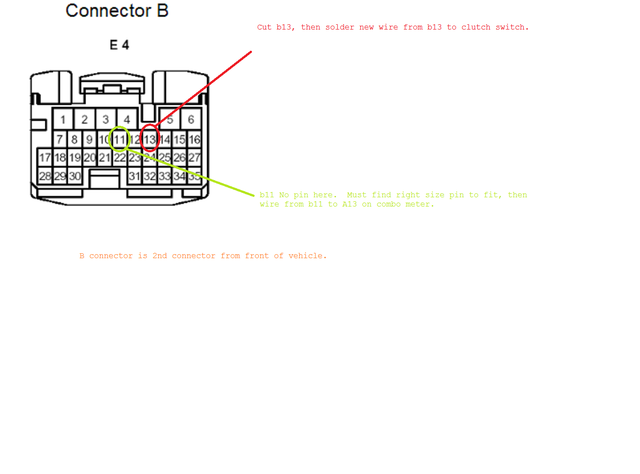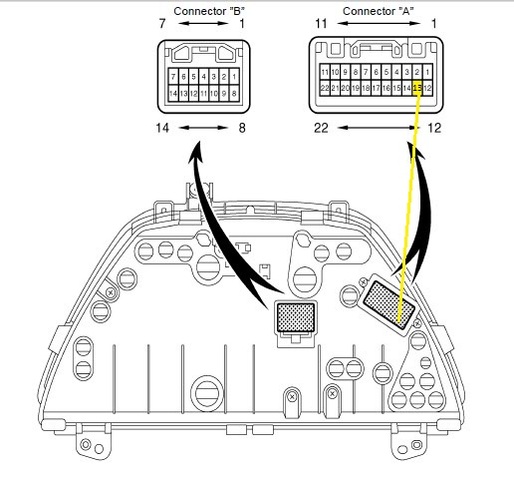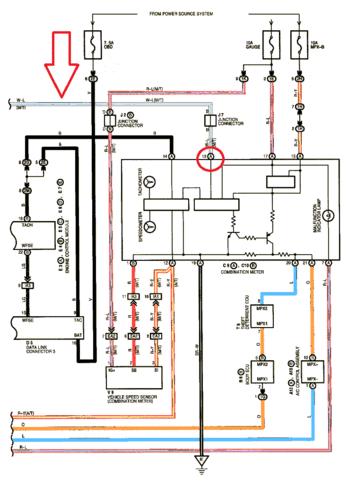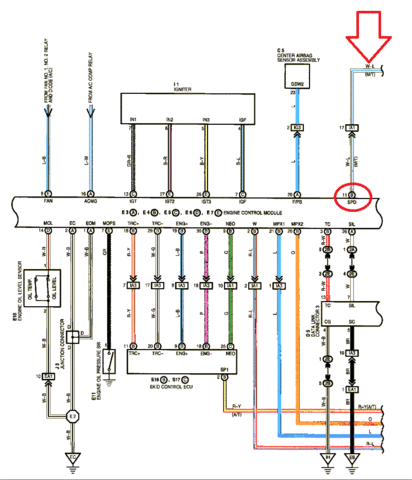 So now we have speed our CEL taken care of, lets do the neutral safety switch, and reverse light. This is the old connector from the automatic transmission that we need to use some wiring from. The actual numbers are on the connector.
REVERSE LIGHT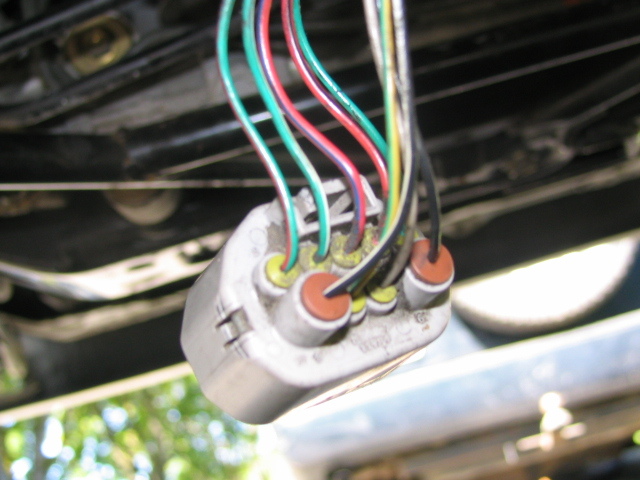 Reverse light. So from the old A/T wiring, take #2 and #3 And wire into new harness Part number 90980-11142. Then simply plug into reverse light plug on the transmission.*
NEUTRAL SAFETY SWITCH
Neutral safety switch. Reroute wire
#6
and
#9
to the the clutch pedal. connect wire 6 & 9 to Neutral safety switch. Part number 90980-10825
free upload
CRUISE CONTROL
Cruise control clutch switch. Cut B13 from ecu and wire to cruise control clutch switch, then to driver side fuse box harness 1A pin 4. Part number 90980-10906.
photo uploading
photo uploading websites
upload images free
Used wire protective wrap for wires from ecu and NSS. There is a nipple on the main grommet on firewall, i cut the tip off to feed my wires through.
free photo hosting
Didn't want to make holes in ecu box, turns out there is one already by front right corner.
adult photo hosting
TRACTION AND SNOW.
the pwr/snow button as you know is part of the auto shift assembly, on stock manual it is a two part trac off/snow under the radio and next to heated seats if your is so equipped. luckily most of the wiring is already where you need it. there is one wire you need to extend and that is the black and yellow wire that goes to your old pwr/snow button.
your stock wiring, as you compare to the next photo, you can clearly see only one wire needed black yellow.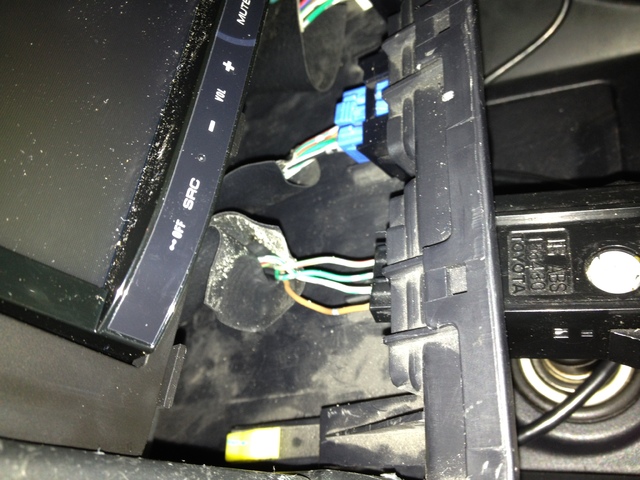 this photo is courtesy of solidsnake. you can see that the wiring is not in the same order as the traction only button, so make sure your order is right. Also you may note that you need a 6 pin plug versus the 4 pin plug, i dont have the part number, but you can reuse this plug from the old wiring from you auto shifter where the old power/snow button was.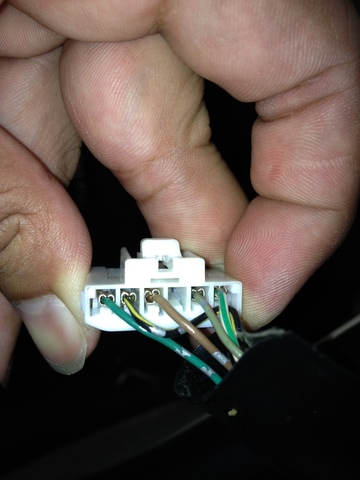 Update 11/08/12 this is probably going to be my last update mainly because there was only one real missing piece to the puzzle. Some questioned the legality of changing the transmission and being able to pass smog here in California with there strict laws. Well my registration renewal was finally due with a updated smog check. took it in and passed without a problem. It even notes that it is a manual transmission on the print out.