Discussion Starter
·
#1
·
so after everything happend with the first 01 is, time for a 2nd! this time it's a 2002, same color, but black inside & manual
tell me what you think of it:
this is how i bought the car from lonestars14:
link to for sale thread:
http://my.is/forums/f172/fs-02-ibp-5spd-lsd-volk-apexi-area-51-etc-405316/
car:
what i've done so far:
window tint, repainted the front bumper, put on old side skirts from old car, repainted & fixed rear bumper, painted carbon fiber radiator cover to fix it up alittle, figs heat shield w/ blue F, figs battery tie down (optima battery with it), AEM wideband, put on falken rt615 tires. 225/40/18 up front, 265/35/18 in the rear, mishimoto radiator, OBX blue silicone hoses, titek drain plug, unorthodox pullies (besides crank) unorthodox adjustable cam gear, put on the tein flex coilovers, SRT intake, going to smoke the tail lights on wednesday.
still waiting to arrive in mail:
greddy timing belt, ACT clutch, fidanza light flywheel, BC stage 3 cams, and of course springs & retainers with that.
, figs hood props coming soon too
parts still to put on from old is300:
speakers, focal v2's up front, cv1's in the rear with alpine PDX 4.150 amp to power it, still havn't decided on what head unit to use and underbody braces.
enough talk! here's some pictures
with window tint: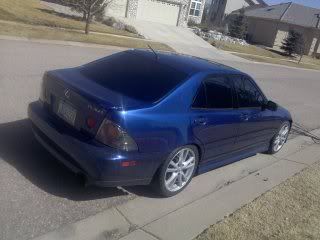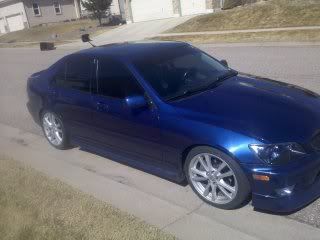 OBX hoses: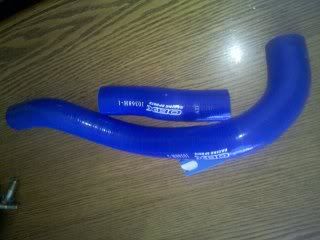 unorthodox racing =]
radiator: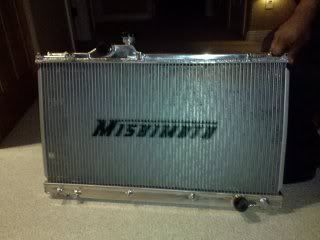 i took out the old dvd player in the glove box to mount the wideband. let me know what u think. I still have to fix the holes that was left by the old dvd player.
I took off the volk's because im trying to get a matching set of 4. I'm leaning towards the volk TE37's in 18"s.
also, looking into purchasing the brembo big brake kit that uses the ferrari F40 calipers. then time to start saving for boost =]
let me know what you think of what i've done so far, suggestions & opinions are very welcomed. trying to get everything set for when i go boost 2-3 years from now.
~cody