Lurker
Join Date: Jan 2003
Location: NoVA
Posts: 107
Mentioned: 3 Post(s)
Tagged: 0 Thread(s)
Quoted: 4 Post(s)
IS300 in street modified? (autocross)
---
If you were building an IS300 for SM... how would you do it?
Cliff's notes for the unfamiliar:
* Engine is pretty much unlimited as long as the block is from the same manufacturer as the car
* Wheels/tires: you can hack the hell out of the fenders and notch as necessary (I think)
* Suspension: you have to keep the stock pickup points, but pretty open otherwise
* Diffs/drivetrain: pretty open
* Aero: big splitter, big wing
* Weight reduction: CF body parts are mostly okay
Minimum weight with a 3.0L turbo is 2680. I'm thinking that would be awfully hard to hit.
Not sure about max tire fitment either.
Stuff it's got going for it:
* Plenty of options for power
* Diff/axles possibly will hold plenty of power (
https://my.is/forums/f114/what-hp-tq-...handle-446611/
)
* Double wishbones
* Not wide (67.9 in; for comparison, Evo is 69.7, E36 M3 is 66.9, GTR is 74+)
Stuff it doesn't:
* Finding a transmission that will hold SM power levels
* Finding a transmission/FD that will let you do 70 in 2nd
* Not much in the pimpy shock category, at least off the shelf
* Weight / weight distribution
* Not many people racing em
I know Derek Butts got 285s under the car with flares in DSP: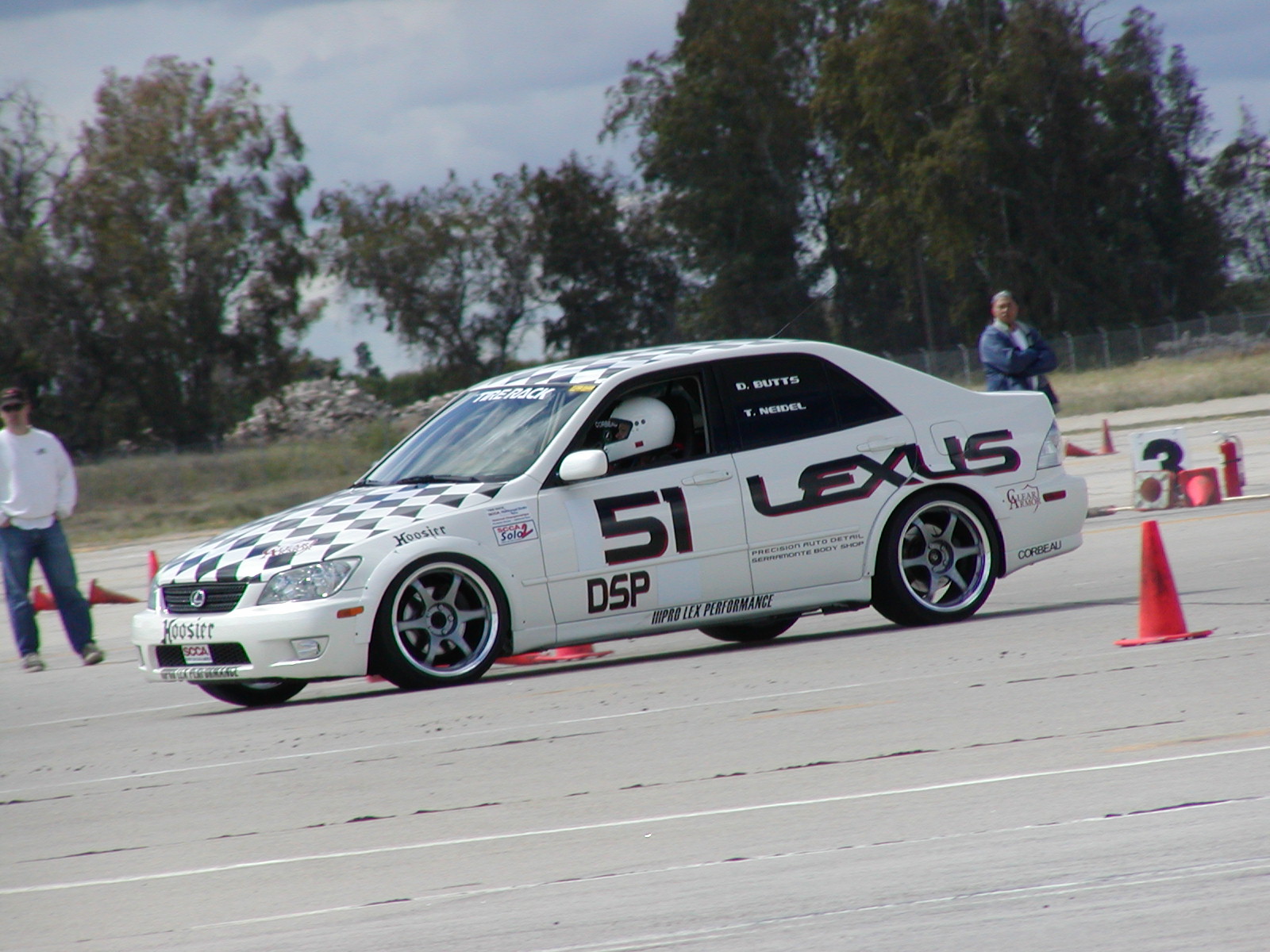 315's in the rear might be possible?
https://my.is/forums/6465645-post6034.html
Not sure what pricey shock options there are out there. I think I have seen Penskes. I'd probably want something like an Ohlins R&T (since this would be only-sort-of SRS BSNS) but I don't think they exist for the first gen.
Just kind of kicking ideas around. Is this the worst idea ever?
Frequenter
Join Date: Jul 2007
Location: Massachusetts
Posts: 171
Mentioned: 1 Post(s)
Tagged: 0 Thread(s)
Quoted: 0 Post(s)
Here are my thoughts on a DSP -> SM IS300 build.
Suspension
For shocks I've seen a couple of motons floating around, mostly on the CTCC cars run by Andrew Wojteczko:
2005 Lexus IS300 race car - S2KI Honda S2000 Forums
Penskes you could always pay someone to make the correct mounts for the car to fit the shocks, but that's $$$.
I would love for Ohlin to develop the R&T for the IS300, but it seems unlikely that'd ever happen given the aging platform. Maybe we have to get Figs on their case about that
It looks like Fortune auto offers some decent shocks for the IS300, a friend in an ASP STi has good luck with them locally. I'd probably go straight for the 510 series shocks (similar to the Ohlins R&T) and see how they do. I was doing some math on spring rates, and my best guess was that you'd need 1400 lb/in springs front and maybe 1200 lb/in spring rear, on a car with aero, which it looks like the 510 shocks should be able to handle.
(Aero aside) In DSP it doesn't look like you can do too much with the front splitter, but you could do a nice ducktail on the rear. For SSM you could do a nice splitter and wing.
Transmission:
The best option is probably either a V161/160 OR if you're really baller with money, a PPG dogbox or sequential transmission. A friend with an SMF CRX had to go to a dogbox with built 1-2 gears (I think) because they kept blowing up 2nd gear.
Weight:
2680 would be a hard ask to get down to. I was thinking I could maybe get the car down to 2900 probably, with SM allowances, but I'm not really sure about that. I haven't ever had my car on the scales so I don't really know what i'm working with. The sad thing is that the 3L + turbo will provide as much power as you'll ever want at autocross, so I'm not sure what other magical things we could do to lose weight.
On a side note, after I get a real job and some spare money, I'm totally building a DSP to SM battlewagon. I just want to see how it does, and it'd be fun to run midpack at Nationals in a stationwagon.
Aficionado
Join Date: Jun 2014
Location: In the apex
Posts: 884
Mentioned: 0 Post(s)
Tagged: 0 Thread(s)
Quoted: 230 Post(s)
Engine: I'd look into a 1UZ (vvti, of course), as it's an aluminum block that is somewhere between 60-80 lbs lighter than a GE, and it comes with 300 hp/300 ft-lbs stock. So, you get more power, drop weight, and improve weight distribution. Plus, you get a nice NA powerband. (Ignore this if it doesn't meet the requirements)

Trans: Have you looked into the AR-5? The v160s/v161s are obviously very strong, but I've heard that they can be clunky/noisy. I wouldn't opt for r-154 unless the ratios worked best for your goals.
---
2003 GGP | "You Can't See Me"

Hotchkis sway bars, LS400 bbk, Stance coilovers, Customwerks rear strut tower bar & trunk brace, Megan diff. brace & traction bars, OBX short-tube headers, Fidanza exhaust cam gear, GTE cams, NX wet kit, winter camo wrap 👀
Lurker
Join Date: Jan 2003
Location: NoVA
Posts: 107
Mentioned: 3 Post(s)
Tagged: 0 Thread(s)
Quoted: 4 Post(s)
@
korinfox
- so you still have your STX car? I saw that the Volks were for sale.
I think you're right about asking Figs - if anyone can figure this out, they can. The FA stuff does seem like a decent compromise, and if the whole idea turns out to be an un-competitive debacle at least they're not that expensive
They do stress digressive valving. I had also forgot about JRZ - nice thing about them is that they are relatively local, and apparently the shocks do exist:
https://my.is/forums/f96/so-i-bought-...lovers-376103/
The reason why I wouldn't consider DSP as an interim step is - you have to do a lot of really expensive stuff (intake manifolds, that sort of thing), but for a lot less gain. AND, the car is going to handle very differently with a turbo so the suspension/diff setup that might be right in DSP is not going to carry over to SM.
Engine - for a street car I would love the V8 but I don't think it would cut it in SM. The main benefit to doing NA would be a lower minimum weight but there's no way to hit 2680 let alone 2600.
Transmission - I have to figure out the ratios for all of these options, and what final drives are available. Doing high 60's (or more) in 2nd seems like pretty much a requirement for a 400whp+ SM car.
The AR5 does sound really promising -
https://my.is/forums/f114/my-ar-5-recipe-547505/
- not all that expensive compared to the other options. Weight might also be an issue. I am guessing the V transmissions are amongst the heaviest of the options but I am not yet sure.
Frequenter
Join Date: Jul 2007
Location: Massachusetts
Posts: 171
Mentioned: 1 Post(s)
Tagged: 0 Thread(s)
Quoted: 0 Post(s)
Yep, I still have the car. I was just selling those wheels to fund the S2000 since i know they wouldn't be used in a DSP/SM build anyway. Almost 100% guarantee I'm going to build the wagon back up for DSP then SM eventually within 2-3 years.

If I did a DSP build as an interim, I'd just do it without doing all the expensive intake-side engine work (ITBs) and try and get the suspension right-ish. It is tempting just to go straight for the turbo and the extra weight removal of SM (rear seats, to start), but the most time consuming stuff would be getting the fender work right and figuring out what wheels/tires I could fit. It just happens that in my region I have good national-level benchmarks for both DSP and SM.

Speaking of wheels, a good cheap option is the XXR 531, which comes in 18x11 +20, which that SM car uses locally since they're cheap (compared to real deal CCWs which they use at events that matter), and relatively lightweight for their size. Think we could fit those all around? The best reasonable option is probably Forgestar F14 wheels with custom offsets. I'm not really sure about fitting monster wheels in the front and where we end up running out of clearance.
---
Last edited by korinfox; 07-29-2015 at

08:03 AM

.
Lurker
Join Date: Jan 2003
Location: NoVA
Posts: 107
Mentioned: 3 Post(s)
Tagged: 0 Thread(s)
Quoted: 4 Post(s)
Just to capture it, here is what Derek listed on his car. Looks like 18x9.5 front 18x10.5 rear. Not sure about offset but probably easy enough to figure it out.
https://my.is/forums/f96/dsp-lexus-sale-238982/
Quote:
Originally Posted by
Derekb
2004 DSP National Champion Car For Sale

2001 Lexus IS 300 w/ W55 Manual Trans for sale
Best of everything.
Custom Molded Flared Fenders to accomodate 285/30/18 tires
Hardtop roof panel
Lightweight Odyssey Battery w/ custom aluminum box in trunk
Custom aluminum bodied double-adjustable Ground Control Coilovers/Eibach springs
Three way adjustable front and rear swaybars
New TRD pads and Rotors
Motul Brake fluid w/ SS lines
Corbeau Forza seats w/ schroth harnesses
Custom made Centerforce clutch (fresh) and UR aluminum flywheel
UR underdrive pulleys
A/C removed (compressor)
Stereo/Speakers Removed
Rod Millen Intake
XERD header/racepipe
Greddy E-manage piggy back controller
TRD rear spoiler
Limo tint rear glass
Straight pipe exhaust (loud)
TRD exhaust (not so loud)
Custom offset front bushings to achieve up to -4.0 degrees of camber
SSR Competition 18x9.5/10.5 wheels (17-19 lbs)
Engine has 27k miles on it. Synthetics since beginning autocross
As light as you can get a Lexus to (2995 lbs)
Custom fit car cover
Shop Manuals


Vehicle was completely gone through at end of 2004 season. All graphics have been removed and paint repaired and car polished. It is one of the nicest cars you'll see on an autocross course.

The car is ready to go and drive today. Very easy to drive fast. THIS VEHICLE HAS NO TITLE. CANNOT BE REGISTERED FOR THE STREET. WILL BE SOLD WITH BILL OF SALE ONLY.

$20k for car with one set of wheels/ tires

Also available:
Second set of 18" wheels
Rear Differential Carrier with shorter gears
TRD clutch type differential (new)
TRD complete bushing set (new)
Second Centerforce clutch (new)
Parts to convert to Street mod:
Carbon Fiber hood/pins
Stop tech big brake kit
Second set of front fenders with steel flares

Please e-mail me at redacted with questions

Reason for selling: going road racing

-Derek
http://www.sccaforums.com/forums/aft/37054
Quote:
How much more power can an IS300 make w/ DSP mods? I'm guessing headers and ITBs might make a pretty big difference on this car? What gearing options are there?

If Doug in his 330 is any indication, the lighter IS300 might have a good shot.
Quote:
The IS300 is a great DSP car. I ran against Derek when he was running his. Its very quick. When I left DSP I had a '98 Supra SE with the same driveline as the IS300. Headers won't buy you much because the stock manifold is so good. The only limitation is the integrated cats and those can be eliminated easily. And while the OE manifold looks restrictive, it makes good power. ITBs may make a little more but the difference isn't big. The car isn't terribly heavy and has an excellent chassis. Couple that with probably the best engine in the class and you have a winner.
Are you talking about Panda?
If Derek could get 285's in *SP - I would think you should be able to get at LEAST that in SM. You can kiss your fenders goodbye, but whatever. I was figuring junkyard fenders + sawzall + rattle can + some cheap generic flares. i.e. not the really nice job that Derek had
I'd have to look at the wheel fitment thread to figure it out.
---
Last edited by ButtDyno; 07-30-2015 at

06:48 PM

.
SEAHAWKS!!
Join Date: Apr 2007
Location: Parkland, WA
Posts: 10,782
Mentioned: 5 Post(s)
Tagged: 0 Thread(s)
Quoted: 552 Post(s)
Check offset for clearance of the inner suspension arms as well, with the tires. Most only look at fender clearance, but forget about the suspension.

I wish mine was manual, to autocross. I had a DC2 that i was autocrossing, but sold it to finish school. I will be there, or road racing in the not so distant future
---
Phil
2001 IS300
Engine 2jz-ge w/SRT intake; HP header; Toyomoto ypipe
ICE/Interior Kenwood Excelon w/Nav; Fsport shift knob
Exterior JDM headlights; foglights; taillights; SportDesign grille; RX shorty antenna
Suspension Tanabe coilovers; SuperPro bushings; FIGs toe links
Wheels Volk Racing wheels; Staggered 17x8/9; Conti DWS
Lurker
Join Date: Jan 2003
Location: NoVA
Posts: 107
Mentioned: 3 Post(s)
Tagged: 0 Thread(s)
Quoted: 4 Post(s)
Using this:
https://my.is/forums/f95/wheel-fitmen...i-need-413953/
When I punch in 18x11, +20, I get a "fender" value of 119 in the front (+65 means "stretch tire and/or roll fender") so it's ~56 mm into the fender by that math... but you can fix that for sure.
The "suspension" value in the front is 159.7 - so going by that thread you'd need a 5mm spacer, or an 18x11 +15 wheel.
In the rear, the "shaved lip" limit is +75 so you're substantially into the fender.. but again, fixable.
The rear suspension limit is -183, so -159.7 is good; you could run an 18x11 +40 and be fine it looks like.
I would also bet there are Enkeis out there, RPF1, NT03, etc that might work.
edit: also, obviously this makes the car wider, but presumably the other cars in the class have the same issue.
Frequenter
Join Date: Jul 2007
Location: Massachusetts
Posts: 171
Mentioned: 1 Post(s)
Tagged: 0 Thread(s)
Quoted: 0 Post(s)
In the rear, I'm sure as wide of a tire as we want can fit in DSP or SM, with the fender flare or fender allowance. In the front, there's the issue of running into the firewall towards the back when the wheel is turned. In this case, I'm not sure about clearance.
I do think there are people that run the ZG flares, which give 2.25" extra width front, and 2.5" rear, or for the wide version 3.25" front, and 3.75" rear. They may not look pretty, but it gives hope that we might be able to run wheels that wide at an autocross. Hopefully one of you guys try before I have to decide what wheels to buy
Frequenter
Join Date: Sep 2006
Location: MA
Posts: 193
Mentioned: 0 Post(s)
Tagged: 0 Thread(s)
Quoted: 1 Post(s)
I'm looking to get into a beginner class but Im reading on a FAQ site that Sunroofs are strictly banned? I know a decent amount of is300's have sunroofs so just looking for some insight.
Frequenter
Join Date: Jul 2015
Location: Richmond, VA
Posts: 230
Mentioned: 0 Post(s)
Tagged: 0 Thread(s)
Quoted: 49 Post(s)
---
2004 IS300 Eshift
BRZ 4.1 LSD - 18x8.5 Evo X Enkei's - Koni
Follower
Join Date: Dec 2011
Location: River of Heaven 天の川
Posts: 565
Mentioned: 4 Post(s)
Tagged: 0 Thread(s)
Quoted: 81 Post(s)
Open sunroofs or open cabin cars may be.....
Frequenter
Join Date: Sep 2006
Location: MA
Posts: 193
Mentioned: 0 Post(s)
Tagged: 0 Thread(s)
Quoted: 1 Post(s)
ok Ive sent this question into my regional club. Maybe it was regarding higher classes. Thanks for the replies
Current users viewing this Thread: 1

(0 members and 1 guests)