View Poll Results

: ROTM Contest: October 2013

ChrisIs300
1
1.64%
digger08
23
37.70%
code
0
0%
rararoy
6
9.84%
my2002is300jz
0
0%
Bezik777
31
50.82%
Voters: 61. You may not vote on this poll
Jedi Knight
Join Date: Mar 2003
Location: SoCal
Posts: 7,619
Mentioned: 1 Post(s)
Tagged: 0 Thread(s)
Quoted: 8 Post(s)
ROTM Contest: October 2013
---
ROTM Contest: October 2013
The contest works like this:
Today until October 21, the contest will be open for submissions. You must post your pictures in this thread to enter.
From October 22 - 31 a poll will be added containing the entered submissions. All members are asked to vote on their favorite. The person with the most votes will be the winner for the month!!
The prize:
The October 2013 Ride of the month will be featured on the homepage during the month of November 2013. Let's see whatcha got!
Ride of the Month Rules
1) All IS models compete against each other.
2) If you have won in the past 3 months you are not eligible (e.g. if you won for the month of April the next month you could enter would be August)
3) No "photoshopping" of photos in a manner that manipulates the look of the car. White balance and other tasteful color edits are allowed. Changing the color of the vehicle or accessories is NOT allowed. HDR and other such effects, presets or filters are allowed but frowned upon. Anyone that is thought to have violated this rule will be given a very short period of time (hours) to provide unaltered photos. If the Admin team feels that anyone has violated this rule they will be disqualified from any future contests if they are found to have used altered photos.
4) You may only enter your own personal car not your buddy's car or your mother's car, you get the point. Company built show cars are not allowed.
5) Each entry is allowed a
maximum of 3 photos
. You are not allowed to change (this means adding or deleting or any alterations) your photos once you enter. To enter add your photos to a post in the contest thread and they will be moved by a moderator into the main contest post (the thread originating post). Photos will be added to the post in the order of entry.
Voting:
Do not create fake accounts for votes. Every vote is monitored by the Admin team and cross-checked to see if the user account is valid.
No soliciting or campaigning for votes through PM or in threads.
Members with less than 50 post count have been restricted from voting.
If the Admin team feels that anyone has violated the stated rules, they will be disqualified and restricted to enter any future contests. Rules are subject to change. Should a situation arise that can't be resolved by these rules, the Administrators will work out the details.
---
2003 Lexus IS300 - Graphite Gray Pearl 5MT (sold)
2010 Lexus RX350 - Starfire Pearl
2014 Mercedes-Benz E350 Sports - Polar White
2015 Toyota Sienna Swagger Wagon - Super White
Frequenter
Join Date: Jul 2012
Location: Canada , Quebec
Posts: 196
Mentioned: 0 Post(s)
Tagged: 0 Thread(s)
Quoted: 3 Post(s)
Lets try with fresh pics
Guru
Join Date: Mar 2003
Location: Toronto
Posts: 6,488
Mentioned: 0 Post(s)
Tagged: 0 Thread(s)
Quoted: 20 Post(s)
2008 Lexus IS F
5.0 L V8 2UR-GSE
1F2 Mercury Metallic
174,000 Km's
Mods
ISS Forged DES street exhaust - 2.5"/ 304 Stainless/ header back
BCR Coilovers custom spring rate F14K/ R10K
Joe Z Intake
aFe Drop in AF
2012 LED headlight upgrade
SK Performance HID fogs 6K
SK Performance HID headlights 6K
SK Performance LED upgrade all interior and exterior lights
iJDM toy - LED rear marker light conversion
Sprint Booster
F-Sport Rear Sway bar
Exterior
Lexon Style Lip/ Flat Black
Wald Style rear spoiler
Wald rear Diffuser - Carbon Fiber
Jun Roof Spoiler
Calipers G2 Blue with custom "F" logo's
Tint
Wheels
19" Volk Rays Engineering VR G2
Continental DW
Front 8.5 x 245/35/19 +45
Rear 9.5 x 275/30/19 +45
Ichiba 15mm Spacers
Interior
Beatsonic Nav hack
F Sport Shift Knob
DOD F500 LHD Dash Cam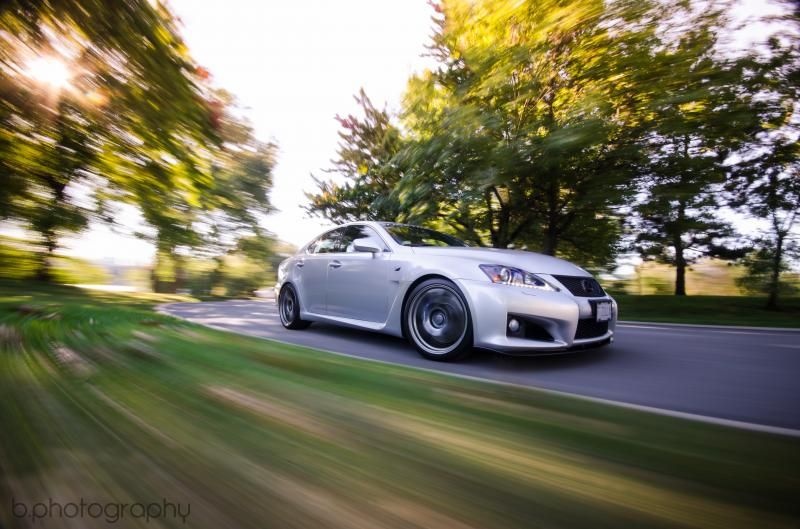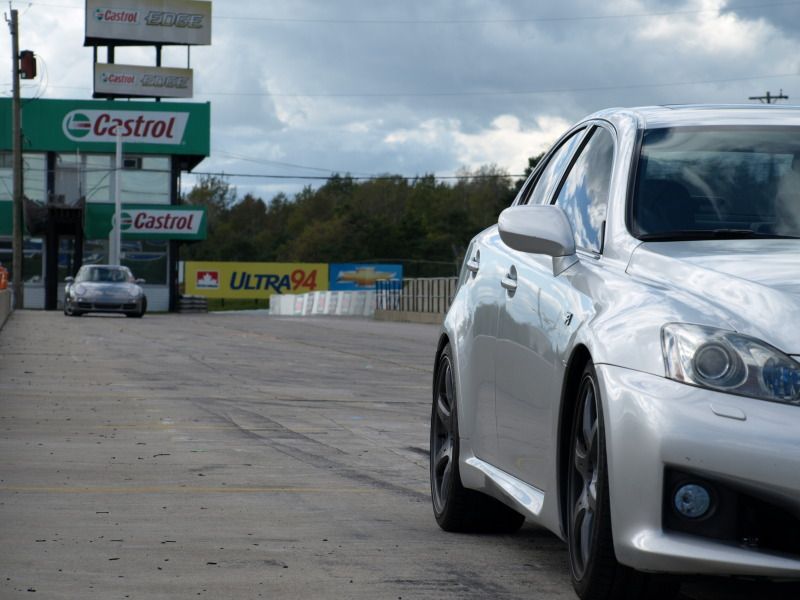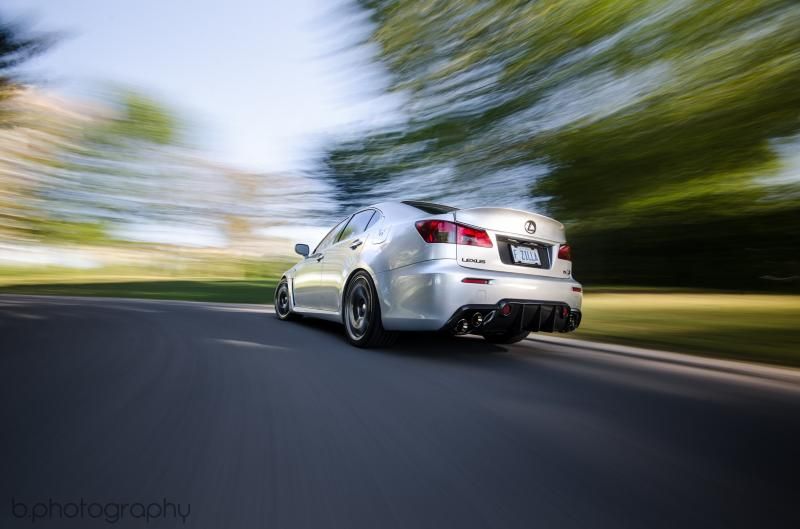 Digger08
---
2008 IS F Series 2/ Mercury Metallic 1F2/ Joe Z/ aFe/ Garax 6K/ Volk VR G2 19"/ F-Sport Rear Sway/ ISS Forged DES/ BCR/ Beatsonic
2012 CT200h Fire Agate Pearl
2001 IS300 Solar Yellow -SOLD
2001 IS300 Black Onyx -STOLTed - SOLD
Newbie
Join Date: Oct 2013
Posts: 1
Mentioned: 0 Post(s)
Tagged: 0 Thread(s)
Quoted: 0 Post(s)
2006 IS350

Exterior:
Tien S-Tech Springs
19" Vertini Wheels (Fr. 8.5" / R. 9.5")
R1 Concepts Premium cross drilled and slotted brake rotors / ceramic pads
Hankook V12 Evo tires (Fr. 245/30/19 / R. 275/30/19)
Uratech front lip
Xenon HID driving lights
iJDM LED DRL decoders with plasma / Cree bulbs
VLED puddle lights
F-Sport Intake
OEM trunk spoiler

Interior:
Complete VLED interior lighting
Full Infinity Kappa component speaker system
2x Alpine Type-R 10" woofers in sealed box
Kenwood KAC-9105D 900W Sub Amp
Kenwood XR900-5 eXeclon 5-Channel Amp
Tinted Windows
Lurker
Join Date: May 2010
Location: Austin tx
Posts: 99
Mentioned: 0 Post(s)
Tagged: 0 Thread(s)
Quoted: 0 Post(s)
Lets gooooo
2003 Sport Design Is300 5spd w/lsd
EXTERIOR
Custom Green gold Pearl Paint
Widebody
Vertex replica full kit
Jdm Chrome black grill
Led Tails w/smoke grey turn signals
Custom exhaust
altezza visors
Shaved antenna, side moldings, rear reflectors.
INTERIOR
Houndstooth Wrapped pillars and headliner
Bride Vios iii Cusco Edition Driver Seat
Planted Tech Seat Bracket
LIGHTING
Q45 Low Projectors, TL High Projector, Black Chrome Housing
6k for headlights
Hid Yellow high beams
Blue led interior kit
Cool white Led license plate lights
Cool white led turn signals
SUSPENSION & BRAKES
Ksport Pro Air suspension
Stoptech lines
WHEELS & TIRES
Nankang NS-II
225/35/18F
265/35/18R
SSR Vienna
18x10 front Neg 15 offset
18x12 rear Neg 12 offset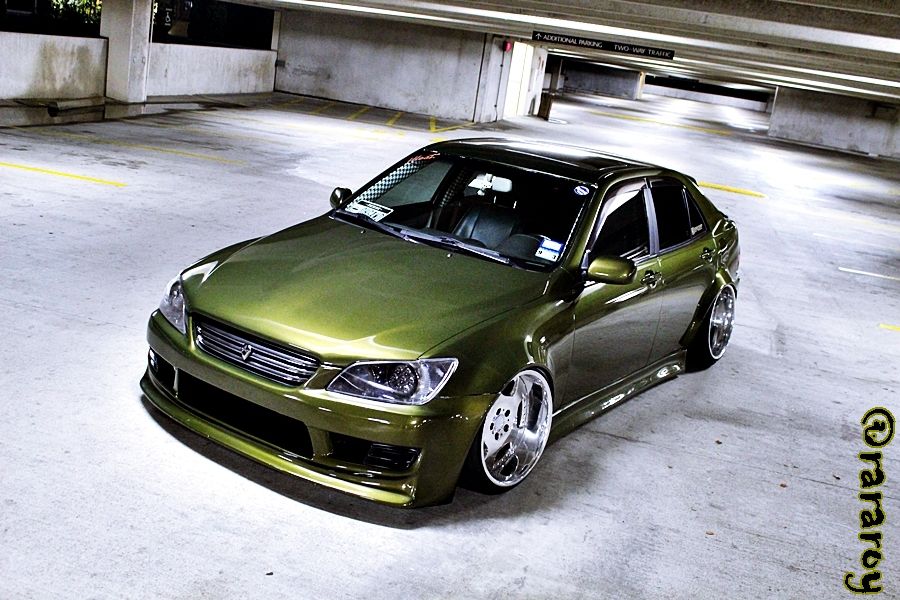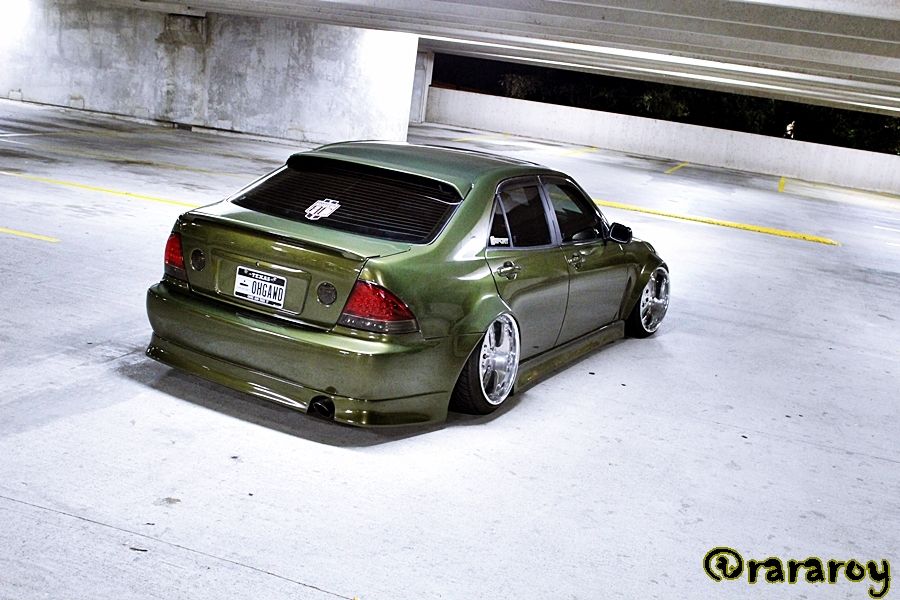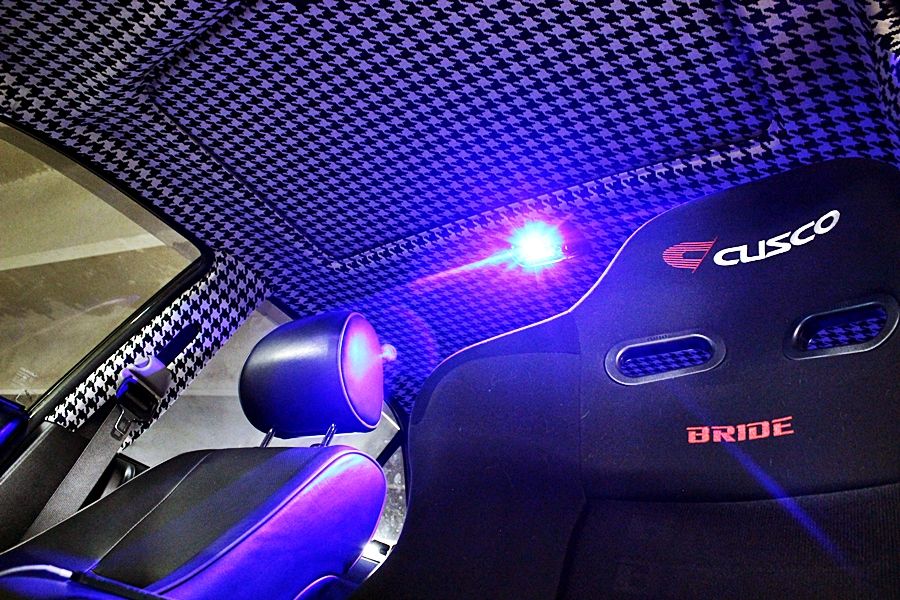 Newbie
Join Date: May 2012
Posts: 17
Mentioned: 0 Post(s)
Tagged: 0 Thread(s)
Quoted: 0 Post(s)
My 2002 MSM IS300
---
wheels:
Konig runaway
front 18x8 +35 225/40/18
rear 18x8 +35 235/40/18
Suspension:
tien s-tech lowering springs
Engine:
K&n typhoon intake
full cat-back exhaust
Body:
replica Greddy front lip
replica TRD side skirts
mesh grill
black housing headlights
black housing tail lights with led
nokya high beams
Stereo:
Jvc-av71bt
2 12 inch subwoofers with custom box
1600w amp
Guru
Join Date: Mar 2009
Location: ILLinoiS
Posts: 9,782
Mentioned: 1 Post(s)
Tagged: 1 Thread(s)
Quoted: 44 Post(s)
2004 Lexus IS300 Sport Design Edition
Engine/Trans
Built "GTE" 2jz-GE small block
GTE pistons
GTE rods
ARP hardware
GTE headgasket
Crank (polished , balanced etc)
BC built Head - cleaned up exhaust side
BC stage 2 cam 264s*
BC valve springs
BC titanium retainers
BC valves
ARP head studs
UR "blue" cam gear
Procharger C-2 supercharger
13 psi pulley
Spareco intercooler (LRG)
Intercooler pipes (all black)
Custom 3in intake
80mm LS400 throttle body
modified y runner
TB coolant line delete
330cc injectors (575cc going in)
255 Walbro fuel pump
Fuel return
Aeromotive FPR
Dezod AEM V2 EMS
3.5 AEM map sensor and IAT
UR racing pulleys (no crank pulley)
Full Aluminum 2 bar row radiator with samco hoses
Tuned radiator panel
Mazzuri v2 headers
custom 3 in ypipe
full 3 in mandrel exhaust HKS muffler
VB upgrade
trans cooler
LSD
......more I'm probably forgetting
Suspension/Brakes/Wheels
TRD ADJ Struts
Tein stech Springs
STB bars
Hotchits sway bars
mazzuri rear diff bar
tuned rigid bars
underbracing
Stoptech brake kit (oem)
Mutegi black steel lugs
Sport design black center caps
Cobra/custom Lexus wheels
17x8 +30 forged
215 front 245 rear
Exterior
TCM
All 04 SD Lighting "rarest"
Area 51/Kaminiari Front Lip w/custom grill
larger fog light bumper openings(openings next to fogs)
Seibon Carbon Fiber hood (edges color matched paint)
SD emblems and badging
Vizage side skirts (custom vent grills)
Vizage rear lip (not on car)
Stock Spoiler
Interior
Custom 3 gauge pod (Boost ,Wideband )
Stock radio (works)
Double-stitched Smoke Gray leather interior
Windows Tinted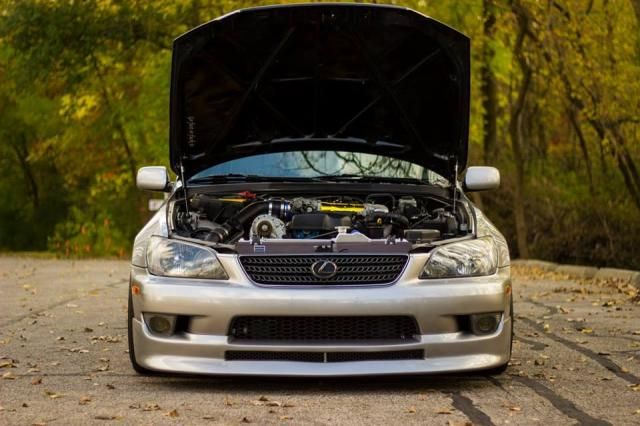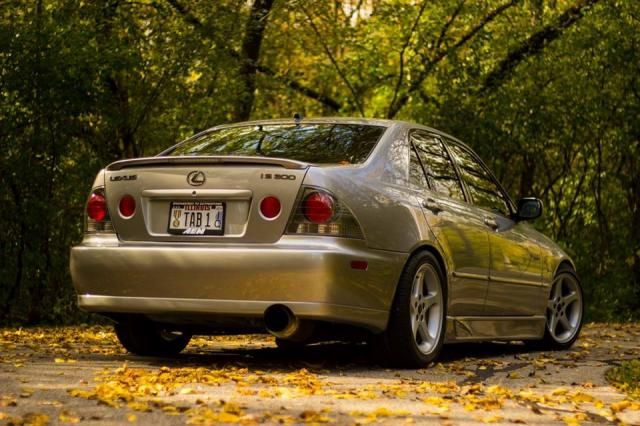 The Build
https://my.is/forums/f219/supercharge...ml#post7255001
---
Support The Troops -
OIF Veteran - SSG of Soldiers - AND PROUD OF IT

-Boosted-
-JCE10 Midwest-
___Go Fast or F*** It___

Altruist
Join Date: May 2003
Location: SoFla
Posts: 3,201
Mentioned: 0 Post(s)
Tagged: 0 Thread(s)
Quoted: 6 Post(s)
boosted FTW
---
~98 RHD-Supra In progress
~09 C63-AMG DD
Current users viewing this Thread: 1

(0 members and 1 guests)
Posting Rules

You may not post new threads

You may post replies

You may not post attachments

You may not edit your posts

---

HTML code is On

---