Newbie
Join Date: May 2012
Location: Houston, TX
Posts: 1
Mentioned: 0 Post(s)
Tagged: 0 Thread(s)
Quoted: 0 Post(s)
New member
---
Whatsup everyone I just bought a 2007 is350 yesterday and I'm already in love. I chose Lexus because it's a quality manufacturer and its down right elegant. I'm only 18 and I bought this on my own. I'm going to Texas A and M university next fall and that's really why I bought the car. I still have my first car tho, a 2000 jeep Cherokee. But since I bought the jeep I've probably put in double what it worth in offroad accessories suspension lift, mud tires, solid bumpers, the whole shabang. I guess I have a real passion for cars and modifying them.
Follower
Join Date: May 2009
Location: Arleta, CA
Posts: 587
Mentioned: 0 Post(s)
Tagged: 0 Thread(s)
Quoted: 0 Post(s)
Welcome to the forums! I hope to get the 350 next as well.
---
02 MSM e-shift/LSD/srt intake/obx down pipe/H&R springs/Koni Yellows/Tuned Rigid Bars/ichiba/
Loyalist
Join Date: Dec 2010
Location: Jacksonville (frm Tampa)
Posts: 1,790
Mentioned: 0 Post(s)
Tagged: 0 Thread(s)
Quoted: 9 Post(s)
Congrats . Welcome to the forum.
---
01' IS300
2JZ-GTE Aristo Stock Twins
(for now)~ Current
01' MSM IS300 NA-T
[email protected]
~ Sold
Aficionado
Join Date: Feb 2011
Location: Bein' dragged around by a 2JZ
Posts: 743
Mentioned: 0 Post(s)
Tagged: 0 Thread(s)
Quoted: 0 Post(s)
Congrats on the car! My aunt just also bought a black 07 IS350 and loves it. Man, I've had my days with the Cherokee as well. I had a black 1999 Cherokee Sport 4X4 with a 3 inch Skyjacker lift and the first gen BFG Mud-Terrain with the factory 15" 5 spoke wheels. It was immaculate. In fact, I'll post a pic of it haha. Loved that Jeep though and unbelievably got complements on it from everyone. Post up pics of both of your cars! Always cool to meet other XJ guys on here lol.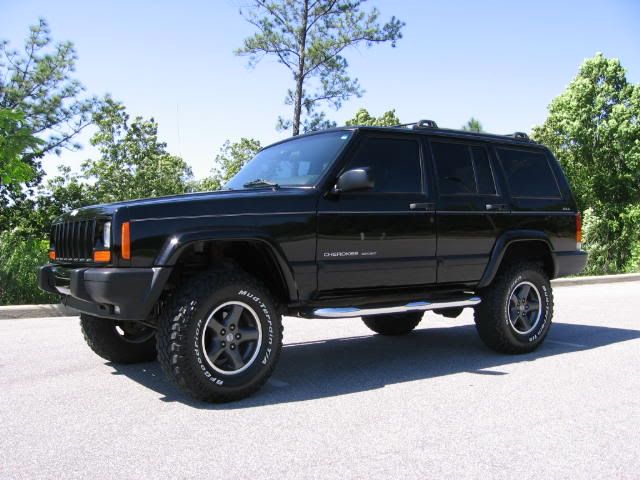 ---
Facebook: "IS's of Alabama"

- 6 Speed Sport e90 BMW 335i; MTech package & e85 COBB tuned (Current)
- 2004 IS300 Black Onyx 5 Speed w/LSD; Pioneer, AEM, R-Dash, 2013 ISX50 5 spoke wheels (Owned from November 2010-2013)
- 2002 IS300 Black Onyx 5 Speed w/LSD Stock (Owned from 2009-2010)
- 2001 IS300 Black Onyx Stock (Owned in 2007)
Current users viewing this Thread: 1

(0 members and 1 guests)