Lurker
Join Date: Feb 2008
Location: Miami, FL
Posts: 70
Mentioned: 0 Post(s)
Tagged: 0 Thread(s)
Quoted: 0 Post(s)
IS250 has died... long live IS350
---
Well, it's been almost 4 years since I got my 2008 IS250, but with sadness (I LOVE my IS250) I decided to bring it back to Lexus to replace it for a new 2011 IS350 (thanks to my brother David as he just did that too… he is under "Slash300ZX" in this forum).
My old IS was my first Lexus, and I have to say I was very well satisfied with it
A new chapter has now opened where I have moved into the IS350 world. I have to say the power increase was my only reason to move up, but I am happy with the new color (old one was obsidian black, new one is smoky granite mica) and the Navigation System which I didn't have before.
My only disappointment is that the Sound System (I did not get the ML) doesn't come any longer with the Position Selection (P.Sel) option. I think that was the best option for my old IS250 as they managed to center the sound to the driver seat. I am still trying to figure out how to replicate that effect on the new IS350.
I was with my wife in her car when we passed by the Lexus dealer on Saturday just to find out options and prices, but since I know the manager, and based on the fact they had the IS350 on the color I wanted and with the options (more or less) I wanted, we took the new IS out and didn't have to bring back the old one until the next day. So… I took some pics before leaving my house to bring back the old one.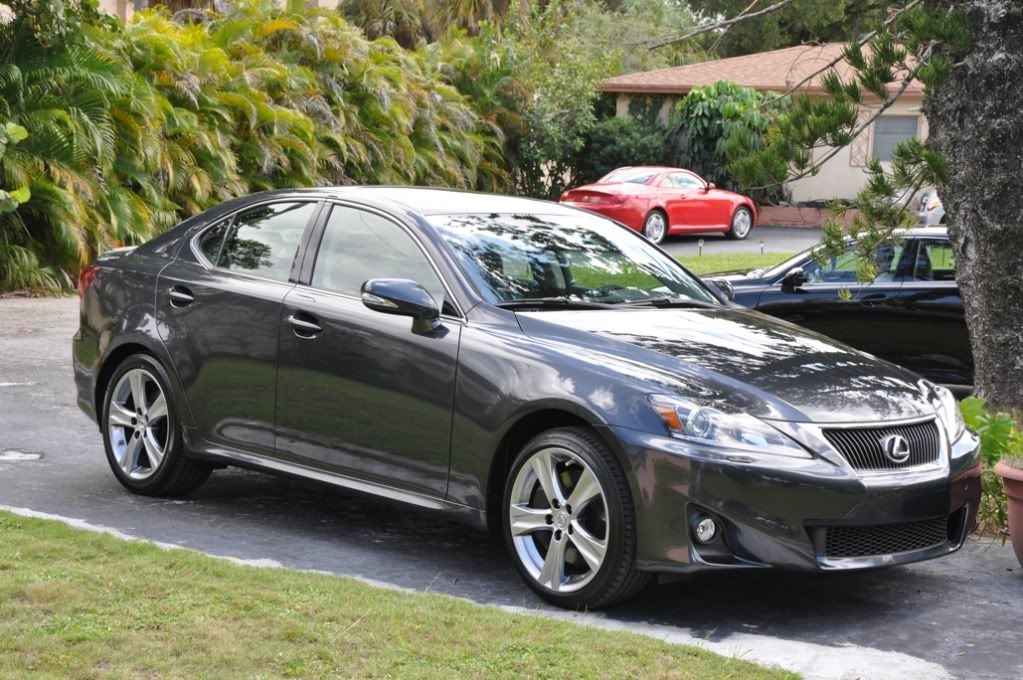 I wish I could have kept both cars… lol
And one last view of my old friend
Thanks for looking.
---
2014 Lexus IS350 F RWD - Matador Red Mica
2013 Lexus CT200h - Obsidian
1990 Nissan 300ZX 2+2 Twin Turbo 500 RWHP - "The Silver Bullet"
Guru
Join Date: Mar 2009
Location: ILLinoiS
Posts: 9,782
Mentioned: 1 Post(s)
Tagged: 1 Thread(s)
Quoted: 44 Post(s)
Nice pick ......
---
Support The Troops -
OIF Veteran - SSG of Soldiers - AND PROUD OF IT

-Boosted-
-JCE10 Midwest-
___Go Fast or F*** It___

Newbie
Join Date: Sep 2011
Location: Pembroke Pines, Fl
Posts: 22
Mentioned: 0 Post(s)
Tagged: 0 Thread(s)
Quoted: 0 Post(s)
Hey I know you, kinda looks like mine :D welcome to the IS350 club!
Lurker
Join Date: Dec 2010
Posts: 55
Mentioned: 0 Post(s)
Tagged: 0 Thread(s)
Quoted: 1 Post(s)
Current users viewing this Thread: 1

(0 members and 1 guests)
Similar Threads
Thread
Thread Starter
Forum
Replies
Last Post
Long live RICE!!!

bcarter1

Go Fast Stuff

5

08-23-2000

11:30 AM