Newbie
Join Date: Feb 2007
Posts: 8
Mentioned: 0 Post(s)
Tagged: 0 Thread(s)
Quoted: 0 Post(s)
Hello from new IS350 owner
---
Hi guys,
I'm a proud owner of 06 IS350 with 39K miles. This is my first Lexus and I'm completely satisfied with my purchase. It drives like new for a 5 year old car with almost 40K miles. Unfortunately I somehow managed to put a hair line crack in my passenger side front wheel and it has a slow air leak. Does anyone have a stock front wheel they want to sell in the Los Angeles area? Thank you
Lurker
Join Date: Jun 2004
Location: San Francisco, Riverside
Posts: 70
Mentioned: 0 Post(s)
Tagged: 0 Thread(s)
Quoted: 0 Post(s)
Hi, your car looks clean / fresh!
I'm new too and don't want to start a new thread lol. I'm also in Southern California.
However, I still need to fix a few bits here and there, so I hope to browse the for sale ads soon.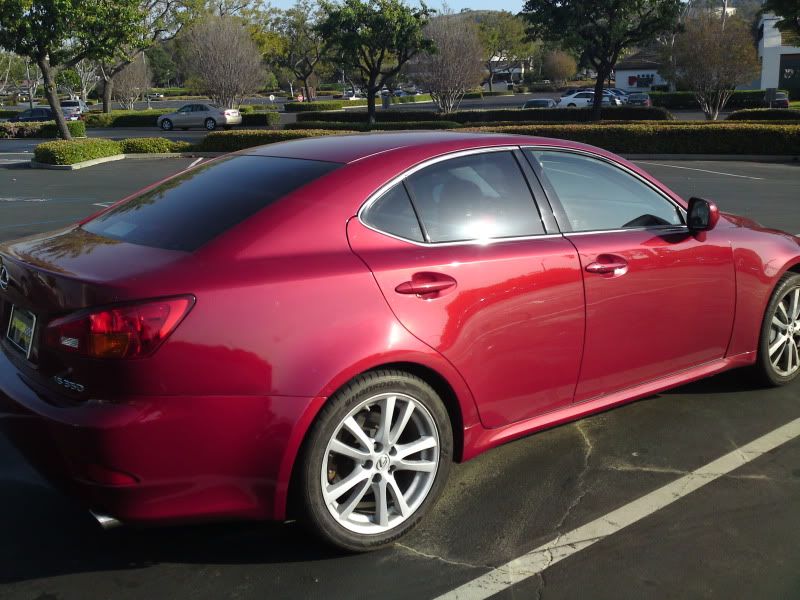 Newbie
Join Date: Apr 2011
Posts: 3
Mentioned: 0 Post(s)
Tagged: 0 Thread(s)
Quoted: 0 Post(s)
Very nice guys, just picked mine up in LA and drove it back to Las Vegas
---
-06' IS350- K+N Typhoon Intake- GReddy SE Catback-
Lurker
Join Date: Jun 2004
Location: San Francisco, Riverside
Posts: 70
Mentioned: 0 Post(s)
Tagged: 0 Thread(s)
Quoted: 0 Post(s)
Current users viewing this Thread: 1

(0 members and 1 guests)