Newbie
Join Date: Jan 2008
Location: Portland Oregon
Posts: 34
Mentioned: 0 Post(s)
Tagged: 0 Thread(s)
Quoted: 0 Post(s)
My SprtX..... I think I got super lucky
---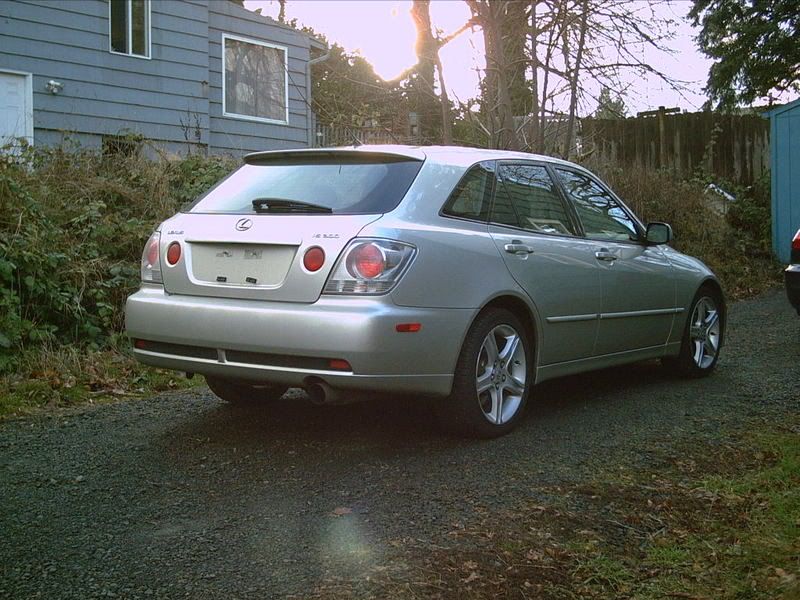 2002 IS300 Sportcross. I picked up this car about 2 weeks ago, after I saw it on Auto Trader.com. When we picked up the car it came with one master key, and the valet key (no other keys at this time), the original first aid kit was still in place(I had heard this became souverners for original owners)
About a week after we bought it, we got 2 more keys in the mail... the second master key AND the wallet key!
4 days later - I went in to my local dealer and asked him for all the service records, my SprtX has seen EVERY service at my local dealer, even oil changes! While waiting for the service records I went into the showroom and asked for the specifics of my car - standard and optional equipment. The dealer ran a "Vehicle Inquiry Report"... I now have the vin, the engine number, the interior and exterior codes(yes know they are on vin tag), what isn't on the vin tag... key code... original selling dealer code... original ship date, retail sales date, price (retail AND dealer!) a complete listing of equipment. Besides all the standard equipment mine has the leather/ecsaine interior(w/ heat) the LSD and VSC(booo) along with the power sunroof. MSRP was $35929.00
Does anyone have the Lexus service operation codes? Not download codes.... not chassis codes... These are the codes that appear next to repairs... they are usually more descriptive then the printed description... also the warranty work has ONLY codes..... again these codes represent repairs(all types) I ask this question because I do see some Eng Diag lines as well as one line early on in the history that says Auto Trans. I assume this is likely the tranny shifting/not shifting issues. Two other lines... show frt sus(I assume this is the "squeak" over speed bumps)
PS - the chassis code is JCE15W = for the 2JZ powered Altezza gita, would that be the same for the Sportcross??? Usually Toyota chassis codes ending with a 5 means it is a 4wd type car (AE95 = All Trac Corolla, ST165/185/205 = All Trac/GT4 Celica, SV25 = All Trac Camry) but it doesn't ALWAYS mean 4wd..... AE85 was a lower powered model, using 3A engine, of the AE86 which used the 4A engine
Edit... 15 was an awd model... I'm then thinking the Sportcross is JCE10W
---
Information is POWER... learn the facts!! :thumbsup:
Guru
Join Date: Oct 2003
Location: Killa Kali
Posts: 7,122
Mentioned: 0 Post(s)
Tagged: 0 Thread(s)
Quoted: 4 Post(s)
Immortal
Join Date: Jun 2002
Location: Lake Worth, FL 33467
Posts: 20,660
Mentioned: 0 Post(s)
Tagged: 0 Thread(s)
Quoted: 5 Post(s)
nice find..
fyi, the altezza gita was made with AWD and yes, our 2JZ-ge vvti....
---
Master Certified Lexus VEHICLE TECHNOLOGY SPECIALIST and INTERNET SALES MANAGER @ LEXUS OF PALM BEACH
2015 NX200t F-SPORT ULTRASONIC BLUE
1993 Toyota Supra
SOLD
2002 IBP JDM NEO/RANDO TURBO
[email protected] 17 psi
R.I.P.
2001 SBM L-TUNED Toyomoto Built TURBO
LEXOTIC CONCEPTS NE017
Fiend
Join Date: Aug 2007
Location: Frisco Tx
Posts: 387
Mentioned: 0 Post(s)
Tagged: 0 Thread(s)
Quoted: 0 Post(s)
nice sportx man! congrats on the recent purchase. what are your plans for th car?
Photographer
Join Date: Apr 2002
Location: f134
Posts: 3,212
Mentioned: 0 Post(s)
Tagged: 0 Thread(s)
Quoted: 0 Post(s)
congrats to another MSM-SX!
---
SingleLens
Frequenter
Join Date: Apr 2005
Location: Santa Rosa, CA
Posts: 135
Mentioned: 0 Post(s)
Tagged: 0 Thread(s)
Quoted: 1 Post(s)
service codes will be different depending on what software the dealership is using. also they do not mean much because they are user defined. i can use a driveability code for anything ie, rough idle, transmission slip or even a routine maintenance item that isn't setup under its own code in the system like when a tech breaks something and we replace it internally for no charge, its what is typed in the concern area is what's important. oh yeah i work in the service department for a chevrolet dealership, thats how i know.
Guru
Join Date: Apr 2005
Location: Davie, FL
Posts: 6,141
Mentioned: 0 Post(s)
Tagged: 0 Thread(s)
Quoted: 0 Post(s)
Nice! Welcome to the f102! (maybe we should change it to the JCE-10 Club?)

Here is the breakdown.

The Altezza came in 3 variants:

The AS200 (Chassis code TA-SXE-10, sedan or TA-GXE-10 FR Gita wagon, TA-GXE-15, 4WD Gita wagon), powered by a 1G-FE inline-6 engine generating 160 PS JIS (118 kW) or 155 PS DIN (114 kW) and mated to a 6–speed manual transmission (4–speed automatic optional)

The RS200 (Chassis code GH-SXE-10, sedan) powered by a Yamaha tuned 3S-GE inline-4 engine generating 210 PS JIS (154 kW) and mated to a 6–speed transmission (5–speed automatic optional)

The AS300 (Chassis code TA-JCE-10 FR Gita Wagon, or TA-JCE-15, 4WD Gita wagon) powered by a 2JZ-GE inline-6 engine generating 220 PS JIS (162 kW) or 215 hp SAE (160 kW) and mated to only a 5–speed automatic for the FR Gita Wagon or a 4–speed automatic for the 4WD Gita Wagon.
---
I coalesce the vapor of human experience into a viable and logical comprehenshion.
Aficionado
Join Date: Nov 2005
Location: Bronx, New York
Posts: 969
Mentioned: 0 Post(s)
Tagged: 0 Thread(s)
Quoted: 0 Post(s)
nice find bro looks mint enjoy
Maxed out Rep Club Member
Join Date: Dec 2006
Location: Lititz, PA
Posts: 14,279
Mentioned: 0 Post(s)
Tagged: 0 Thread(s)
Quoted: 0 Post(s)
Lurker
Join Date: Nov 2011
Location: Hickory, NC
Posts: 67
Mentioned: 0 Post(s)
Tagged: 0 Thread(s)
Quoted: 0 Post(s)
Addict
Join Date: Apr 2008
Location: Montrťal
Posts: 2,465
Mentioned: 2 Post(s)
Tagged: 0 Thread(s)
Quoted: 228 Post(s)
Impressive Bump
---
I Fail at keeping my car clean
Current users viewing this Thread: 1

(0 members and 1 guests)